Sportive: Riding Tips
Feature: Eddie Allen
Riding a sportive isn't just about getting on and pedalling. You can make life a whole lot easier if you employ some tactics. Just as pro road riders make an art form of conserving and metering out their energies throughout a stage, you should aim to do the same when approaching a sportive or indeed any long ride.
Sounds obvious but you'd be amazed at how many riders turn up to an event at the very last second, running around trying to get themselves ready or who set off with no food, tools or waterproof in the hope that they'll make it round thanks to the food stations. Big mistake! A Sportive should be undertaken with the same preparation as you'd do for a normal cycle ride. Having the feed stations is great for back up but it's well worth tucking some food and a gel into your pockets should you get a bit peckish. Likewise with tools - most feed stations will have a pump and a supply of patches at most so you'll still need to carry the usual spares. Check the weather forecast beforehand and dress accordingly. A lot of Sportives take place in pretty hilly regions and a warm day in the Lake District valleys can quite easily turn to a shivering gale atop the highest passes
Don't come out of the blocks too hard: It's difficult not to go hard and fast at the start of the ride. You're excited about the ride ahead and if you've started the ride in a big group, you're probably getting swept along on a bow wave of adrenalin! However, you'll pay the price later in the ride as the lactic acid accumulates in your legs.
A nice easy gear and a good spin will warm up the muscles and help prevent aches and pains later on. Shivering in the car park or the signing on queue isn't the best way to warm up for a long ride, so you need to incorporate some warm-up into the ride itself. Remember that even pro-stage races have a neutralised section at the start of every stage to allow everyone to run their legs in nicely. Also savvy sportive course designers tend to keep the opening few miles of their rides relatively easy.
If you and your mates are tackling a sportive, consider putting personal ego battles aside and agree to ride as a group. There are loads of benefits. The camaraderie of group riding is hard to beat and can get you through tough times on the road. I've done a few long solo rides and trust me, they can take you to dark places!
You can better judge your pace when riding in a group. Ride solo and you end up battering yourself, no matter whether you're going uphill or riding on the flat. In a group, you've got other people to moderate your pace when you're in danger of blowing up, or give you that added incentive to keep going when you're slacking.
Riding in a group will also save you a huge amount of energy. If you get organised and take turns at the front, you can really reap the rewards - it's possible to save over a quarter of your energy by slipstreaming other riders.
If you're attempting a sportive on your own rather than with a group of friends, don't despair. You'll find that groups form on the road and with them a kind of natural selection - inadvertently you'll find yourself in a group travelling at a pace that you're comfortable with. Don't try and hang onto a group that is clearly faster than you are - you'll only wear yourself out.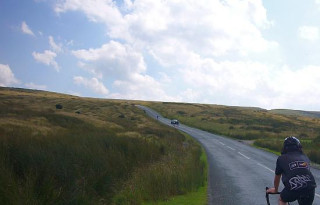 Plan ahead and meter your effort
If your route has got some big climbs (and most do), don't blow your doors off on the flat sections or the first big climb. Conserve your energies wherever you can and keep your powder dry for when you really need the firepower.
Mix it up and stay flexible: Many riders find that stiffness and soreness in the back, neck, wrists and derriere puts paid to their efforts long before muscle fatigue. Consciously varying your position, alternating between the tops, hoods and drops can really help to stave-off aches and pains and allow yourself to ride to your full potential. Getting out of the saddle regularly also helps to loosen up the back and alleviates soreness and numbness. Relax on the bike and you'll find yourself going faster for less effort. This is something that really only comes with practice.
Eat and drink little and often
Eat lots of quality carbs and drink plenty of water or energy drink whether you feel hungry or not. Little and often is best, so stuff you can eat on the move is king. If you do make a lengthy stop at the pub or at a feed-station, go easy for the first few miles afterwards, your body will be thinking "phew, it's all over!!" and will need some persuasion to continue. The act of digestion will also redirect bloodflow from your muscles to your stomach. Indeed many riders will try to make stops as short as possible, keep the muscles warm and not allow the body to go into recovery mode.
Don't forget to enjoy yourself
Might sound silly, but how often do you get to ride your bike in the Lakes, the Dales, the Peaks or one of our other areas of scenic beauty. So make a pact with yourself to avert your eyes from the speedo every now and again and take in the scenery. It can really help to motivate you when the going gets tough.
For further advice as a British Cycling member you have exclusive access our Sportive Training Plans and further advice within the Insight Zone.
Not a member of British Cycling but want access to these training plans? Join British Cycling from only £2/month