Report: London to Paris 09
Above: Hell's Kitchen was hot but London to Paris was hotter for Grant Bovey and the ICAP DebRA team

Glorious sunshine and a Parisian heatwave greeted the 300 London-Paris 09 Cycle Tour riders at the finish under the Eiffel Tower on Saturday.
The sunshine was a reward for the riders who battled their way through flash floods, thunder and lightning over the 320km, three day ride, staged by global sports event company HotChillee.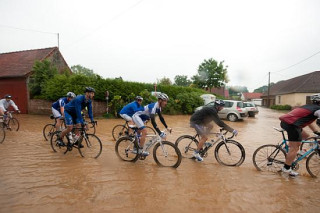 Above: Conditions were a little interesting under wheel at certain points. More pedalo than peleton...
Riders included Olympians James Cracknell and Elise Laverick, former Tour de France winner Stephen Roche, ex-England footballer Geoff Thomas and British Cycling's Team Sky manager Scott Sunderland.
The ride is the premier professional event for amateur cyclists. With rolling road closures and full logistical support, the London-Paris Cycle Tour is the closest the non-Pro rider can get to the Tour de France experience.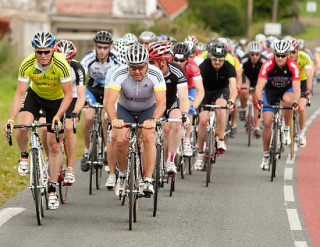 Above: Far left: Scott Sutherland, flanked by Grand Tour legend Stephen Roche, head the pack on the way to Paris
Ex-pro Sunderland, who will help lead British Cycling's assault on the Tour de France in 2010, said: "'It was great to take part with riders of all abilities and to see the Group 3 and 4 riders really looking to accomplish something. There is a real buzz around the event with people making friends and respecting each other. L2P offers a unique experience that very few events can offer."
Another former pro-rider, ex-British champion and cycling commentator Brian Smith, said: "It was great to appreciate the efforts amateur cyclists make to participate in an event like L2P. The reception riders get and the emotion that they feel when they ride into Paris is very special. This is what the sport is all about."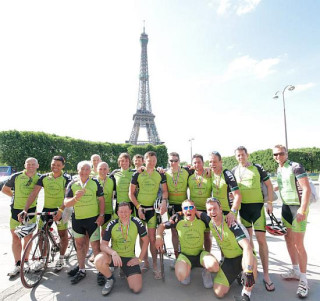 Above: Geoff Thomas (far right) and his green machine pose for that essential 'Look it's the Eiffel Tower, really' shot
Former England and Crystal Palace footballer, Geoff Thomas led a team of 20 riders who were raising money for the Geoff Thomas Foundation. Thomas said: "It was a proud and emotional moment for me as we rode into Paris together. We had a challenging three days with many of our team members pushing themselves to the limit to raise money for the Foundation.
"I would like to congratulate Sven Thiele on staging a fantastic event and say a huge thank you to him for selecting the GTF as the main charity partner for the 2009 Tour."
At the finish in Paris, Thomas's former Palace team mate and Sky Sports football pundit, John Salako, said: "I was a professional footballer for 20 years and this was by far the hardest thing I've ever done and probably the most rewarding as well. I absolutely loved it and as the brochure says, this is a professional event run for amateurs, with top class organisation. It gives you an idea what it must be like to ride a pro event."
Hell's kitchen contestant, Grant Bovey, and showbusiness agent Russ Lindsay, were riding in the ICAP DebRA team. Bovey said: "The Tour was exhilarating and riding into Paris with 300 riders was awesome. It was a lot harder than I thought but very rewarding. I believe that life is all about memories and this was a very special one." Team mate Russ Lindsay, who is agent to stars like Simon Cowell, added: "'This was an amazing experience. It was great to have three days of not answering phones and making friendships with other riders. It was an extraordinary time."
Event organiser, HotChillee's Sven Thiele, said: "We started out six years ago with just 13 riders and it is exciting to see how the event has grown into an important date on the cycling calendar. Our ride is challenging, pushing riders to the limit but it is totally inspiring to see the commitment and determination which gets them across the finish line in Paris."
Team Science In Sport almost swept the board in the presentation ceremony at the end of the ride.
There was a new holder of the Egg Design yellow men's leader jersey for 2009. After holding the yellow jersey for three years running, Jerone Walters this year relinquished his title to Andy Tinsley, of Team Science In Sport, who were presented with the overall team title.
Olympic rowing bronze medallist Elise Laverick, of Team Pearson, received the pink women's jersey and Science In Sport's Andy Guy claimed the "King of the Mountains" title, with a C37 red climber's jersey also going to joint top climber James Stuart, of Team Prologue.
In the spirit of London-Paris 09 camaraderie, there were also two winners of the COR-FS green sprinter's jersey, James Waite of Team Pearson and Science In Sport's Tim Lawson.