Barclay Retains Crit Title

Arthur Doyle off the front
The circuit of just under a kilometre, which had been closed to traffic with the support of Renfrewshire Council, was a testing mix of tight bends, a paved section, a narrow straight and a closing stretch along the main road.
There was no hanging around from the outset and, by lap four a team battle was already taking shape as Paul Rennie and Michael Nicolson of Dooleys led a 15 strong bunch, with their actions being closely monitored by Barclay and his colleague Gordon Murdoch.
Doyle had an effort at the front and there were several attacks from Rennie, who was looking particularly lively although on each occasion he was reeled in.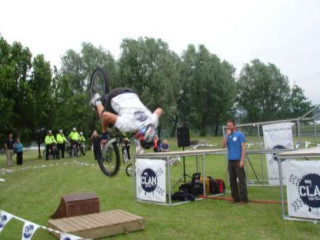 Danny MacAskill shows his skills
Ross Crook (Edinburgh RC), Jack Woodward (Unattached) and Niall Aitken (Pedal Power) all had a go but it was well into the second half of the race before the next move of significance.
On this occasion it was Paul Coats (Squadra Via Mazzini) who took off and, over the next three circuits, he built a 5 second advantage over a small group of pursuers featuring Woodward, Rennie and Barclay.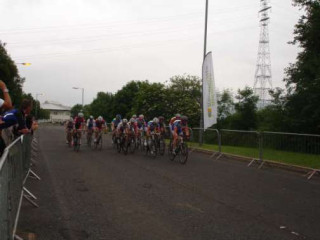 Dooleys in control with four laps to go
Perhaps sensing that Coats was capable of staying away, the chasers worked in concert to claw back the deficit and, with 5 minutes of racing plus five laps left, Doyle and Rennie made a move. Two became four when they were joined by Aitken and Woodward, with Murdoch and Alan Thomson (Glasgow Couriers) at the head of the bunch 3 seconds back.
A group of 14 remained in contention with five laps to race. Jamie Henderson (Spokes RT) had a turn at the front and the next effort to escape came from Gary Macrae (Leslie Bike Shop) with three laps to go. That also came to nothing, as did a final attempt by Nicolson on the following lap.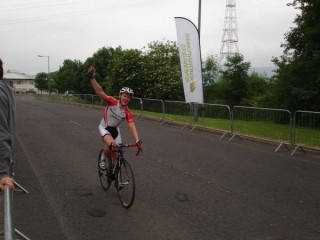 Kevin Barclay enjoys the win
Approaching the bell, nobody would have dared bet on the destination of the title. Along the home straight, Rennie burst from the pack and crossed the line arms aloft, believing he had won.However, the sound of the klaxon marked the start of the final circuit and confirmed he had miscalculated. To his credit, Rennie continued to pile on the pressure and took Barclay with him.
And the pair were together entering the technical section of the circuit, where fate dealt Rennie a second blow when he crashed, allowing Barclay to take off and power around the rest of the lap to seal the win.
In his wake, Crook edged out Doyle for the silver medal, sharing the same time as the next six riders.
Reflecting on the confusion on the penultimate lap, Barclay said, "I saw his hands go up and I thought 'Oh no that's it'. I was totally confused.

Less than 5 minutes gone and a bunch of 15 is already away
"I was sure there was still a lap to go but it was just that little bit of doubt. Then I heard the hooter go and I knew he had made the mistake".
"Unfortunately he crashed on the technical section. He went into that section second so when he crashed everyone panicked."
"I looked round and I could see I had a good gap and I knew I just had to commit. I couldn't do anything else but give it 100%."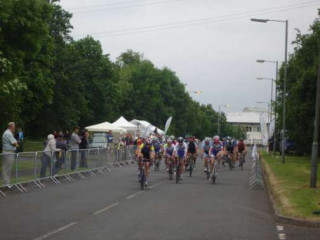 Michael Nicol on strings them out
Barclay admitted that he had had a few anxious moments and confessed to feeling additional pressure as he sought to retain the title.
"It was tough being defending champion because you've got a target on your back. Every time I crossed I felt they were chasing me down. To win again is good."
Barclay's success capped a superb afternoon of racing that had started with a series of youth events followed by a hotly contested support race.
The outcome of that one was also finely poised entering the final lap and a well timed attack by Brendan Roe (Leslie Bike Shop) allowed him to sprint home for his first ever road win, with John McQuade (Falkirk BC) getting the better of Graham Barclay (Leslie Bike Shop) to clinch second spot.
Roe admitted to feeling nervous as he raced up the final straight, saying, "They always say you shouldn't look round but I did have a look when I was going along the last stretch because I was sure they would catch me."
Meanwhile, Claire MacAulay (Johnstone Wheelers) finished strongly to take the prize for leading woman rider.
During the afternoon there were opportunities appreciate the rare talents of the Clan stunt team - with Danny MacAskill displaying his incredible bike handling skills - and several stalls to keep spectators fed and watered, as well as the Real Radio Roadshow. .
The riders and spectators are already relishing a repeat next year, when Renfrewshire Council are keen to continue their support.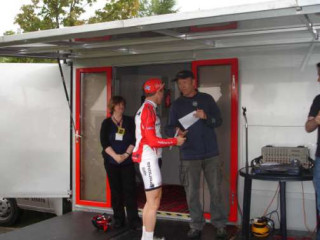 The champion receives his prize from G Herd while Marie Davidson of Renfrewshire Council looks on
Results
Scottish Criterium Championship
1 Kevin Barclay Endura Racing Team 56:29:00
2 Ross Crook Edinburgh RC @ 3 secs
3 Arthur Doyle Dooleys Cycles Racing Team same time
4 Niall Aitken PedalPower.org.uk / Endura RT same time
5 Jamie Henderson Spokes Racing Team same time
6 Gary Macrae Team Leslie Bikeshop - Right Mov same time
7 Alan Thomson Glasgow Couriers - DB Developments same time
8 Jack Woodward same time
9 Paul Coats Team Squadra Via Mazzini RaceTools same time
10 Stuart McManus Glasgow Wheelers same time
11 Gordon Murdoch Endura Racing Team @9 secs
12 Dougie Young Glasgow Wheelers @11secs
13 Jamie Kennedy Glasgow Couriers same time
14 Jamie Drever Glasgow Wheelers same time
15 Paul McInally Rock and Road Cycles same time
16 Michael Nicolson Dooleys Racing Team @01:39
17 Franco Porco Falkirk BC @ 1 LAP
18 James Melville Glasgow United CC @1 LAP
19 Nick Yeats Musselburgh Roads CC @ 2 LAPS
20 James Daly Johnstone Wheelers @3 LAPS
Senior Support Race
1 Brendan Roe Team Leslie Bikeshop - Right Move 48:12:00
2 John McQuade Falkirk BC @2 secs
3 Graham Barclay Team Leslie Bikeshop - Right Move same time
4 Scott McCrossan Pedal Power same time
5 Steven Robertson East Kilbride RC same time
6 Michael Martin East Kilbride RC same time
7 Scott Newman Inverclyde Velo same time
8 Andy Duncan Ythan CC @6 secs
9 Matt Hennon Inverclyde Velo same time
10 Benny McLaughlin Glasgow Nightingale CC same time
11 Terence McMahon Glasgow Ivy CC @ 10secs
12 Neil Crawford Dundee Thistle RC same time
13 Ciaran McGlynn Glenmarnock Wheelers @15secs
14 Andrew Fuller (Unattached) @19secs
15 Duncan Warwick Deeside Thistle CC @24secs
16 Graham Scobie PedalPower.org.uk / Endura RT same time
17 Claire MacAulay Johnstone Wheelers CC @01:12
18 John Paterson Dumfries CC @1 LAP
19 Brian Hamilton Pedal Power RT @1 LAP
20 Fiona Duncan Sandy Wallace Cycles @2 LAPS
21 Robert Gilmour Glasgow Nightingale CC @3 LAPS
22 Greg Balden Johnstone Wheelers CC @3 LAPS