Men's 2010 British Road Race Championships
Posted on: 29 June 2010
Event: Sunday 27th June 2010 | Pendle (Lancashire) | by Luke Webber & Larry Hickmott
(Thanks to Welsh NEG motorcycle pilot Graham Harper for helping us)

Geraint Thomas's first Individual professional win is the 2010 British RR championship.
Geraint Thomas is crowned British Road Champion 2010 and will have the honour of wearing the British Champions' jersey in the Tour de France, outsprinting teammate Pete Kennaugh after 180km of racing across Pendle.
On a day dominated by Sky Procycling there was only room for one presence on the podium and indeed the second half of the race where Thomas, Kennaugh and Ian Stannard pulled clear of all competition.
Jeremy Hunt made the first attack of the day, rolling off the front of the race and gaining a significant lead before Simon Richardson and the three Sky riders joined toward the end of the lap. Quickly a gap of minutes opened; a hurried chase of Ian Bibby, Dan Fleeman and David Millar forming, but as Millar exploded in nuclear fashion with five laps to go and the trio of Sky riders were forced into action by an on looking David Brailsford, every rider on the hill looked under duress.
Bottom of Pendle Hill and Peter Kennaugh in the first of a few attacks which saw Richardson and Hunt distanced as well as Stannard who fought back to catch his teammates after a long chase.
The decisive attack from the boys in blue came toward the concluding stages of lap five, immediately shelling Richardson then Hunt, Stannard dangling for a while longer. It was obvious Thomas and Kennaugh had the weight advantage on the climbs, but clearer strongman Stannard was prepared to make his force felt on the descents and on the penultimate lap Brailsford could pull alongside the trio and congratulate them, as a team, on a job well done.
On the final ascent of the main climb normal service resumed as Kennaugh tried to break Thomas, but no acceleration was enough to shake the Welshman, who could match every move. Coming toward to finish Thomas started the sprint in an easy gear, holding a slim advantage to the line, before being afforded a moment to celebrate the biggest honour in domestic cycling.
In reaction, it was perhaps easy to forget this was a road race as discarded bodies were left across the countryside and three world-class riders made the victory look simple, but for the well informed such a performance only justified the expectation Team Sky faces next week at its target race of 2010; the Tour de France.
Post Race reactions
Geraint Thomas: "It's the nationals and it can be a weird race and I didn't know what to expect. Jez went and I went after him although I didn't plan it. I found myself off the front a bit and thought I don't want to be here but I am so I'll get stuck in. Then the others came across and we had to work because Simon and Jez sat on a bit which because we had three in the break, I expected."

"We rode well and tried to keep the bunch at around a minute or two and then they sat up and it went to four and then we heard Millar was coming across so we pressed on because we didn't want him to come across. Then the other two cracked and it became a race between the three of us."

About the moment when Dave Brailsford came alongside and had a word to them, G explained "he said he was happy that we have a 1-2-3, and it was down to us to race. He wasn't going to call it and that was good because Pete and Stannard wanted to win as I did to take it to the Tour".

"We just raced it out on the last lap and Pete is a strong climber so I had to mark him and when he attacked, I just sat on and waited for the sprint because I was confident I could have him in that."

On the course being a Worlds type course, G replied "this is harder than any Worlds course I've done! It was up and down all the time and it was quite stressful which is why at the start we made sure we were at the front and I don't think I was outside the top 10 from then on. It's my first individual win and it's really special. The nationals is something that everyone dreams of, myself included, and it has always been in the back of my mind. I've wanted to ride the Tour with the team and I knew I had good form."

"It is unbelievable taking the jersey to the Tour de France, the biggest race in the world. I'm going to be honoured to wear that jersey and represent Britain there. I'm in the best form ever. I have just gone up a level and am happy in my life right now. My girlfriend has settled me down and her and her family are supporting me all the way so I'm in a good place right now. Life couldn't be much better."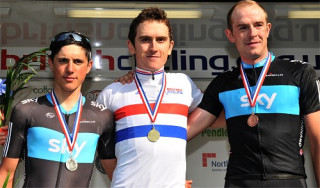 Podium for the Men's Championship and Peter Kennaugh wins the SIlver medal for the third year in a row. Winner is Geraint Thomas and Bronze goes to Ian Stannard.
Peter Kennaugh: "G went up the road early on which was a surprise to me and the bunch was really negative because of the nature of the course. Everyone was appearing to be scared of doing too much too soon. I thought I just have to be where the race is and at least when you're up the front, all you have to worry is about people coming across. So I went early and as I caught Stannard, gave him the shout and we bridged to the leaders. Then it was just a matter of through and off for how ever many kilometres."

"On the main climbs I had a few digs. I think my confidence went a bit towards the end because my legs didn't feel super today as I've done a lot of stage races in the last month. I have good form but not super."

Ian Stannard: On a problem where he to chase for a few miles to get back on, Ian replied "I had a mechanical problem and it was hard to get back on but I managed to do it." He also talked about the long chase to get back on after being dropped up Pendle. "I got into my tempo and held them after they'd got away but I knew there was a tailwind across the top and I'm a bit more stupid in the corners than them, so I knew I'd get them back."

"I have been going quite well the last few weeks and it was a good hard race that suits me. It was far easier here for the pros to take control of the race. I have now got the Tour of Austria, Brixia, Tour of Poland and this and that."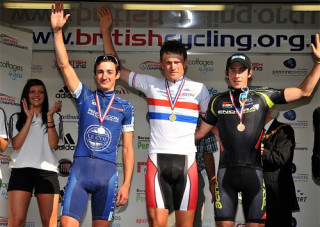 Rhys Lloyd, Andrew Fenn and Ross Creber.
Andrew Fenn: Under 23 champion. "We came here to go for the overall race win and with all the Sky pros, we knew it was going to be harder than last year. I had to let the break go because if you try to go with guys like G and Pete, you're just going to get blown away so I had to save myself early on and hope the race wasn't in too many bits by the time I made my move."

"Climbing isn't really my thing but I feel I've made a step up this year. I knew there was a break of five up the road and after that went, Max said I have to go for the Under 23 jersey so I did my best to dig in for that. I now have a break for two and half weeks so it is a nice way to finish this block."
Race Photos
Race action from Larry Hickmott

First break for freedom and already Jeremy Hunt is showing his intentions.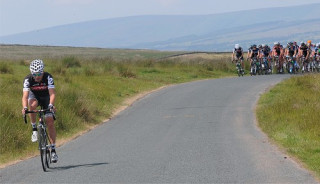 Jeremy Hunt, lap 1 and he attacks up the road on his own. It was the start of the race long break.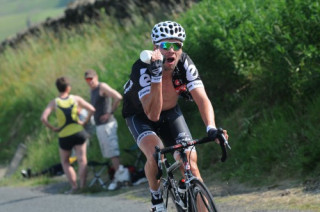 A very different Jeremy Hunt, twice a former winner of the title, with two laps to go, he's been dropped and like everyone, is feeling the heat.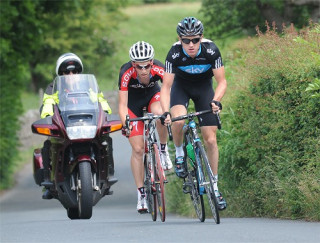 Geraint Thomas wasted no time chasing down Hunt with Simon Richardson.
Defending champion, Kristian House, leads the chase early on.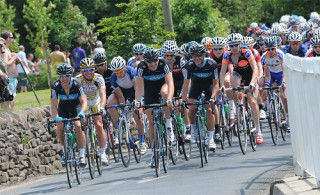 With three breaks up the road, the pros from Europe are all smiles as they exit Roughlee on lap 1.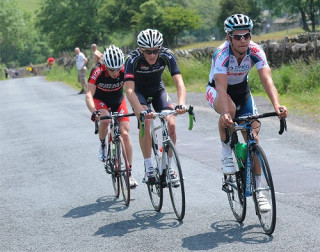 Adam Blythe leads an early chase for the three leaders.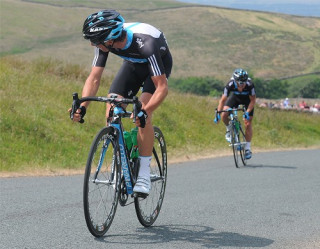 Peter Kennaugh attacks to chase after Ian Stannard who is already up the road in another chase group.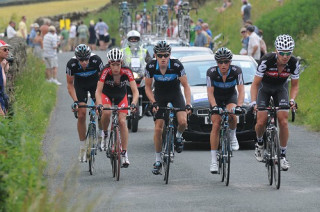 The five leaders who dominated the race, L-R, Ian Stannard, SImon Richardson, Geraint Thomas, Peter Kennaugh and Jeremy Hunt.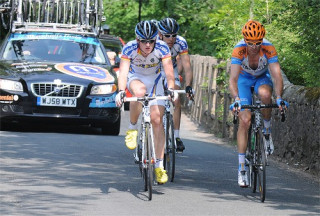 David Millar was part of a chase group up until four to go when he turned around and abandoned the race.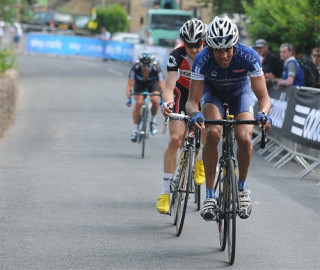 David Clarke leading a chase group which has caught and passed a fatigued Russell Downing who despite pouring bottle after bottle of water over his head, had nothing left to give.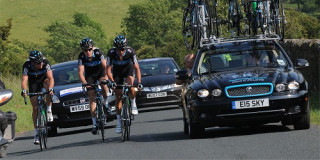 Team Sky chief, Dave Brailsford, has a word to his three riders who are now on their own out front with two laps to go.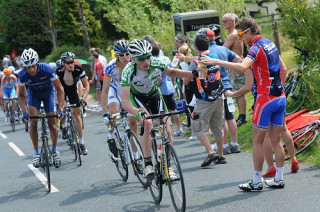 Local Paul Oldham takes a bottle from Tom Moses late in the race.
Result
1. Geraint Thomas, Sky Pro Cycling 5.07.08
2. Peter Kennaugh, Sky Pro Cycling st
3. Ian Stannard, Sky Pro Cycling @2.20
4. Jeremy Hunt, Cervelo Teast Team, @7.59
5. Simon Richardson, Sigma Sport Specialized @8.23
6. David Clarke, Pendragon-LeCol-Colnago @10.41
7. Dan Flleman, Raleigh RT @10.43
8. Andrew Fenn, 100% ME @13.56
9. Rob Partridge, Endura Racing, Endura Racing @17.45
10. Paul Esposti, BCV
11. Chris Froome, Sky Pro Cycling
12. Rhys Lloyd, Pendragon-LeCol-Colnago @1 lap
13. Kristian House, Rapha Condor Sharp
14. Ross Creber, Team Endura Racing
15. Ben Greenwood, Rapha Condor Sharp
16. Richard Cartland, Team Corley Cycles
17. Douglas Dewey, GWR
18. Thomas Swift-Metcalf, Palmeriras Resort
19. Steve Lampier, Pendragon-LeCol-Colnago
20. Tim Kennaugh, 100% ME
21. Marcel Six, Orbea For Goodness Shakes
22. Daniel Shand, Raleigh
23. Mike Cumming, Raleigh
24. David Lines, Endura @ 2 laps
25. Matthew Stephens, Sigma Sport Specialized
26. Kit Gilham, Sigma Sport Specialized
27. James Williamson, Sigma Sport Specialized
28. Gareth Montgomerie, Sigma Sport Specialized
29. Will Bjergfelt, Wilier-Big Maggies/Prendas
30. Paul Oldham, Hope Factory Racing
31. Alistair Kay, York Cycleworks
Previous Winners Men (Open championships)

2009: 1. Kristian House, 2. Peter Kennaugh 3. Daniel Lloyd
2008: 1. Rob Hayles, 2. Peter Kennaugh, 3. Dean Downing
2007: 1. David Millar, 2. Daniel Lloyd, 3. Hamish Haynes
2006: 1. Hamish Haynes; 2. Roger Hammond; 3. Geraint Thomas
2005: 1. Russell Downing; 2. Steve Cummings; 3. Yanto Barker
2004: 1. Roger Hammond; 2. Tom Southam; 3. Jeremy Hunt
2003: 1. Roger Hammond; 2. Jeremy Hunt; 3. Jamie Alberts
2002: 1. Julian Winn; 2. Tom Southam; 3. Jeremy Hunt
2001: 1. Jeremy Hunt; 2. Rob Hayles; 3. John Tanner
2000: 1. John Tanner; 2. Jon Clay; 3. David Millar
1999: 1. John Tanner; 2. Kevin Dawson; 3. Russell Downing
1998: 1. Matt Stephens; 2. Roger Hammond; 3. Darren Barclay
1997: 1. Jeremy Hunt; 2. Mark Walsham; 3. Matt Stephens
1996: 1. David Rand; 2. Andy Naylor; 3. David Cook
Related Links
Preview of the Men's Championships - Click to view
2009 Race Report - Click to view
Event Website - Click to view