John Archibald was the best of the Scots as the Commonwealth Games Time Trial took place in Wolverhampton on Thursday; the streets lined the whole way as the riders were treated to an incredible atmosphere.
By the time the men rolled off the ramp in the afternoon, it was clear the course was as technically challenging as the riders had anticipated, with numerous athletes overshooting corners and ending up either in the barriers, or on the ground.
Last off for Team Scotland was John Archibald, and fresh from an excellent track meet, he was looking to produce another high-quality ride, and that is exactly what he did. An accomplished time trialist, the man from Milngavie paced his effort perfectly, tenth through the first time check, before moving through the field with each split to finish up 6th behind a quintet of world class riders.
Of his efforts, Archibald said:
"I think it went as good as I could have expected really. I enjoyed it on the day, as having seen the course before hand, it's quite a scary prospect really. The technically nature of it, it's not something you practice very often, but it went quite well today.
"It's a privilege to be a part of the Games really, as it only comes every four years with the multi-sport element, the village the team aspect - being a part of Team Scotland, it adds a lot more to it than just showing up for a race. You've got to really soak that in at the time because you can get wrapped up in the nerves and the excitement of it all, but you've got to remember to take a step back and enjoy it!"
Mark Stewart and Finn Crockett were also in action in the men's event and produced similarly good rides. Stewart went just a few minutes before Archibald, and in an event he's no specialist in delivered a very credible 14th place finish.
Afterwards he said:
"It was good. It was a good circuit, I enjoyed it. It isn't my speciality, so I just went out hard and the result was what it was.
I love competing for Scotland, I love the squad we've got here, the staff and the riders. It's one of my favourite times of the four years. My mum and dad came down to watch so that was epic, that's the nice thing about a home Games."
Finn Crockett made his Commonwealth Games debut as one of the first off in the men's race, going just after midday as the sun reached its peak. Having only been called up for the time trial two days ago, following the confirmation Kyle Gordon had fractured his collarbone, Crocket fast-tracked his travel to the West Midlands, arriving at 2am on Wednesday morning, so his performance was particularly admirable.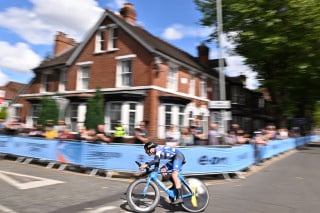 In the end he finished 22nd in a field of 54, and afterwards he summarised:
"It was always going to be tough today, but to be honest, it was all about soaking up the experience. I wouldn't say my ride was anything to be proud of but I really, really enjoyed it, and it's now all about Sunday and the Road Race. I think I can take a lot of the things from this, as just being in the Games environment is totally new to me. So I'm just trying to soak it up and it'll settle my nerves heading into Sunday."
The women's race was first to get underway at 10am, double track medallist in this event, Neah Evans, joined by road pro Anna Shackley. Evans went first, and with minimal road racing over the last few years, could be content with her efforts in 17th place.
For Shackley it was a more focused effort, knowing that the lumpy course was something that would suit her. Fifth through the first checkpoint she looked on course for a great ride, but faded slightly in the second half of the race, to eventually round out 10th.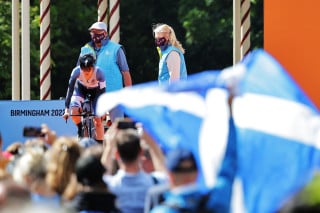 Of her efforts, Shackley said:
"It was a nice course – much more interesting than an out and back and you can actually use your skills here. I had loads of people shouting 'go on Scotland' or shouting my name, so that was amazing.
"One of my contact lenses came out part way round, so it was a little bit tricky going round some of the corners, but I don't think that made a huge difference – I think it was mostly my legs today.
"I'm not expecting much with the road race, given it's so flat, but you never know with road races as it's a lot more unpredictable than time trials. You always aim to win every race you do, kind of, so I'll hope for a good result."