The Commonwealth Challenge - Expedition World Cycle
Attention all cyclists - Your chance to be part of something BIG!
- Help and support Sean Newall on his Epic 20,000 mile world cycling challenge, by cycling alongside him for five miles, and become part of the world wide team.
On the 23rd July 2010, Sean Newall will set off on a 20,000 mile world cycle, starting from Glasgow. Along the way he is aiming to get 10,500 people from around the world to join him for a five mile cycle.
Sean Newall:
'I am looking for help to get in contact with as many potential people that might join me for as much as the five miles as possible; People young and old, school groups, cycling teams and casual cyclists, who ride just for fun.
My route will take me through many countries such as:
Scotland, England, Holland, Germany, Poland, Belarus, Russia, Kazakhstan, Kyrgyzstan, China, Pakistan, India, Bangladesh, India, Nepal, China (Tibet), Laos, Thailand, Malaysia, Singapore, Australia, New Zealand, Canada, USA, Mexico, Guatemala, Belize, Portugal, Spain, France, England, Wales, Ireland, Northern Ireland and then after 20,000 miles, on the road back to Scotland.'
Check out the planned route here

'Along this route I will go through many towns and cities and it is here that I hope to meet as many people as I can, to join me for the five mile cycle. I will record your name then we shall ride the five miles and you will become part of this world wide team.'
'When I set off on the 23rd of July I will have a tracker accurately stating my position so that you will be able to follow my progress. This will allow you to get in contact with me here for when I get close to your town or city to organize a five mile ride together.'
'Please pass this information on to your team/friends and fellow cyclists, as the goal of reaching 10,500 can only be achieved with help from as many people from around the world as possible.
This is only part one of four epic expeditions I shall take on to visit all 72 commonwealth nations, that are sending a team to complete in the Glasgow 2014 commonwealth games.
Hope to see you all soon for a five mile cycle!'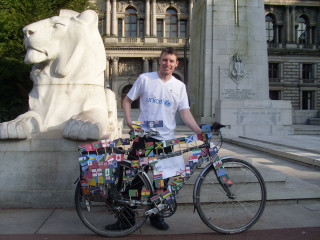 For more information on the commonwealth challenge visit:
http://www.thecommonwealthchallenge.com/
You can also support Sean's challenge by joining his facebook page here
Or Follow him on twitter by clicking here

Hope to see you all soon for a five mile cycle!