The 2023 UCI Cycling World Championships kick off in earnest on Wednesday in Glasgow and across Scotland, with Scottish interest in almost every event – here's our in-depth preview.
Track and Para-Track events the 12-day cycling party started at the home of Scottish Cycling, the Sir Chris Hoy Velodrome, where Jenny Holl, piloting Sophie Unwin, will be the first Scot in action at these inaugural combined World Championships.
Fin Graham, who like Holl is a reigning World Champion, is also taking to the boards on Wednesday, before Thursday sees a flurry of track riders getting their championships underway, including the likes of Lauren Bell, Ali Fielding and Jack Carlin, who take on the opening rounds of the Team Sprint.
Friday sees the Women's Team Pursuit get underway, featuring our very own Katie Archibald and Neah Evans, whilst up at Fort William we will witness Aimi Kenyon and Nina-Yves Cameron vying for silverware in the Mountain Bike Downhill Junior Women's competition. Earlier in the day the first of our Race The Worlds finals, the Mini Downhill, will take on the slopes of Aonach Mòr.
Meanwhile, over in Perthshire, a huge contingent of Scots will take part in the Gran Fondo on Friday, with the Grand Fondo TT on Monday. The BMX Challenge will also see a raft in action from Sunday to Wednesday at the Glasgow BMX Centre – good luck to them all.
Back with the elite action, Saturday sees the Elite Downhill Finals take place, Fort William sure to be bouncing as ever – Scottish Champ and local girl Mikayla Parton is one of those in action, as is rising star Phoebe Gale.
From less than four minutes of downhill action, to potentially four hours of racing, the MTB Marathon takes place on Sunday down at Glentress, with Cameron Mason and Isla Short, both reigning British Champions, taking to the start line. That same morning our young Race The Worlds finalists will be vying for a special jersey of their own in the Dirt Crits, also at Glentress.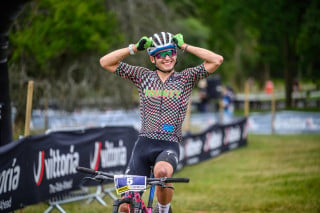 The Men's Road Race also takes place on Sunday 6th, starting in Edinburgh and finishing in Glasgow, whilst on the track there are more medals up for grabs.
Monday is Neil Fachie time – one of the most decorated para-cyclists in history going for gold once again in the Tandem B Sprint, whilst Katie Archibald will look for more glory in the Madison. There will also be Race The Worlds action on the streets of Glasgow city centre.
Tuesday is the penultimate day of track action, with another of our reigning World Champions, Neah Evans, defending her Points Race crown, whilst Dundee's Mark Stewart will go in the Madison. Elsewhere we have Anna Shackley in Mixed TTT action on the roads of Glasgow, whilst Reece Thomson will be strutting his stuff on Glasgow Green in BMX Flatland Men's Elite Qualifying.
Callum Thornley will make his World Championships debut as Stirling joins the World Champs party on Wednesday 9th August, hosting the U23 Men's TT, the same day that Jack Carlin (Keirin) and Katie Archibald (Omnium) look to close out the track cycling in style.
Thursday sees a plethora of different venues take centre stage, from Jenny Holl and Fin Graham in Para Time Trial action in Dumfries and Galloway, XC Mountain Bike action at Glentress and Finn Johnstone going in Men's Junior Trials Qualifying on Glasgow Green.
On Friday 11th it's all eyes on our mountain bikers once again as the U23 races take place with no fewer than 7 Scots in action, Charlie Aldridge leading the charge in the Men's event, and the McGorum sisters, Anna and Elena, in the Women's.
The penultimate day of action sees the continuation of the XCO races, Mason and Short once again in action, whilst Holl and Graham contest their respective Para Road Races, and will be hoping to collect further rainbow bands. Meanwhile back in Glasgow the final Race The Worlds event, the Pump Track, will take place at Cathkin Braes.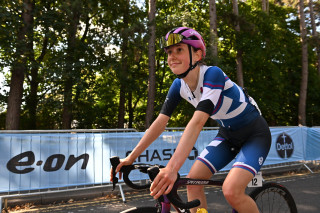 Last, but not least, we round out a stunning 12 days of competition with the Elite Women's Road Race, starting in Balfron and finishing with laps of the Glasgow City Centre circuit, where we'll be out en-route cheering on Anna Shackley. With the U23 Women's race incorporated, there is one final piece of silverware up for grabs.
Of the Scots in action, Scottish Cycling's Head of Performance and Coaching, David Somerville, said:
"From everyone at Scottish Cycling, I'd like to wish our Scottish riders the very best of luck for the two weeks ahead – we know you'll do yourselves proud.
"Use the support to your advantage – we know how passionate Scottish fans are, so channel that energy and use it to inspire you, just as much as you'll be inspiring those supporting you.
"From friends and family, to coaches, officials and volunteers, the whole Scottish Cycling community is playing a role in this once in a lifetime event, so whatever your role, rider, supporter, or workforce, remember to enjoy it, as you may never get this opportunity again."
Full list of riders:
BMX Freestyle Flatland
Reece Thomson – Men's Elite Flatland
MTB Cross Country
Cameron Mason – Men's Elite
Isla Short – Women's Elite
Charlie Aldridge – Men's Under 23
Corran Carrick-Anderson – Men's Under 23
Sam Chisholm – Men's Under 23
Rory McGuire – Men's Under 23
Anna Flynn – Women's Under 23
Anna McGorum – Women's Under 23
Elena McGorum - Women's Under 23
Ben Allan – Men's Junior
Reuben Oakley – Men's Junior
Emily Carrick-Anderson – Women's Junior
Daisy Taylor – Women's Junior
MTB Downhill
Greg Williamson – Men's Elite
Phoebe Gale – Women's Elite
Louise Anna-Ferguson – Women's Elite
Mikayla Parton – Women's Elite
Nina-Yves Cameron – Women's Junior
Aimi Kenyon – Women's Junior
MTB Marathon
Cameron Mason – Men's Elite
Grant Ferguson – Men's Elite
Isla Short – Women's Elite
Jane Barr – Women's Elite
Joanne Thom – Women's Elite
Para-Cycling Track
Fin Graham – Men's C3
Neil Fachie OBE (with pilot Matt Rotherham) – Men's B Tandem
Jenny Holl (piloting Sophie Unwin) – Women's B Tandem
Para-Cycling Road
Fin Graham – Men's C3 Road and Time Trial
Jenny Holl (piloting Sophie Unwin) – Women's B Tandem Road and Time Trial
Road
Anna Shackley – Women's U23/Elite Road Race and Mixed Relay Time Trial
Callum Thornley – Men's U23 Time Trial
Sean Flynn – Men's Elite Road Race (Reserve)
Michael Gill – Mixed Relay Time Trial (Reserve)
Track
Jack Carlin – Men's Sprint
Ali Fielding – Men's Sprint
Lauren Bell – Women's Sprint
Mark Stewart – Men's Endurance
Katie Archibald MBE – Women's Endurance
Neah Evans – Women's Endurance
Trials
Finn Johnstone – Men's Junior Trials