Aileen McGlynn OBE has today announced her retirement from cycling after a stunning career that has seen the Scottish cyclist win Paralympic and World titles, set countless world records, and been awarded an OBE for Services to Disability Sport.
Now 49 years of age, Aileen can look back with pride on an unbelievable cycling journey spanning three decades, noting:
"I've been doing this for 20 years, and at some point you've got to move on and do other things! I feel like I've achieved everything I wanted to in cycling – the opportunity to come back and do a really good time in Tokyo and win a silver medal, I could have finished my career at that point.
"It's been a while since I made the decision, but I felt I should make it official!"
McGlynn's final competitive foray instead came at the Birmingham 2022 Commonwealth Games, where she represented Team Scotland, bagging silver and bronze in the Tandem Sprint and Tandem 1km TT respectively.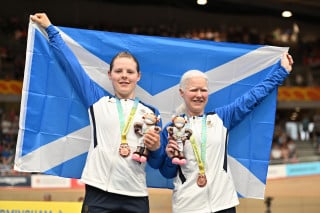 Representing Scotland in that last outing was the perfect end to a glittering career, not only because her final preparations took place in Glasgow, the city where her cycling journey started, but because of what riding in that jersey means to her.
"A year out from Tokyo they announced that there was going to be tandem events in Birmingham, but when I got dropped from the British Cycling team again in December 2021, I was seriously considering not doing the Commonwealth Games. I really had to push to get use of a UKSI tandem, so that we were on an even keel with the other home nations, so that played a big part – I didn't want to do it just to be there, to finish on a low after everything I've done.
"Riding with Ellie [Stone], she was a really good pilot, so it all came together really well in Birmingham and it was a great way to finish. Birmingham was really special, with great teammates."
Born in Paisley, McGlynn joined Glenmarnock Wheelers at the age of 18, where she combined cycling with studying for a degree in Mathematics, Statistics and Management Science at the University of Strathclyde. Going on to ride for Johnstone Wheelers and the Royal Albert Cycling Club, McGlynn's promise started to develop into world class performances, none more so than her first world record set at the 2004 Athens Paralympic Games, where she would take gold in the 1km Time Trial and silver in the Individual Pursuit alongside pilot Ellen Hunter. What's more, she did this combining training and competing alongside her job as a trainee Actuary, working for Hymans Robertson LLP in Glasgow.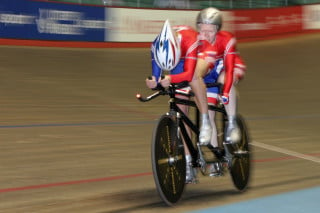 From there the Glasgwegian would take her first world title, pulling on the rainbow jersey after a world record winning ride in the Kilo at the 2006 championships in Switzerland, before going on to take a second Paralympic title in Beijing, again lowering the Kilo world record, before adding a second gold in the Individual Pursuit.
The accolades would follow thick and fast and deservedly so; having been appointed a Member of the Order of the British Empire (MBE) in the 2006 New Year Honours, McGlynn was promoted to Officer of the Order of the British Empire (OBE) in the 2009 New Year Honours. She won the Disability Sport Award at the Sunday Mail Scottish Sports Awards in 2008 and was also named Alumna of the Year by the University of Strathclyde in 2009.
Aileen would go on to win a plethora of further medals at Paralympic, World and Commonwealth level, including silver in the Kilo and bronze in the Individual Pursuit at the London 2012 Games. After losing her spot on the British Cycling team in 2013, Aileen competed for Team Scotland at the 2014 Commonwealth Games in Glasgow, piloted by Louise Haston, winning Team Scotland's first silver medal of the Games in the Tandem Sprint, and going on to win a second silver medal in the Kilo. After a spell away from the sport, McGlynn returned, teaming up with former pilot Helen Scott to take silver in the Kilo at the Tokyo Paralympic Games with a personal best time at the age of 48.
On her career, she notes:
"I'm pretty pleased and proud of what I've achieved. I'm particularly pleased that I've carried on to the age of 49 and broken down barriers in terms of age. I came back faster, stronger and with better power numbers in 2021 in Tokyo, so I've proved myself, I've proved my longevity.
"I'm also really pleased with the world records I've set in the past, and the medals I've won at Paralympic level - 3 gold, 3 silver and a bronze – I'm really happy with what I've done and the experiences I've had. Travelling to so many different countries, competing right across the world; I'd probably never have visited a lot of these countries had it not been for cycling – it's been lifechanging. I'm really glad I've done this for the last 20 years – it's been hard, but it's been very rewarding too."
Such is the longevity of her career, McGlynn has seen a quantum shift in both the perception and parity of disability sport, however as she notes, there is still a way to go.
"Participation is much higher now than it was when I started 20 years ago – I think there were three athletes and two pilots on the British Para-Cycling Team when I started with GB! There's a lot more funding and investment to improve the Paralympic side of the sport, and it's certainly more inclusive.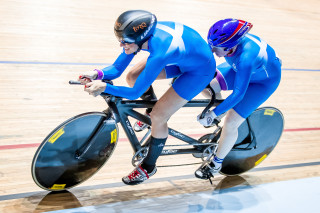 "London was so good for highlighting Paralympic sport, but I don't know how much that has transferred into daily life for disabled people, as I've not been back in the workplace to know. I think there's still a long way to go for disabled people, but then there's still a long way to go for things like women's rights, so it's not going to be solved overnight, the same as for any of these inclusivity and equality issues."
However Aileen was quick to point out that she has received wonderful support every step of the way throughout her career.
"Scottish Cycling have been so supportive, particularly in the latter stages of my career, particularly David Somerville – if it wasn't for him, I might not have carried on to the Commonwealth Games in Birmingham. The Scottish Institute of Sport have also been really supportive, even when I was on the GB programme I'd still get nutritional and psychology support from them, even being based in Manchester, so a big thanks to them as well."
So what's next?
"I don't plan on getting a 9-5 job! I'm going to carry on what I've been doing since 2013, which is being a property landlord. That has given me the flexibility to carry on with my training, whilst still earning a living, so that's basically what I'll continue to do."
And despite hanging up her skinsuit and tubulars, it certainly won't be goodbye to the bike forever, as McGlynn notes:
"I just want to go out and enjoy riding my bike for fun now, with cycling holidays and things like that. I want to ride my bike more and for longer distances, maybe doing some cycle touring too. I also want to do other things and I've already planned a couple of skiing holidays."
Congratulations to Aileen on a stellar career, and we wish her a happy and fulfilling retirement.