With the Tour Series wrapping for another year this (Tuesday) evening, we spent the day of the Stranraer round with the new Scottish-based Elite Development Team - the Alba Development Road Team - to discuss their season, and series so far.
The Scottish-based riders in the squad met Team Manager Bob Lyons at 9am at the Emirates Arena to make sure everyone was ready to head down the A77 to Stranraer, in either the team car driven by Lyons or campervan, which was driven by the Team's Logistics/Admin Manager Elaine.
Lyons is clear that main priority of the team is the rider's long-term development over short-term wins, as he told Scottish Cycling:
"There's no big aim for the team - the main ethos of the team is to develop riders. The big win for Alba is to see the girls racing in the World Tour. We're not coming to races to make up the numbers, we want to get results, but there's nothing specifically targeted."
Their squad size is relatively small by elite standards with only eight riders riding in the suitably blue and white coloured Impsport kit, but Lyons, who also coaches some of the riders, emphasises that it is the quality of rider development that's crucial.
"Each athlete has an individual development plan, and we just want to make sure that they all move up. We've got quite a spread of experience, from the two Sophie's [Lankford and Enever] who are very experienced to Beth Maciver and Arianne Holland who are both relatively new to bike racing. Kate [Richardson] has come from Triathlon, but has had a meteoric rise, and is one hell of a bike rider."
The difference of experience is something that sets Alba apart from alternative development squads, and the UCI experience of Sophie Lankford and Sophie Enever, is something that Lyons believes, can benefit the squad as a whole.
"It's very important, because everyone can do their own thing in understanding things, but having a road captain on the road in races, whose got that experience to pass it on, and to pass it on off the bike as well, is absolutely critical. The balance that we strove for in the team is really important to have that experience in there as well as the inexperience to be able to help those girls."
One of the less experienced road riders in the squad is Vicky Smith. Smith previously raced in time trials and is the Scottish National Olympic Time Trial Champion, but has enjoyed her first season on the road so far, as she explained:
"It's been quite exciting for me - I've not done anything like this before. I'm quite new to the town centre crits, and it's quite frantic and mad trying to get into positions. It's been a good learning experience for me - I've got a lot to work on in that respect."
The team environment is a first for Smith, who would traditionally race solo in time trials, or in her pre-cycling days in athletics. The Tour Series is also the first time that the squad has been together for any meaningful amount of time, and the former middle-distance runner is pleased with how the team has grown as a unit.
"It's my first experience of that, and it's been useful to learn how team dynamics work. It's been our first time as a squad riding together, we had Lincoln GP at the weekend as well which was another good experience in a big bunch."
Teammate Beth Maciver, who has moved into road last season after racing on Zwift for Movistar, agrees, pointing to the proximity of the races in what has been a hectic May:
"It's been really good, and I think having all the rounds so close together has really helped; we debrief after and see what to work on for the following rounds. Then we have the opportunity, just a few days later, to put it into practice again; so there's been huge progress from us all and it's built confidence, which is good"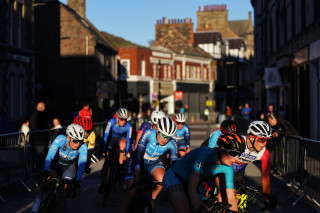 The Highlander claimed victory at the Scottish National Criterium Championships last August, whilst this term has taken fourth place overall at the Rapha Lincoln GP , including the prize for the top U23 rider. Maciver put her recent rewards down to a mix of training and luck:
"Training hard I think. I've been doing loads of races, so it's just been about building up confidence in the bunch. I had a wee bit of luck in Lincoln, but we haven't had much luck so far in the Tour Series, so hopefully we can build on that. We've got quite a strong team, we just need some luck I think."
The bad luck which Maciver refers to had massively hindered the squad during the series, the opening round in Guisborough saw her and Sophie Lankford in the lead group until involved in incidents which removed them from contention, while mechanicals caused havoc in Galashiels. The third round in Sunderland saw Maciver make the winning move with three others, but was taken out in a crash and ended up in the barriers.
Fortunately, that run of rotten luck came to an end in Stranraer as Kate Richardson was in the winning move of four riders, and sprinted to a brilliant third, as the squad scored a superb second overall on the night. Naturally Team Manager Lyons was delighted, saying:
"It's absolutely tremendous, especially after three rounds where we just couldn't catch a break. We've had a lot of bad luck with riders getting caught up in crashes at the wrong time, and we've almost had the girls in the right place. It's fantastic to get Kate in break there, and it's fantastic to finish second team on the night, which is a big improvement and well deserved. That was with a bike change for Sophie Lankford as well, but they all rode out of their skin."
Richardson, who clearly looked one of the stronger riders in the move, was extremely pleased with her ride and that of her teammates, as she said:
"We're really delighted with that - I think we came second team on the night overall. We knew we were capable of finishing up there with the well-established teams but it's obviously easier said than done, and it's been a case of doing it. It's the morale boost we needed, as it's been a difficult few rounds with mechanicals and crashes."
Despite the difficulties, Lyons has nothing but praise for his riders in their debut season:
"It's a fantastic team, they've got a brilliant attitude, all with the same sort of focus and what they want to do."
As for what's next for the team, Lyons will turn the squad's focus to the National Road Series:
"The main priorities after finishing the Tour Series is the British Series on the road, and on the circuit, before we'll finish the season with the Rás na mBhan in Ireland."
A big thank you to all over the team for letting us go behind the scenes with them in Stranraer, and we wish them every possible success for the rest of the season.