The British Track Championships take place this Thursday to Sunday, so we thought it would be a good time to catch up with Scottish sprinter Lusia Steele, to talk about her return to action in January, moving to Derby and her plans for the season.
Glaswegian Steele returned to competition after a sabbatical in January at the Commonwealth Games Qualifying event in Glasgow, where she certainly came back with a bang, breaking the Scottish flying 200m record, on which she commented:
"Getting back to competition was really nice, actually. I have had a bit of a tough year with COVID, and I had a year out anyway, so to come back into cycling first of all, that was exciting. To get back to racing, just showed me everything that I've missed and made feel really excited to get back racing again.
Steele's second 200m time of 11.160 was enough to reach the standard for Birmingham 2022, making her chances of selection for Team Scotland a realistic possibility.
"For me, reaching the standards now, well I was really hopeful I'd do it! I've now reached the standard for all the events except the 500m TT I think, and it's really nice to come back and manage it as the standards were around by PBs and for me personally, I wanted to get back to where I was before I stopped. So to get the standard, it was like something ticked off and that I can move to the next thing."
Steele, alongside fellow Scot Ellie Stone, narrowly missed out on the 500m TT standard by just over a tenth of a second in January, but Lusia was pleased with her performance in an event she hasn't ridden in for a number of years.
"We always focus on the Team Sprint in training, and everything else is secondary. So that was the first competitive 500m TT I've done since Junior Euros in 2018. That was quite exciting - it's probably the first time I'd been in the start gate for a similar length of time. It wasn't a target event, but it was just good to see what it is. Hopefully for Birmingham we'll qualify a Team Sprint squad, for the three girls at the Track Nationals, but it will be a priority for me individually as well."
The original date for the British Track Nationals were in January but Steele is glad that the delay has provided her with some more competition time.
"I think just having the racing experience back under my belt was important. When the Track Nationals were in January, I was a bit nervous to be back in competition and that to be my first race.
"Now, going to Newport, it's like I've got the experience, I've done a race and gone through the motions of a warm-up and all the processes you have to go through. So hopefully, now I can remember those processes and put them into action."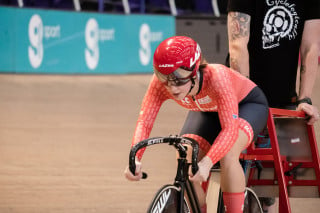 While moving quickly is the aim of the game in track sprinting, the Great Britain squad have all had a move of a different kind in recent months. With the renovation of Manchester Velodrome, Lusia and her teammates have moved down to Derby touse of the velodrome there.
"We've been in Derby for five weeks, and to be honest I'm really enjoying it, a lot more than I thought I would. The training environment is great, we've got the velodrome there and the Derby University gym, which is really nice."

The "training camp" style of the temporary relocation suits the Scot, with teammates being only a stone's throw away, as she noted.
"Having everyone stay in one place, with your mates next door, is great, rather than having to drive to them. The only downside is that it's further away from Glasgow and home!"
One topic of discussion amongst the Track Sprinters has been that of the Commonwealth Games, with healthy rivalry already developing, but with the Track Nations Cup coming to Glasgow in April there is another major event for the former Johnstone Jets rider to target.
"The Scottish girls on the squad have all been talking about it and looking forward to it. On the squad we've got four English, three Welsh and three Scots, and the rivalry between us is already beginning!
"I'm hopeful we'll qualify and that along with Nations Cup is the big one for this year. If I got to go to the Commonwealth Games, that will be really exciting!"
Fingers crossed she makes the grade this weekend, to further strengthen her chances of selection.
You can watch Lusia in action at the UK Track Championships via the British Cycling YouTube Channel and the Eurosport and GCN+ digital channels from the 3rd-6th March.

Tickets for the Track Nations Cup are available here.