A team of seven Scots have travelled to the continent this weekend to race the early season Spanish double-header of the UCI Internacionels XCO Chelva in Valenica and the Coppa Catalana in Catalonia, with a six-day Scottish Cycling camp in Girona in between.
As we look towards the start of the mountain bike season, we caught up with Cyclocross and MTB XC rider Corran Carrick-Anderson to preview the Iberian start to his 2022 MTB campaign.
Corran will be joined by fellow duel discipline riders Cameron Mason, Rory McGuire, Elena McGorum and Anna Flynn, whilst MTB-specialists Charlie Aldridge and British Champion Isla Short complete the septet.
Of racing and training alongside the likes of Aldridge and Short, Carrick-Anderson said:
"To train with people like Charlie Aldridge, who's been World Champion, and Isla Short who's been top five in the World Championships is great – it's just great to train with people at that level."
The ability to escape the slightly-less than tropical Scottish weather and Storm Eunice was certainly appetising to the nineteen-year-old:
"Riding out there is so much more straightforward - you come home and you don't have dirt everywhere! In the sun you're not getting cold, so it's easier to get the hours in. It's crazy how four hours at home compares to four there – it's just so different."
The T-MO Racing rider hopes that the early start to his knobbly-tyred campaign should place him in good stead for the rest of the season to come.
"It's a great experience, starting the season abroad, getting in the races when there's nothing in this country yet. So being able to do it now is great and it's great having that support. I'm really excited to start MTB racing again, but don't really know what to expect as I'm a first year U23 again like I was in cross.
"I'll be just heading out there getting experience and enjoying myself. It'll be great to start the season and have some dust instead of muddy fields."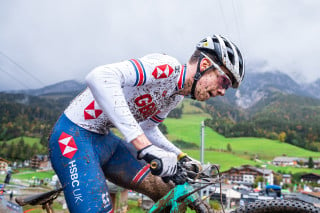 While the dust from a XC race might be slightly easier to clean than the mud of a CX race, the Scot's debut at the U23 level in Cyclocross has certainly turned heads, as he won both the U23 and Elite National Trophy titles and competed at several World Cup events.
"It was my first season as an Under 23 for Cyclocross, I didn't really have any expectations. I was just going into each race seeing what would happen.
"At the start of the season, I never expected to win the National Trophy Series. When it got about halfway through the series, it did become a bit of a focus; not something I was specifically training for, but whenever it got to the rounds, I knew exactly what I had to do."
His continued campaign abroad, which by season end saw him joined by younger sister Emily, was all about gaining experience, against the world's best.
"When I was racing abroad, I was just trying to gain experience by racing against some of the best people in the world and seeing what I can do."
The variation in parcours also provides a great challenge for riders, with everything from sand dunes to football pitches used, as Carrick-Anderson explained.
"The courses are pretty different out there - you get a really wide range of courses. There's Namur which feels like you should be on a mountain bike for, and then there's Dendermonde which is just sludging round a field. Most of the Belgians are so strong – so it's a really high level out there!"
As well as his younger sister Emily, Corran has been joined by fellow Scottish Under 23s and Girona campmates Rory McGuire and Cameron Mason on his foreign adventures this season, and in fact he attributes the success of the Scottish (and other British) riders on the development of domestic racing in the UK and attention paid by British Cycling.
"The whole national system is getting better and better; the National Trophy is a good series now with every race being a UCI-level event.
"Although there's not a proper funded programme because it's not in the Olympics, GB are doing a good job of getting people across to individual World Cup races and letting us get as much experience as we can."
The talks of a UK-based round of the UCI Cyclocross World Cup has been floated in the media in recent weeks, and the Peebles-based rider is excited by the prospect of what would be a first World Cup event on British soil for eight years.
"It would be amazing! There was a World Cup in Milton Keynes back in 2014, but that was before I was into it. If I get to race there, with loads of British people coming to watch it'll be great! It'll be great for the development of the sport in this country as well.
With the Winter Olympics currently taking place, Corran spoke about his interest in watching the curling (which everyone at Scottish Cycling wishes both Team GB rinks the very best of luck), and he gave his thoughts on the suggestions of Cyclocross possibly joining the Olympic programme in 2026.
"I think that would be really cool! It is tricky with the Winter Olympics, as although CX is done through winter, it isn't necessarily like other Winter Olympic sports with the ice and snow, but I think it would fit in well to the Games, and I would like to see it added to the Olympics in future.
Winter sporting success does seem to run in the family with Emily and Corran's father and aunt both competing for Great Britain in Alpine Skiing.
Although the weather will be rather different, let's hope this camp and series of races in Spain will keep the Scot on piste for success in 2022.