Medals in the Women's Madison and Points Race over the weekend finished off what was a spectacular UCI World Track Championships in Roubaix that produced medals for Scots in four events and further cemented Katie Archibald as one of the greatest Track riders of the modern era.
After a fantastic start to the Championships that saw Neah Evans and Katie Archibald win Bronze in the Team Pursuit before Archibald dominated in spectacular fashion to win the Omnium title and the rainbow bands that came with it, the weekend played host to a fan favourite event – the Madison and the inaugural Women's Points Race.
Evans and Archibald teamed up again, following their European Championship success, for the Madison on Saturday. After a successful heat that saw the Scottish duo qualify for the final, it was clear from early in the 25km race that it was a front four – Great Britain, France, the Netherlands, and Italy that would be fighting out for the medals.
With the Dutch pair of Kirsten Wild and Amy Pieters holding a slender lead, Archibald delivered a trademark surge to take three points on the 10th sprint, taking them within a point of France in silver and just seven behind the Netherlands, with Italy some fourteen pints back. However, the efforts of the previous days racing seemed to catch up with the duo as they missed a crucial split in the final few laps, which the three medal contenders were all party to.
With the Italian squad winning the final two sprints and the 15 points that came with it, the Scots put in a massive effort in the final lap to finish fourth in the sprint and pick up the two points they needed to secure a medal - a truly nailbiting finale.
Speaking after the race, Evans said:
"Obviously we're absolutely delighted, a worlds bronze medal is very special. It was a really hard race from the gun, really good race, obviously we're slightly disappointed. It's not going to be a surprise that we're slightly competitive, but I think there's a lot to be proud of today and some points we're looking to improve on, and I think the future is going to be really bright for us."
The final day of action on Sunday was for the inaugural and long overdue Women's Points Race. Despite being in Roubaix it was not to be a Sunday in Hell for Katie Archibald. A medal on Sunday would have made Archibald the first British woman to win four medals in the same world championships since Becky James in 2013.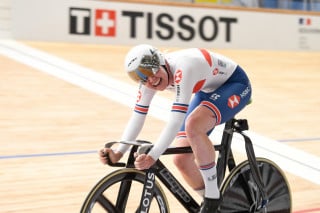 After observing the first two sprints from the back, Archibald launched her first attack in the lead up to the third, taking maximum points before easing off to rejoin the bunch. Soon after a successful attack came, which Archibald was able to join - that move included Kirsten Wild, Lotte Kopecky and Jennifer Valente. Some impressive sprinting saw Archibald leading by a narrow two-point margin after seven sprints, and a second lap gain took her advantage to five over Kopecky.
However, another lap gain for the Belgian rider proved she still had plenty more to give, and as Archibald found herself battling alone, Kopecky's attack gifted her a 14-point lead and all but securing the gold medal.
Not for the first time this week the Milngavie rider found herself head-to-head with Wild, who was riding in the final track world championships of her career, but the Scot found a second wind to take maximum points in the final two sprints and an incredible fourth medal of the week.
On her fantastic silver, Archibald said:
"I'm really pleased, it's almost like the harder it is, the happier you are. I really struggled there, and I think that was all I had. When you're fighting for something and you get it – maybe at 20 laps to go, I realised I was fighting for silver – so it felt like a victory.
"I've had such a good time this week, but it's so emotionally draining, wanting something so bad. The most relief I get is during the race, when all you are thinking about is going hard and not about how much it is going to hurt afterwards. But the sweet relief we get for those 100 laps – it's so worth it!"
Archibald's silver meant that she won a medal in every event she was entered to as did Team Pursuit and Madison partner Neah Evans, with fellow Scot Ali Fielding only narrowly missing out on a chance to win a medal to the Russian Cycling Federation in the Men's Team Sprint.
On this week's action in Roubaix, Scottish Cycling's Head of Performance and Coaching David Somerville said:
"I am sure all of the Scottish Cycling community will join me in congratulating our riders, we could not be prouder of their achievements. For Alistair, I am sure it is the start of an exciting journey at the highest level and we look forward to the coming years.
"For Katie and Neah, what a season it has been! We congratulate them and hope they enjoy some well earned rest ahead of what will be a busy 2022. But we should take the time to pause and reflect on what Katie has achieved. It would be easy for us, as her supporters, to become accustomed to what she is achieving. We should enjoy the moment, this is a special athlete and a special person achieving remarkable things. Congratulations to Katie and everyone who has supported her journey thus far."