Lincoln will play host to the delayed 2021 British National Road Championships with a healthy contingent of two dozen Scots going up against the best riders from across Great Britain in the fight for red, white, and blue bands.
Scottish Cycling spoke to double Paralympic medallist Jenny Holl (Tekkers CC) and Under 23 National Road Series winner Finn Crockett (Wheelbase CabTech Castelli) to get their thoughts on Lincoln. In the first of our previews, we focus on the Time Trial Championships.
The time-trials kick off the championships on Thursday 14th October, with the under-23 women, under-23 men and elite women setting a time over two laps of the route, totalling 29.4km, while the elite men will complete three laps, totalling 44.7km. The challenging route includes 500ft of climbing in each lap in the Lincolnshire Wolds, a designated Area of Outstanding Natural Beauty.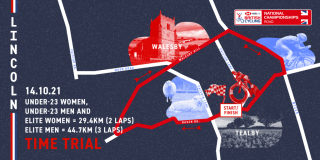 Anna Shackley (SD Worx) will be one of the favourites in the Women's Under 23s having finished 9th at the Time Trial at the recent Women's Tour, as well as winning the Individual Time Trial on her way to win the overall at the Rás na mBan. Shackley will be joined by Beth Morrow (Storey Racing) and Kate Richardson.
Four Scots will take to the start ramp in the Women's Elite TT with new Scottish 10 Mile Record holder Becky Storrie (CAMS-Basso) and Scottish Olympic TT Champion Victoria Smith (AeroCoach) joining Jennifer George (Memorial Santos) and Sophie Lankford (Jadan Vive le Velo).
On the Women's Time Trial field Jenny Holl told Scottish Cycling:
"The standard of British Time Trialling is ridiculously high at the minute. With five Brits in the Top 10 at the recent Women's Tour Time Trial, it's still an open field for the win."
In the Men's Under 23 field Oscar Onley (DSM Development) returns from his season of racing abroad, with fellow Scots Lee Rosie (University of Aberdeen), Matti Dobbins (RT 23) as well as the Wheelbase pairing of Crockett and Logan Maclean. Only two Scots will compete in the Men's Elite John Archibald (Eolo Kometa) and Michael Gill (Saint Piran Development).
Finn Crockett was quite circumspect with his chances, saying:
"I haven't been on the Time Trial bike a lot this season – mostly focusing on Road Racing, but I hope I can put in a good ride as it's my last ride as an Under 23. In the Elites, there's John [Archibald], Dan Bigham and Alex Dowsett who are all incredibly strong."
Keep up to date with all the action from the Time Trial via social media (@ScottishCycling, as well as @BritishCycling). whilst there will also be a highlights programme broadcast on ITV4 at 7pm on Monday evening.
Scots to watch:
Under 23 Men - 9am Start
(Bold denotes UCI team)
Finn Crockett – Wheelbase CabTech Castelli
Matti Dobbins – RT23
Logan Maclean – Wheelbase CabTech Castelli
Oscar Onley – DSM Development Team
Lee Rosie – University of Aberdeen
Under 23 Women – 10am Start
Anna Shackley – SD Worx
Kate Richardson
Beth Morrow – Storey Racing
Elite Men – 12pm Start
John Archibald – Eolo-Kometa
Michael Gill – Saint Piran Development
Elite Women - 3:30pm Start
Sophie Lankford - Jadan Vive le Velo
Becky Storrie – CAMS-Basso
Victoria Smith – AeroCoach
Jennifer George - Memorial Santos