Autumn Track Meeting
Posted on: 14th September 2011
Article and Images by: Martin Harris
It's been a long hard year, four planned meetings at Caird park along with the track league. On Sunday 60 riders breezed into Caird Park for the Autumn Track meeting, in an extended ambitious programme that already included rounds of the BC hardtrack, sprint and womens series, as well as the Youth Madison title and North East sprint and 5 mile championships, as well as counting towards the Skinny tires series. Add to this the Youth B & C omniums and the conclusion of the Youth A sprint.......
Youth A Sprint.
With Robbie Spence (Discovery JCC) already throught to the final. It was Cameron Balfour (Orbea) and Sean Noon (ERC) who opened the meeting, with the third and deciding semi final. Balfour taking the win to move to the final.
Noon beat Hamish Carrick in the battle of the ERC's to take bronze, while Spence beat Balfour 2-0 in a close contest
Gold Robbie Spence - Discovery JCC
Silver Cameron Balfour - Orbea
Bronze Sean Noon - ERC
4th Hamish Carrick - ERC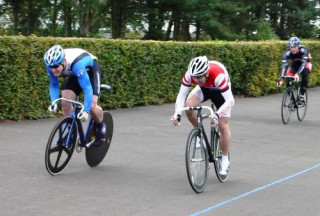 Youth Madison
Although only a few teams, the racing was very close between the first four pairings. Tom Arnstein (Velo Ecosse) & Mark Stewart (Discovery JCC) took an early command and maintained a careful watch over their rivals. Cameron Balfour claimed his second silver riding with Gavin Shuttleworth (Velocity 44 Stirling).
Gold Tom Arnstein (Velo Ecosse)/Mark Stewart (Discovery JCC)
Silver Cameron Balfour (Orbea)/Gavin Shuttleworth (Velocity 44 Stirling)
Bronze Hamish Carrick & Stuart Balfour (ERC)
4th Sean Noon (ERC)/Robbie Spence (Discovery JCC)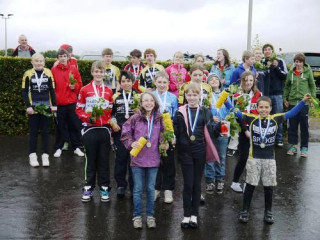 Youth B Omnium's
Splitting football and cycling activities, Callum Walls (Discovery JCC) took command of the boys Omnium with two wins in the long time trial and sprint, following that with a second in the 400m TT behind a very fast Jack Carlin (Glasgow Riderz). Continuing a family theme, Stuart Balfour (ERC) took silver ahead of Rory Mellis (Discovery JCC).
In the girls event, Lulu Bartlett (ERC) almost had a clean sweep, just missing out on top points by .12 of a second. Lauren Smith (Discovery JCC) racing for the first time took silver, with Erin Allen (Edinburgh Racers) bronze
Gold Callum Walls Discovery junior CC 4
Silver Stuart Balfour Edinburgh RC 8
BronzeRory Mellis Discovery junior CC 10
4 Jack Carlin Glasgow Riderz 11
5 Rhys Donnelly Glasgow Riderz 12
6 Jack Crombie Carnegie Cyclones 20
7 Ben Forsyth Edinburgh RC 20
8 Matthias Barnet Edinburgh RC 23
9 Lewis Mulholland Johnstone Jets 28
10 Fergus Ingledew Discovery junior CC 29
11 Jamie Ingledew Discovery junior CC 32
Gold Lulu Bartlett Edinburgh RC 4
2 Rebecca Morley Border city Wheelers 5
Silver Lauren Smith Discovery junior CC 9
BronzeErin Allen Edinburgh Racers 12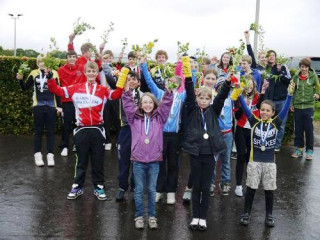 Youth C Omnium's
Taking a clean sweep of the events, before the rain fell, Joe Nally (Hardiebikes.com) took the boys title with a very determined Ellie Park (Glasgow riderz) heading the girls event.
Gold Joe Nally HardieBikes.com 2
Silver Calum Shackley Glasgow Riderz 4
Bronze Cameron Mellis Discovery junior CC 7
4 Danny Mulholland Johnstone Jets 7
5 Adam Loney Ythan CC 10
6 Ryan Ewing West Lothian Clarion 12
Gold Ellie Park (Glasgow Riderz)
Silver Laura Meiklejohn (Discovery JCC)
In the non championship youth races, Mark Stewart decided against the easy route, sticking to the senior edurance events, by completing in the Youth A Omnium as well. Tom Arnstein (Velo Ecosse) blew his chances with a poor 8th place in the de'il, opening up the top order. Stewart having already won the Madison part of the event, won the de'il and followed that with a second in the sprint behind Cameron Balfour, despite having just picked himself up following a crash in the final stages of the senior points race. Sean Noon took third in the sprint to claim 3rd, just ahead of Hamish Carrick.
1 Mark Stewart Discovery junior CC 4
2 Cameron Balfour Orbea 7
3 Sean Noon Edinburgh RC 9
4 Hamish Carrick Edinburgh RC 10
5 Tom Arnstein Velo Ecosse 14
6 Gavin Shuttleworth Velocity 44 Stirling 15
7 Robbie Spence Discovery junior CC 16
8 Zak Loney Ythan CC 24
Joanna Stewart, the last but by no means least of the cycling family, dominated the Youth D event with 3 wins. Anna Shackley (Glasgow Riderz) finished second, with 8 year old Alistair Meiklejohn (Discovery JCC) third.
British Cycling Sprinters League
Barnaby Swinnerton SIS 12.91
Ken Ayre City of Edinburgh RC 13.00
Kevin Stewart SIS 13.17
John McClelland Agisko Viner 13.26
Bruce Croall City of Edinburgh RC 13.32
Neil Withington VC St Raphael 13.42
Philip Trodden unattached 13.68
Callum Watson City of Edinburgh RC 13.96
Jesse Finch Gnehm Capitol Velo 15.18
Edd Shackley Ivy CC 15.53
Gus Gillies thebicyleworks.com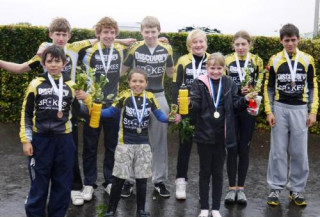 Despite only setting the 5th fastest time , a strong westerly wind adding to the usual Caird park turn 4 oportunities, Bruce Croall progressed through round 1, before beating fastest qualifier Swinnerton to get into the final, alongside the second fastest qualifier team mate Kenny Ayre. Unfortunately the rain intervened to prevent the final. Local boy Kevin Stewart, qualified third but struggled with the demons of turn 3 and 4 to miss out on his chance at the final.
North East of Scotland 5 Mile (BC Endurance event)
Adam Duggleby made his intentions clear, trying to gain points in the Endurance league on Chris Bush. Attacking around half distance, only Mark Stewart was able to go with him. Duggleby always the stronger rider ahead of the young pretender took the overall victory, with Stewart claiming the North east senior and junior title in one go.
1 Adam Duggleby Science in Sport 10.52
2 Mark Stewart Discovery JCC
3 John McClelland Agisko Viner
4 David Martin thebicyleworks.com
5 Bruce Croall City of Edinburgh RC
6 Alastair Taylor Musselburgh RCC
7 Callum Watson City of Edinburgh RC
8 Finlay Young Velo Ecosse
9 Chris Bush VC St Raphael
10 Gus Gillies thebicyleworks.com
11 Neil Withington VC St Raphael
12 Edd Shackley Ivy CC
13 Jesse Finch Gnehm Capitol Velo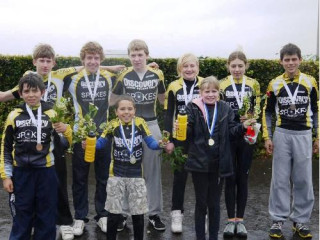 With the weather forecast proving unreliable, the points race was able to run. Duggleby was once again at the head of the race, with McClelland and Chris Bush swapping points early on. With the race past half way Duggleby made the decisive attack, only Stewart was able or willing to chase and after a hard effort he was able to take the leaders wheel. Duggleby had claimed victory before the finish, but Stewart needed the points for second at least to stand a chance of third place. Unfortunately a momentary lapse saw him fall with just over a lap to go. Bush was outside the points in the final sprint, with Stewart down he was able to claim 3rd place.
1 Adam Duggleby Science in Sport 26
2 John McClelland Agisko Viner 16
3 Chris Bush VC St Raphael 9
4 Mark Stewart Discovery JCC 6
5 David Martin thebicyleworks.com 3
6 Alastair Taylor Musselburgh RCC 2
7 Neil Withington VC St Raphael 2
8 Gus Gillies thebicyleworks.com 1
9 Finlay Young Velo Ecosse
10 Jesse Finch Gnehm Capitol Velo
11 Edd Shackley Ivy CC
dnf Callum Watson City of Edinburgh RC
BC Womens Omnium
Continuing a very successful year, Gemma Neill (SWC) took top spot in all three events to take the womens Omnium, riding clear in the scratch race. Anna Harris working to her strengths tried to split the rest, but with no one willing or able to go, she never quiet managed to get away, allowing a watching Dominguez to take second in the scratch race. In the final 2k TT Harris' endurance saw her take second place just 4 seconds behind Neill, but well clear of the rest of the riders. Theses points took both Gemma and Anna into the top 9 of the final BC points rankings.
1 Gemma Neill Sandy Wallace cycles 3
2 Anna Harris Angus Bike Chain 8
3 Julie Dominguez West Lothian Clarion 8
4 Anselma Gallinat VC St Raphael 11
5 Jenni Nicholson Sandy Wallace cycles 15
6 Fiona Walker Walkers CC 18
With only a few races left, the rain came preventing the last few events taking part. Over the winter it is planned that the track is resurfaced, the beech hedge removed and a new fence erected. Many will be sorry to see the hedge go, as part of the final presentations the award winners each received a token bouquet that include a genuine Caird Park hedge cutting, hopefully these will be pressed and kept as a memento.
As stated at the beginning, its been a long hard year, made more tiring by the worst summer in living memory. The best weekend probably being the Youth double header at Caird Park and Meadowbank, although I think one of them was very cold.... I would like to give a huge thank you to all those who have helped, officiated, supported and raced at the meetings, it makes the sleepless nights and planning headaches worthwhile (?)
Also thank you to the following who have helped support the events at Caird park
Spokes Cycles
DE Shoes (new website www.deshoes.co.uk help keep me in a job)
Stewart Scaffolding
Catering team of the Discovery JCC - Scotlands first Go-ride club