Report: Annandale getting Ready For Glasgow
Article by: Alan Denman

Images by: Alan Denman

Annandale & Eskdale sports accedemy, Annan Youth CC and the Scottish Cycling development team joined forces to give local kids the chance to try track riding and start to get ready for the opening of the new velodrome in Glasgow.
Annandale and Eskdale council sports development manager Calum Graham and Scottish Cyclings regional development officer Alan Denman teamed up to give the kids the opportunity.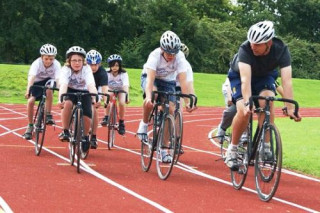 With newly formed club Annan Youth CC helping provide the coaching and support alongside the councils active schools coordinators, the youngsters were well looked after.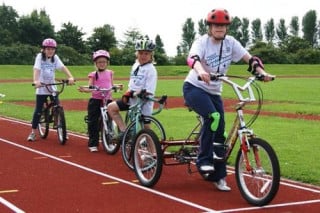 A four day programme was put together. The first three days being based at Everholm athletics track, Annan culminating in the final of a trip to the Meadowbank velodrome in Edinburgh.
The youngsters spent the three days in Annan firstly learning how to safely ride and control the track bikes. Once they had got their heads around riding a bike with no brakes they started learning the many different disciplines and the skills and tactics required.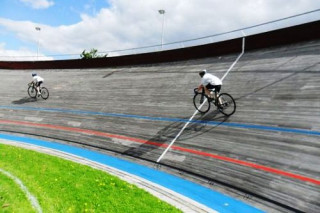 Sessions were fully inclusive, with youngsters from Additional Sports neds units throughout the area also taking part.
Day three also included a visit from the local police who gave a talk on cycle safety and security. All the youngsters also got their own bikes security marked by the police.
The final day at Meadowbank saw the youngsters continuing the learning process with their first time on a velodrome.
After a day blessed with sunshine and some expert coaching and support all 30 youngsters successfully learnt the valuable skills of track riding.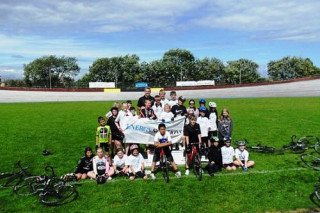 Just one of the responses received from a parent:
Hi Alan & Calum,
It's Friday evening and I've just put my wee twinkles, Eve, Ella & Coll, to bed after a fabulous day at Meadowbank. They had an absolute ball today and their wish when heading to bed was that they could start the day all over again to do it once more. How great is that??? What a testiment to the work you guys put in.
Thank you,
Lynda
If you would like more information on Annan Youth Cycling Club, please visit https://sites.google.com/site/annanyouthcyclingclub/