Annie Last Confirmed As Guest Speaker
Published on: 12th September 2012
Contact: Graeme McLean, DMBinS Project Manager: 07960 271 566
---
British Olympic Mountain Biker, Annie Last confirmed as a guest speaker at this year's National Mountain Bike Conference in Perth
Developing Mountain Biking in Scotland (DMBinS) are delighted that Annie Last, who competed from Great Britain at the Olympics, will be giving an inspirational presentation on her journey to become an Olympic athlete, her experiences of mountain biking in Scotland and how it compares to the rest of the world.
After the hugely successful inaugural National Mountain Bike Conference in 2010 DMBinS are pleased to announce the national mountain bike conference will be return again in Perth on September 26th 2012.
With superb purpose built mountain biking trails, amazing scenery and some of the most progressive access rights in the world, mountain biking presents a great opportunity for Scotland.
Mike Cantlay, VisitScotland Chairman, whose organisation is one of the conference sponsors, said "Scotland boasts one of the most accessible networks of mountain biking routes in the world and it's crucial that we make the absolute most of every opportunity to promote these wonderful assets to the world - especially as we build momentum towards 2013's Year of Natural Scotland. It's vital that we focus on all potential visitors, from entry-level bikers to specialists and working together tap into a market which is worth millions to the Scottish economy."
The conference will look to identify how we take advantage of these assets and position ourselves worldwide by asking the question 'Are we world class?' To help answer the question there is an inspiring panel of some of the most knowledgeable voices within Scottish mountain biking including Frazer Coupland, No Fuss Events, and Paul Masson, Cycle Therapy – Trail Design & Build.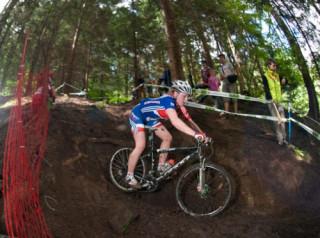 In addition to hearing from experts the conference will premiere a new video featuring worldwide mountain biking stars giving their view. There will also be the opportunity for delegates to give their opinion with a live voting system which will provide interactive feedback on what is world class and what needs to improve in Scottish mountain biking.
DMBinS has also conducted research into the key opportunities in Scottish mountain biking which will be presented by the University of Highlands and Islands.
Developing Mountain Biking in Scotland project manager Graeme McLean will present and answer questions on the projects implementation of the National Mountain Biking Strategic Framework.
Registration and full programme is available at www.dmbins.com/developing/conference