Borders Schools Summer Coaching
Posted on: 23rd July 2012

Event: 16th, 17th & 18th July
Article: Richard Lord
---
With cycling riding the crest of the wave during this summer, Scottish Cycling have linked up with Borders Active Schools and the Borders Sport & Leisure Trust to deliver a series of coaching sessions for P5 to P7 ages. Although Kelso was cancelled to the summer weather, these sessions started on Tuesday 16th July in Tweedbank and travelled to Eyemouth on Thursday 18th. 20 riders and 16 riders respectively enjoyed the sessions with the aim to teach the skills needed to become a better bike rider with a view to racing. All sessions started of with skills work looking at cornering and group riding skills. Once the riders started to master the skills it was time to put them into practice and race each other.
Races consisted of Moto style starts where the fastest two went through to an A final and the remaining two into the B final. Races were fierce and remembering the skills taught was key to success. Choose the correct gear, pedal at 2 o'clock and bent elbows were on show.
Ready, steady, RACE!!!!
To finish the session riders took part in an elimination race. Group riding and awareness of others were the skills employed and tight racing from start to finish was fantastic to watch let alone be apart of.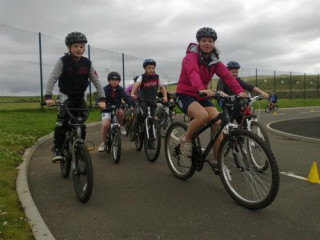 My space!!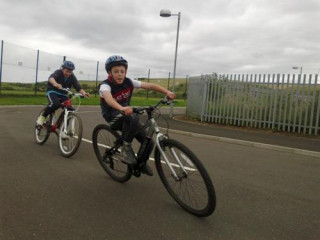 And the Gold medal goes too…
These sessions were also supported by Pete Farquhar at Tweedbank (and would have been Barrie Sweenie had it not been for the rain), who are both trainee Level 2 coaches from Gala CC and Kelso Wheelers. For further information regarding coaching and events in your area the please contact richard.lord@scottishcycling.org.uk or call 07908 672652
There are still places available for the following sessions:
Tuesday 24th – Tweedbank
Wednesday 25th – Kelso
Thursday 26th - Eyemouth
Tuesday 31st – Tweedbank
Wednesday 1st Aug – Kelso
Thursday 2nd - Eyemouth
To book a place please call Borders Sport and Leisure Trust on 01896 756 274