Scottish Schools Cycle Speedway League
Posted on: 27th February 2012
Article by: Tommy Lee
Images by: Trevor Bryant
---
Dunfermline's Queen Anne High School were the next of this year's participants in the Scottish Schools Cycle Speedway League to pay a visit to the Jack Kane Centre in Edinburgh for a training session.
Edinburgh Falcons coach Gavin Kennedy had visited the school late last year to undertake a coaching session and it was clear from their first practice laps around the tight indoor circuit that the pupils had been training hard over the Winter. In fact, the eleven pupils and Geography teacher Craig Masson were so impressive that it was decided to stage an individual competition.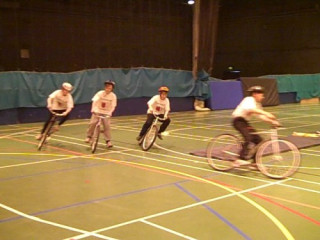 After 12 heats of thrills and spills, the fast starting Joel Kelman emerged as the winner, dropping just one point from four outings. In second place was the very impressive Stuart Turvey, who has already tasted success in youth road races. Like track cyclist Emma Baird before him, Stuart adapted quickly to the change in cycling discipline, powering his way to three race wins. Another rider to catch the eye was Darren Sayer who recovered from a last place in his first ride to finish with two victories. Full scores:
Joel Kelman 15, StuartTurvey 14, Craig Masson 14, Darren Sayer 12, Harry Langdale 11, JakeFerguson 11, Tyler White 10, Mitch Stevens 9, Darren Lister 8, Aaron Brown6, Aiden Rae 6, Ryan Hunter 4.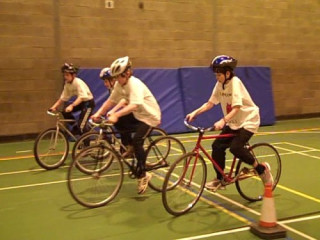 The visitors next Friday (2nd March) are Inverkeithing High School and Tynecastle High School.