Scottish Cycling presents: A Day of Downhill
Posted on: 13th December 2011
Article by: Chris Bryant
---
When: Friday the 27th January 2012 10.00am - 4.00pm
Where: Eastgate Theatre, Peebles / Glentress Forest, Scottish Borders.
A day of downhill mountain bike information from Scottish Cycling's experts:
Chris Ball (Scottish Cycling, UCI, founder of Dirtschool)
Richard Lord (Scottish Cycling's Regional Development Officer)
Chris Bryant (Scottish Cycling)
Downhill mountain biking has a strong but recent history within Scottish Cycling, yet it remains a relatively under represented sport. Learning the basic skills required for downhill vary little from other forms of cycling so you needn't shy away from getting involved. Scottish Cycling will show you how and where you can get involved. Even bringing downhill into your existing club or group activities can make sessions more fun and enjoyable and an increased level of skill in downhill will undoubtedly benefit the majority of riders out there. You don't need to be a downhill expert to attend as Scottish Cycling's staff will guide you through the day.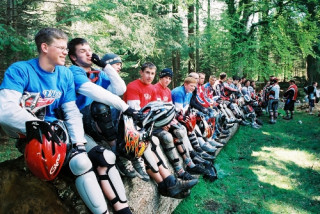 A morning of workshops and networking followed by a practical ride out around the forest (weather permitting).
The programme will include sessions on.
Getting in to Downhill
How to start a downhill club
Downhill event organising
Downhill Coaching
Scottish Cycling mini DH series / Fort William world cup
Entry is free but please contact coacheducation@scottishcycling.org.uk to be included on the guest list. Places are strictly limited.
Participation in the practical sessions may require the use of a general use mountain bike for transport between trail features, a DH bike is not advisable for this reason.
Lunch is available within the Eastgate theatre or in Peebles and Glentress.