We look forward to welcoming you to Crieff Hydro in picturesque Perthshire for the 2023 Scottish Cycling Conference and Awards.
Following last year's success, our conference, awards and AGM will be combined to create an unforgettable day as we celebrate all things cycling.
Conference and AGM
After arrivals and coffee, the conference will get underway just before am. We'll kick start the day by taking a look back at 2023 in cycling and reflect on the 2023 UCI Cycling World Championships.
As well as keynotes speakers, there will be a number of breakout sessions, with workshops tailored to your interest areas, from Mental Health to managing social media; the preliminary conference programme can be found in the table below.
The Scottish Cycling AGM will also take place just before lunch, with key standing items distributed to clubs in the weeks' prior, as is always the case. Our President Kathy Gilchrist will host the meeting and share her reflections on 2023.
You can book your place at the Scottish Cycling Conference and AGM by clicking the link below:
Awards
Nominations are now closed for the 2023 Scottish Cycling Awards, we're currently evaluating all the nominations submitted. Full shortlists will be revealed shortly – keep your eyes peeled to our social media accounts.
Join us on the night, where you'll have the chance to rub shoulders with some of the stars of our sport at our Champion's Drinks Reception, before a three-course meal, after which we'll crown our award winners and you'll have the chance to let your hair down on the dance floor. Dress code is formal – kilts and frocks encouraged!
Tickets for the Awards Dinner are now on sale, priced at £52.50 per person. You can purchase your ticket by clicking the link below.
If you wish to book a full table of 10 then please email pete.matthews@scottishcycling.org.uk with the subject line "Awards Table".
With nine awards, spanning the full spectrum of our sport, there really is something for everyone. From traditional athlete of the year accolades through to volunteer of the year, we want to recognise the great and good of our cycling community, particularly those unsung heroes who give up hundreds of volunteering hours to make our sport happen.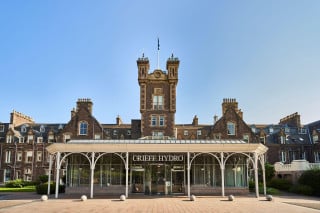 Getting there
Crieff Hydro holds the gold Green Tourism award for their commitment to sustainability and environmentally friendly practices. Set in the beautiful Perth countryside, it is the perfect venue to host our conference and awards night and offers some fantastic opportunities for all types of riding the following day.
Traveling by public transport
The nearest train stations with connecting buses to Crieff are Perth and Dunblane. From the train stations, the easiest way to get to Crieff Hydro is via the following buses:

• Service 15 - Perth to Crieff Golf Course (approx. 40 mins)
• Service 15A - Dunblane to Crieff Main Square (approx. 40 mins)

It is a 5-minute walk from Crieff Golf Course to Crieff Hydro. It is approximately a 15-minute walk from the Main Square to Crieff Hydro.
Arriving by bike
There are several bike shelters around Crieff Hydro (please ensure you bring a bike lock). If you would like help planning your route to the venue, please contact club.development@scottishcycling.org.uk.
Arriving by car
If travelling by car the postcode for Crieff Hydro is PH7 3LQ. Free parking is available at the rear of the main hotel. Car sharing where possible can help keep costs down and reduce the number of individual cars on the road, which can lower carbon emissions and traffic congestion.
See you on Saturday 25th November, as we celebrate what will hopefully have been another fantastic year for cycling in Scotland!