Scottish Cycling is delighted to announce that Jenny Graham and Trudy Lindblade will top and tail the 2023 Scottish Cycling Conference with keynote speeches.
Well known for her record breaking round the world ride, Graham continues to break down barriers, both in terms of her personal achievements, the most recent a Crossfit x Cycling x Cairngorms epic, but just as importantly her quest to bring about more gender equality in cycling.
The Invernessian, who is also a presenter on GCN (Global Cycling Network), is looking forward to connecting with the Scottish Cycling community next month, commenting:
"I'm delighted to be joining the Scottish Cycling community for their conference and awards next month at Crieff Hydro. I know Scottish Cycling are increasing their focus on the women and girls space, and so I look forward to sharing my thoughts on how we get more women on bikes, whether it's racing, for short journeys or going on epic adventures! I'll also share a few tales from my round the world adventure – good and bad – and look forward to chatting to members of the cycling community on the day."
Jenny will also have copies of her new book, 'Coffee First, Then The World', available and will be signing them during the breaks in the programme.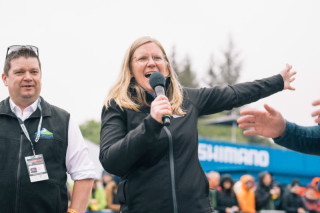 Chief Executive of the 2023 UCI Cycling World Championships, Trudy Lindblade, will share some of the behind the scenes trials and tribulations of the inaugural 'super worlds', as she rounds out what is shaping up to be a fantastic conference programme at Crieff Hydro.
With August's event a resounding success, we'll get to hear first hand just how positive it was, as well as how they've measured some of the impact the event has had.
Taking place on Saturday 25th November at Crieff Hydro, the Scottish Cycling Conference & Awards will once again bring together the cycling community in Scotland, with a full day of cycling celebrations.
Kicking off at 9.30am, with coffee and networking available before that, the conference programme will run all day, and will be revealed in full later this week. As was the case last year, our AGM will take place at lunchtime, punctuating the day, as we hear from President Kathy Gilchrist and CEO Nick Rennie.
After a short interlude to put on your glad rags, our Awards ceremony will take place in the evening, with our 2022/23 National Champions recognised at our Champion's Drinks reception, before a three course meal, the presentation of our nine awards, a charity auction and a ceilidh band to round out proceedings.

Tickets for both parts of the day are on sale now: