With the 2023 road season drawing to a close, we reflect on the success stories of 2023, and look ahead to an even better 2024.
Whilst heavy rain and flooding halted the final weekend of the road season, including forcing the Drummond Trophy to be cancelled, curtailing the Alba Series finale, it has still been a successful year for our two national series.
As already documented, Heather Shanks (North Argyll CC) took the Scotia Series crown after a victory at the Hugh Dornan Memorial RR and two podium finishes in Straiton and the series finale in Galloway.
Arianne Holland (Alba Development RT) finished in second, just ahead of Rebecca Saunderson (Studio Velo) in third.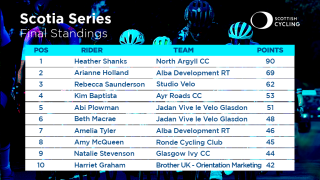 The men's Alba Series ended up being shorter than anticipated, the Drummond firstly black flagged due to a nasty crash earlier in the summer, and latterly cancelled due to standing water on the course. None-the-less Craig Paterson (Spokes RT) came out on top as the well-deserved winner 22 points clear of Neil Scott (Deeside Thistle CC in second place.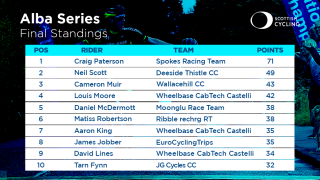 Looking ahead to 2024
2023 has seen the first full season of road racing since the pandemic, and whilst there have been some great moments and competitive racing, there is plenty of work to be done to help the road scene get back to its full potential.
The road calendar has decreased significantly since pre-pandemic days, however the number of entries into road races has decreased even further, with only a few races at capacity this summer. This trend is clearly multi-factorial, with cost of living, nervousness about road racing, discipline cross over and other pressures having an effect.
What we must do is try and build a more appealing calendar, with the right races, at the right time, in the right places. We are acutely aware of the challenges of organising races, particularly road races in the current climate, with last minute roadworks, new road layouts, growing impatience from other road users, as well as challenges in recruiting volunteers and ensuring they have a positive experience. However without volunteer organisers we have no racing scene, so we will continue to support race organisers, old and new, as best we can.
There is no quick solution to helping the road scene get back to where we all want it to be, but here are some of the things we are doing to try and accelerate this progress:
Focus on youth racing through our Race The Worlds Series, providing a stepping stone to national level competition, and by ensuring the Youth Tour of Scotland runs in 2024 and provides an inspirational event for youth riders.
Direct delivery of the Scottish Women's RR Championships in 2023 (incorporating senior, junior and veteran titles) to ensure event went ahead.
New event added to the calendar in the South West, with a new course risk assessed filling a gap in provision. Enthused club supported to deliver a high-quality round of the Alba/Scotia Series as their first Road Race (which will return in 2024)
Improved calendar compilation process, with a focus on getting the national and regional tiers right
We do need you, our community, to input though, both with your thoughts, and by supporting racing, either as a racer, organiser or volunteer.
Blueprint calendar for 2024
As per our Domestic Events Strategy, which involved extensive consultation with the community, we have developed a blueprint for what an ideal calendar looks like at national level, and for 2024 we are therefore working towards:
5-8 April – Youth Tour of Scotland
27/28 April – Youth Circuit Series 1
11/12 May – Alba/Scotia Series 1
25/26 May – Alba/Scotia Series 2
1 /2 June – Youth Circuit Series 2
8/9 June – Alba Series 3
22/23 June – Youth Circuit Series 3
22/23 June – Scotia Series 4
6/7 July – Scottish Vet RR Champs
13/14 July – Olympic TT
27/28 July – Alba/Scotia 4
3 /4 August - Alba/Scotia 5
17/18 August – Scottish RR Champs
24/25 August – Youth Circuit Series
7/8 September – Scottish Circuit Champs
14/15 September – Scottish Junior RR Champs
19/20 October – Scottish Hill Climb Champs
Naturally this is what we're aiming for, but it will need buy-in from volunteer organisers to help make it a reality – the only way to achieve this is by working together.
We are asking clubs and prospective event organisers to register their interest in organising Series and Championship events, please follow the link below for more info.
How can you get involved and support road racing in 2024 and beyond?
Attend your regional calendar compilation meeting and be part of the discussion about what races will take place in your region next year, and how you and your club might be able to help – whether that's marshaling, driving, or some epic catering – get in touch with your Club Development Coordinator to get the details:
Attend the Scottish Cycling Conference and join our workshop on Domestic Events in Scotland, where we will have an open discussion about the challenges being faced across a number of disciplines, and how collectively we might be able to find workable solutions and support events.
Support races in your local area. Again, whether that's by volunteering, or whether it's by riding – and bringing along some friends. We need more people involved in all aspects of road racing – so get involved!
Contact our Head of Development (Events & Participation), Sophie McCall, at any time via sophie.mccall@scottishcycling.org.uk