Images: Man Down Media
Published: Monday 24th June

Charlie Aldridge (Cannondale Racing) came out with not one, but two British national jerseys to add to his already impressive palmares after an excellent weekend of racing at the British National MTB XC Championships at Tong.
British XC Championships
Short Track
Friday's Short Track event saw a title battle between Aldridge, a former European Champion in this event, Joe Blackmore, Cameron Orr and fellow Scot Cameron Mason (Trinity). With Aldridge managing to hold off the chasing pack on the final lap and take home the British title by two seconds, with Mason coming home in fourth, with Corran Carrick-Anderson (T-MO Racing) in fifth.
The Juniors were in the same field as the seniors and Ruan Vorster (SORT) finished 15th overall and took home the Bronze in the junior category.
Elena McGorum (Peebles CC) was top Scot in the elite female short track, coming home in fifth, while, in the female juniors it was a Scottish 1-2, with Emily Carrick-Anderson (T-MO Racing) taking the win from Daisy Taylor (Royal Albert CC) in second.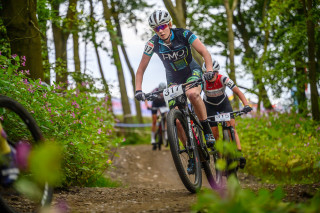 Oliva Poole (Deeside Thistle) claimed the British title in the U14 event, with Innes Macdonald (SORT) continuing his fantastic season in the Youth boys with the win there.
Cross Country Olympic
The elite men's Cross Country Olympic race was a similar story to Friday's XCC event, with Charlie Aldridge and Cameron Mason fighting for the win.
Aldridge victory came after he turned the screw on his fellow Scot on the penultimate lap to force a gap that he would not relent as he claimed the title by 13 seconds from Mason who claimed an excellent silver. Aldridge now looks to Glentress where he will enter the U23 XCO and XCC races as British Champion. Grant Ferguson (Hope FR) came home in fourth place and will be in action in the XC Marathon in two weeks' time.
Isla Short (Ghost FR) put in another really strong performance to take the silver medal in the female elite event, with fellow Worlds-bound riders Joanne Thom (TORQ Performance) and Jane Barr (Velocity 44 RT) coming home in seventh and eighth place respectively.
In the men's U23's there was a silver and bronze for Rory McGuire (Leslie Bike Shop) and Corran Carrick-Anderson (T-MO Racing) with Sam Chisholm (The Cycling Academy) coming home in fifth place. It was a similar story in the female U23 race with Elena McGorum besting sister Anna (Edinburgh University CC) for silver, with Mieke Kalmijn (Edinburgh University CC) come home in sixth place.
Emily Carrick-Anderson followed Aldridge's lead by doubling up on titles, with victory in the female juniors, leading from flag to flag as she claimed an excellent victory, while Daisy Taylor came home in fifth, there was also medal success for Ben Allan (Peebles CC) with an excellent bronze medal in the male juniors.
Oliva Poole (Deeside Thistle) continued her domination of this season in style with victory in the Juveniles event, her ninth consecutive win this season, to become British champion.
Gus Lawson (Pentland Racers) has been on fantastic form all season as well, with the Scot claiming seven wins so far, it was a similar story on Sunday with yet another excellent ride to claim the British title.
British DH Championships
One of the favourite tracks in the UK, Rhy-y-Felin has hosted the British championships on many occasions and this year's edition saw riders tackle the fast and challenging course in heavy rain. With each section of the track covered in mud, wet rocks, and slippery roots, the riders really had to be on their game from top to bottom.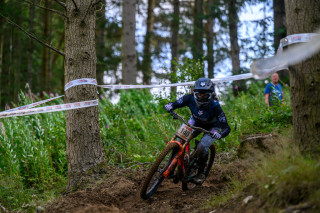 Phoebe Gale (Canyon Collective FMD) was in strong form to come home in third place in the Senior women. There was no stopping Aimi Kenyon (Pinkbike Racing) with a rapid lap time of 3:40:422 in the junior women category, taking the win by nearly 25 seconds, with fellow Scot Nina-Yves Cameron (Oneal Racing) in third.
While Muc-Off Young Guns' Heather Wilson took a storming win in the youth girls class ahead of Jessica Wipat (Tay Titans) in second to make it a Scottish 1-2 at the top of the Youth podium, with Sorley Swabey (West Highland Wheelers) came home to take bronze in the youth boys race.
Galloway Hillbillies RR
Newton Stewart was the venue for a first-ever road race held by the Galloway Hillbillies and an exciting end to the Scotia Series, and the penultimate round of the Alba Series.
Local rider Rebecca Saunderson (Studio Velo) took the victory in the Scotia Series finale with Heather Shanks (North Argyll CC) in second place, which was enough for Shanks to take the overall series honours. With Beth Macrae (Jadan-Vive-le-Velo) coming home in third place.
Aaron King (RT23) took an excellent win in the Men's race, from Spokes RT' Murray Souttar in second and Daniel McDermott in third.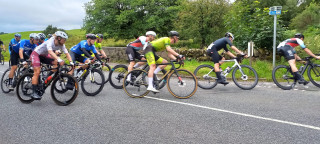 Sheffield GP
Finn Crockett (Saint Piran) joined a select group of five who dominated the Sheffield Grand Prix, working together to carve out an unassailable lead before a sprint that saw two Saint Piran riders top the podium.
The victory was the 24-year-old Highlander's first win for his new team, having signed mid-season after the collapse of his previous team earlier in the year. Saint Piran did well to make sure they had a numerical advantage in the early move and it paid dividends in the finale.
He'll now look to France for a number UCI 1.2 races before, hopefully, the Tour of Britain in September.