When a group of cyclists lost their friend to a sudden cardiac arrest, they turned their grief into a mission to raise awareness for cardiac risk and honour his memory in a unique and poignant way.
We caught up with two of the founders of Lettuce Club, Fraser Martin and Craig Hamilton, to find out more about the club and the important story behind it.
After starting off in a group chat with riders that are now in their mid-twenties, it snowballed from there, as Martin explains:
"Craig Owen and Grant Ferguson put a lot of the cyclists of our age who raced bikes every week into a Facebook group, so that we could play stupid games and try and beat each other. At least this is how I remember it started."
As well as Owen and Ferguson, Mark McGuire, Grant Martin, Iain Paton, Ruari Yeoman, John McLeod and Finn Crockett were part of the group, having all raced together as youths, juniors and under-23s at both Scottish and British levels.
The name Lettuce Club may indeed be a source of many questions, but the answer is relatively unexpected, as the former Raleigh rider explains:
"As you're do in group chats, you get just random videos and there was a group of people just eating lettuces very quickly and we thought, hey, we'll do that on our next night out, and then from that moment on, we were known as the Lettuce Club. So that's where the name came about."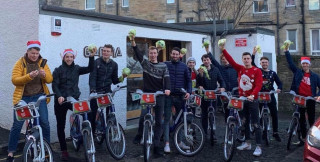 The Lettuce caught on and was the inspiration for social gatherings over the years as, Craig Hamilton explains:
"We used to have a Christmas night out in Edinburgh every year, where we'd play about on the Edinburgh city bikes and everyone brought a lettuce that they had to protect throughout the evening. We came up with a game about protecting the lettuces on a night out, and it grew arms and legs from there.
Friend and, former Scottish and British Champion Ben Forsyth tragically passed away in 2018, aged 20 from a sudden cardiac arrest, having been previously diagnosed with a heart irregularity that stopped his racing career a couple of years previously.
The group became closer together, as Forsyth's former clubmate Hamilton explains:
"Obviously with Ben passing away it became more poignant to have these meet ups on an annual basis. It became a thing from there and everyone was going to get a tattoo, but I was the only one silly enough to go through with it. I now have a Lettuce on my ankle.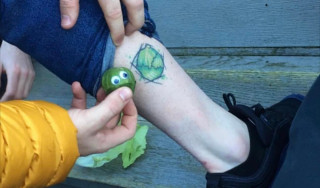 "Lettuce Club started off just as social group of friends, having fun, but obviously now has a kind of deeper meaning about."
Raising awareness for Cardiac Risk in the Young (CRY) is a major part of what Lettuce Club stands for, and is the driving force behind the group chat becoming a cycling club. The lettuce acts perfectly as a conversation starter; through its absurdity it provokes questions as Hamilton found out in his grass track career:
"With the tattoo being on my ankle, I used to get attention when I raced at Highland Games you'd have random American tourists in the crowd, asking you why you have a lettuce on your ankle ready to try and slag you off. At which point you then tell him the story and they go, 'wow, that's actually really good'. The kit is another layer on top of that.
The club has officially affiliated in 2023, and with is comes a new kit, although it might not be to everyone's taste:
"The kit is foul. It's luminous green, and it's going to stand out!"
Fraser, who admits he's no stranger to eye-catching kits from his days as a professional riding for Raleigh-GAC, sums up the concept:
"It's meant to be confusing to the average Joe, nobody actually knows what it is and when people start asking what's with the lettuce. What is Lettuce Club? It allows us to tell the story of "This is what happened through our best pal and why we've got the CRY logo on the back of the kit. Ben was such a big part of all of our lives."
The decision to become a fully-fledged club now perfectly coincided with many of the riders taking a backseat from elite racing, as Martin explains:
"It's got to the point now that when we first started Lettuce Club everybody was pretty serious. Everybody was competitive and riding for teams and had their own thing going on.
"There are races every weekend and sort of as everybody's getting older and we're all realized that none of us are going to make it as professionals, except for maybe Finn [Crockett]. I'm not racing as much, and don't particularly need to ride for a team."
Although Crockett won't be wearing Lettuce Club kit, keep an eye out for a lettuce-coloured cap when he races for AT85 Pro Cycling this season.
"A lot of us are happy that we would make our own club and we'll do our own thing, and instead of riding under somebody else's jersey, we'll will ride for Ben."
Martin pertinently concludes by simply stating:
"We're hopefully doing something good and raising awareness and it comes through something a bit daft, which sums up everybody whose involved in it."
We wish them the best of luck this year as they aim to raise awareness for such an important cause.
You can buy the Lettuce Club kit by messaging the club on Instagram, with all the proceeds going to Cardiac Risk in the Young.
The Ben Forsyth CRY Criterium, organised by Edinburgh Road Club takes place on [date] at Fife Cycle Park and can be entered online.