The time has come to say goodbye to Lusia Steele as a professional sprinter, the Renfrewshire track star deciding the time is right for the next chapter in her life.
After making her Commonwealth Games debut this summer, the 22-year-old from Erskine has decided to hang up her wheels, explaining:
"I made the decision a few weeks out from the Games, and I felt motivated to finish my career off feeling proud of myself, and having fun with the people who made my career fun. It seemed like the right place to stop. You only really get to represent Scotland on the big stage once every four years, so it seemed fitting to end on a high. I enjoyed being part of the team in Birmingham with some great people and the moment itself was special, so it seemed like a good place to stop."
After spending a large part of 2021 away from training due to mental health difficulties, Steele still managed
to qualify for the Birmingham Games after a very strong start to 2022, which included breaking the Scottish Flying 200m record in January's Qualifying Event.
"To actually be there and competing at Commies and representing Scotland was something I wanted to do; knowing that I did that after having six months away from training and to bring myself back from suffering with my mental health to compete on that stage, I guess it's a big highlight for me. I want to thank British and Scottish Cycling for supporting me through that and sharing that goal - even in the hardest times I always felt supported by the people involved in both performance programmes and want to highlight this."
From the Buddies to Birmingham, Steele's cycling career started in 2008 through Johnstone Jets Cycling Club, with sessions often taking place in the car park of St Mirren Park in Paisley.
Through her career, Lusia has always relied on the support of her father Kenny, who many will know as a coach, volunteer, and event organiser in his own right. Lusia recounted the time that her dad booked a couple of hours for a private session at the Sir Chris Hoy Velodrome so she could conquer her fear of the banking, by the end of which Kenny had her riding the very top of the track without issue.
"My dad, he always does everything he can to help not just me, but everyone. So, the start line of my 200 at Commies, I looked at him and felt emotional because I knew we'd gotten there together. I always looked at him before and after a race, and he could read me like a book - he knew if I'd be about to smash it or not then after he'd know if I would be happy or not and knew exactly how to respond. But no matter what, he was always there."
Lusia also pointed to the positive impact Johnstone Jets coach Martin Mulholland had, another huge influence on her career.
"He's a softie now but he used to be the strict coach, the one you never wanted to be disappointed with you. He helped me a lot when I was younger, and to this date his way of coaching me is still one of my favourites."
While Lusia settled as a track sprinter, as a youth she was also a road rider, racing in the Youth Tour of Scotland and winning the Scottish National Youth Circuit Race Championship as an Under 16. All told she would win six other Scottish National titles as a youth that year, before joining the Scottish Cycling Performance Programme in 2016.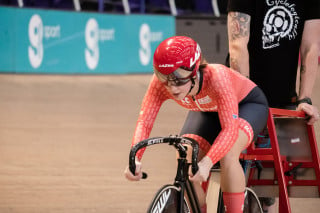 Another person who played a key role in Lusia's journey was former Scottish Cycling Sprint Coach Dave Daniell, and he noted:
"Lusia was a fantastic member of the Scottish Cycling Sprint programme, her enthusiasm and passion for sprint, and all cycling disciplines, was infectious to be around. She was a dedicated member of the programme and progressed through the ranks starting out with the Johnstone Jets, moving into the Glasgow Life youth sessions, onto Scottish Cycling and finally onto the Great Britain Cycling Team.
"Lusia always supported her teammates with a wealth of knowledge and experience from her time in the sport, and alongside her passion for learning and her natural flair for racing, it made her a real talent. She has inspired many young girls, particularly, and has consistently achieved strong results throughout her cycling career, with a particular highlight being the 2022 Commonwealth Games in Birmingham. On behalf of everyone at Scottish Cycling, I wish her the best of luck with the next steps in her journey."
Enjoyment was a huge part of the journey for Steele, who provides some extremely important advice to those looking to follow in her footsteps.
"I've always enjoyed bike riding and I feel like that, just enjoying it, always got me to the next step. Even as a kid I never thought 'I want to be on the Scottish or the British programme' - it just came naturally as the path that I enjoyed. I got good at it because I enjoyed doing it."
While on the British Cycling programme, Steele managed to claim a European Championships silver in the Team Sprint in 2020, however, by her own admission, at the time it didn't feel like a high point.
"The Euros were a highlight results wise, but at the time it didn't seem like much of a highlight. Looking back on it now, the fact I actually got there, knowing how much I went through before that and how unhappy I was, even in the few weeks leading up to it, so just getting to that point was good! It's these times you rely on your teammates and I'm grateful to them all.
"Ultimately it all comes back to enjoyment. I've stopped because I felt like the whole time it made me happy and then it didn't. I think it'll take time to work out the reasons, but I think if I look back on every interview I ever did, I never said that I wanted to go to the Olympics or this, or that. It's that I did it because I enjoy riding my bike, I took my own advice and have stopped racing because I recognised I wasn't happy. I still love everything about the sport but being happy is the most important thing."
Looking back on her 14 years of riding and racing, Steele cherishes many moments, noting:
"The opportunities it gave me, the people you meet and the places you got to go that's the things I'll remember most. I guess there's specific people that as a kid you sit and watch and look up to. It wouldn't be an interview with me if I didn't mention Katie Archibald and how she's always the person that made me think WOW! So then getting on to a programme and being around people you've looked up to - I think things like that are really exciting and I'm grateful for. It's something that not everyone gets to do, so I think opportunities are the big one and then the people you get to meet."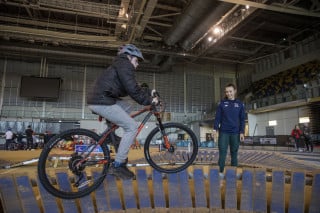 While leaving the disc wheels and skinsuits behind, Lusia is still keen to remain involved in the sport.
"I definitely want to do some coaching, and hopefully there's some stuff coming with that in the pipeline. But it'll be nice to enjoy some new things in life as well and I've started a new job and I really love it."
After 14 national titles, two British titles, a European silver medal and a Team Scotland appearance at the Commonwealth Games, there is a lot for Lusia to be proud of, and we're confident she'll be successful in whatever comes next.