Scottish Cycling is pleased to confirm that one of Scotland's most recognisable sports journalists, Rhona McLeod, will host it's Awards evening at the end of November.
Having worked as a broadcaster at three Olympic and five Commonwealth Games, Rhona is no stranger to Olympic and Paralympic sport, and has interviewed a number of Scottish Cycling stars over the last two decades.
Having spent most of her career working for the BBC, Rhona has also covered Wimbledon, the men's Football World Cup, The Open and several Six Nations Championships. Both during her time at the BBC, and since going freelance, McLeod has hosted numerous events, from awards ceremonies to corporate functions.
Taking place on Saturday 26th November, Rhona will host the Scottish Cycling Awards, which is taking place at Hampden Park, returning after a two-year hiatus. With a new-look format, the event will be centred around nine awards, starting with a Champions Drinks Reception and three course meal, and ending with the opportunity to dance the night away.
Rhona, who is no stranger to cycling, noted:
"I am absolutely thrilled to be hosting the Scottish Cycling Awards in 2022. The sport of cycling is in my blood - the people, the toughness, the discipline and the touring adventures as a child – there is no doubt these values have helped shape my life personally.
"I am so excited to celebrate another great year for Scottish Cycling, and to look forward to a remarkable year in 2023 when 13 cycling disciplines will take place in Scotland as part of the new UCI Cycling World Championships. It's such an exciting time for the sport, especially here in Scotland, and I am honoured to be invited to be a part of it."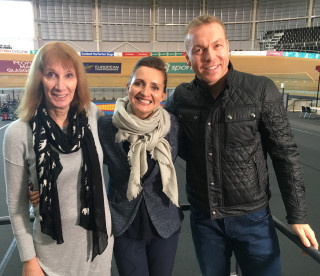 Prior to her broadcast career, Rhona's sport as a competitor was athletics where she was a member of Scotland's junior and senior national teams. She earned her first senior national vest as a 16-year-old, selected to compete in the long jump. She continued to compete in the Scotland team into her 20s, before a knee injury and the broadcasting bug lured her to switch sides.
However despite competing in athletics, Rhona's first love was cycling - indeed her earliest memories are sitting in a home-made baby carrier over the back wheel of her Dad's Flying Scot. When her legs were long enough, she progressed to the back of a tandem with blocks attached to the pedals, and she was told to push!
Instead of teaching nursery rhymes, Rhona's enthusiastic parents concentrated on educating her with the history of their beloved sport and foreign language. Friends were mystified with the enthusiastic random yells of "Allez Allez Gino Bartali!"
We look forward to welcoming Rhona to Hampden at the end of the month, in what is set to be a great evening celebrating our wonderful community. Tickets, and more information, can be found on the link below.