Sean Flynn is set to become the first Scottish developed male rider to ride at the highest level in the UCI World Tour.
Whilst the likes of Robert Miller and Brian Smith have won races at the highest level, Flynn will be the first man to ride at that level since the World Tour was formed in 2011. He will join Anna Shackley in competing at that level, Shackley riding for SD Worx in the Women's World Tour.

Flynn enjoyed a stellar youth and junior career, his talent evident from a very early age, but it's his dedication and determination that have seen him rise to the highest level. Racing all disciplines as a youngster, Flynn has taken British title on the mountain bike, road bike and in cyclocross as he developed a wide ranging skillset.

Making the transition to full-time road racing at the start of 2021 in the U23 category, Flynn picked up several solid results in one-day races and took his first podium finish with second on a stage at the Circuit des Ardennes.

However it was 2022 where he has really shone, his season starting with a bang as he took his first UCI level win at the Istrian Spring Trophy, a race where he finished third overall. A consistent string of performances has followed with several top tens throughout the season: a sprint jersey win at the Giro Valle d'Aosta and recent fourth places at the Tour of South Bohemia and Paris Tours U23.

Sandwiched in-between all that was the Commonwealth Games, where Flynn formed part of a strong Team Scotland road line-up, who knew if they worked together would have an outside chance of a medal. Whilst Flynn would have loved a medal, he sacrificed his chances in the closing stages to set up Finn Crockett for that famous bronze medal.
Flynn joins fellow Scot Oscar Onley at the Dutch outfit, the young Kelso rider impressing for the Continental team this season at both the Tour of Britain and the Cro Race, where he pushed Tour de France champion Jonas Vingegaard very close on a couple of stages. He will also hope to make the step up in the not-too-distant future.

On signing for DSM, Flynn said:

"My 2022 season with Tudor has gone pretty well - I took my first UCI win and proved myself to be able to perform consistently and at a high level in most of the races I did. For that to be rewarded with my first professional contract with Team DSM makes all the hard work worthwhile - it's a dream come true to ride in the World Tour!

"This is a big step in my career, with a lot of hard work ahead, but I can't wait to get started. I am looking forward to racing at some of the biggest races in the world over the next couple of years and I hope to show my potential by reaching the very top of the sport. I have a lot of people to thank for getting me to this stage!"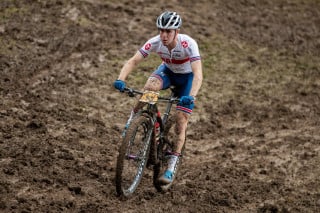 Reflecting on the early part of his career, where he spent many years at Edinburgh RC, Flynn added:

"ERC gave me the platform to get involved in all types of cycling and develop my skills across all disciplines, which set me up well as I got older. It started with just Saturday morning sessions at Inch Park, then over time developed into track sessions, roller sessions, Ingliston training days etc. I was really given a lot of opportunities, and now that I look back to that I am very grateful. ERC also put on a lot of local races which were always good fun."

On Sean's step up to the highest level, Scottish Cycling MTB coach, Paul Newnham, who has worked closely with him for many years, said:

"It is fantastic to see Sean Flynn step up to World Tour level with Team DSM. Sean has always been a rider who has enjoyed mixing up the disciplines competing in MTB, road and cyclocross in his formative years, developing as part of the Scottish and British Cycling development programs. Those skills have seen him take a strong foot hold in the road scene and this contract at world tour level will allow Sean to reach his full potential and compete in some of the biggest races in the world - we wish him all the best as he takes the next step in his journey."