Ahron Dick and Arabella Blackburn were able to sprint their way to the Scottish National titles as Fife Cycle Park played host to the Youth Circuit Championships.
The Youth A Boys saw an exciting finish. Struan Shaw (Edinburgh RC) and Ahron Dick (Edinburgh RC) were out in front and looked set to contest the victory heading into the final laps. However, disharmony between the duo led to both riders slowing the pace with three laps to go, allowing Rhys Edwards (Edinburgh RC) to catch the pair to make it an enthralling three-up sprint to the line.
Edwards tried to break the duo by attacking them on the final lap, but nothing was able to stick, as they entered the final straight. Ahron Dick was able to beat his two teammates to the line and become national champion, with Shaw in second and Edwards in third.
The Youth A girls race went right to the wire with Erin Boothman (East Kilbride RC) and Arabella Blackburn (Deeside Thistle) fighting it out for top honours – the two riders were able to ride away from their opponents, to set up a grandstand finish.
Blackburn was able to make use of her powerful sprint and power away from the East Kilbride rider to claim the Youth A national title. Sarah Johnson (Edinburgh RC) came home in third place.
On circuit at the same time, but 30 seconds behind the Youth A's, the Youth B girls race saw Melanie Rowe (Deeside Thistle) ride away from Niamh Waters (Edinburgh RC) to take the gold medal, while Ava Luce (Forres CC) was able to take the sprint for third.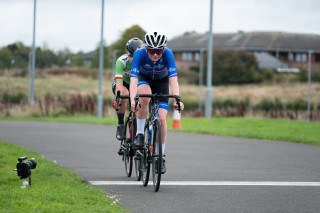 In the Youth B boys, there was a fantastic ride by Elliot Speedie (Edinburgh RC) who rode away from the field claim a great solo victory by a margin of over two minutes from the chasers behind.
The first Championship race of the day was that of the Youth C – a combined race for Boys and Girls.
A decent sized group contested the victory with Reuben McLardie (Johnstone Wheelers) winning out from Josh Stewart (SteppingStanes) in second in the boys' race – with Sebastian Blackburn (Deeside Thistle) in third.
Oliva Poole (Deeside Thistle) was the top female rider in the Under 12 age group, with Millie Boothman (East Kilbride RC) and Zara Main (Deeside Thistle) come home in second and third place.
A massive thank you to Martin Harris, as well as all the officials and volunteers who helped out to make the National Youth Circuit Championships possible.
There is extra racing this week at...