Another busy week of racing for the Scots at home and abroad with UCI World Championships on the Mountain Bike in France and another Scottish National Champs in Killearn.
Let's go to Les Gets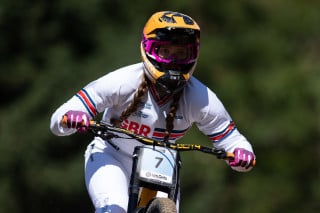 Sixteen Scots were in action in Les Gets this weekend at the UCI World Mountain Bike Championships. With some great performances in the Downhill and Cross Country there was plenty to shout about.
Veteran's Road Race Champs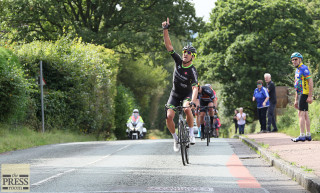 David Lines (Wheelbase CabeTech-Castelli) and Jason Roberts (Vanelli-Project GO) claimed the #SCNatChamps jerseys as Glasgow Ivy CC hosted the Scottish National Veteran Men's Road Race Championship on an emotional day in Killearn.
Paracycling TT Champs
Straight off the back of their success in Quebec, the tandem duo of Jenny Holl and stoker Sophie Unwin claimed victory in the British National Paracycling Time Trial Championships in Rhyl, showing off their new rainbow jerseys in style; and adding another jersey to their growing collection.
Fellow Quebec - and Tokyo medallist Fin Graham added to his palamres - winning gold in the Men's C1-5 Road Race - also in rainbow bands of World Champion.
BMX Championships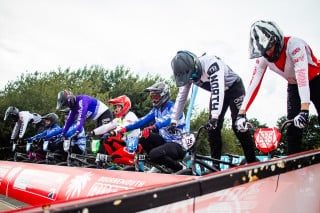 33 Scots headed down to the English Riveria - as Bournemouth hosted the British BMX Championships. The Scots were on fine form with 11 trophies heading back north from England's South Coast. A huge congratulations to the riders involved - and to Western Titans and Cumbernauld Centurions for their continued hardwork in developing, supporting and coaching riders.
Junior Tour of Wales
Scottish squad The Cycling Academy were in action at the Junior Tour of Wales this weekend. With several top tens through the opening four stages for Archie Ellen and Elijah Kwon, the squad are building throughout the week.
It was a slightly tougher weekend for Spokes Racing Team who had Keir Gaffney abandon after a crash on Stage 3, while riding high on the general classification.
360cycling Northwest Youth Tour
Melanie Rowe (Deeside Thistle) won Youth B overall at the North West Youth Tour down in Lancaster, with the Deeside rider and fellow Scot Niamh Waters (Edinburgh RC) finishing second and third on the final stage around the University campus.
Erin Boothman (East Kilbride Road Club) was sitting in sixth heading into the final stage of the Girls' Youth A race. The Scot was able to retain her top 10 position, finishing eighth after a battling ride on the final stage.
Scots Abroad
Scottish National Men's Road Race Champion Matti Dobbins claimed a brace of victories at the two-day UCI Class 2 Track event in Dublin at the Sundrive Velodrome.
Evie White and Morven Yeoman competed at the UCI Junior Nations Cup in the Basque Country, with Yeoman claiming a strong 17th on the final stage on the brutal climbs that only the Basque Country can provide.