After the Commonwealth Games concluded on Monday, there was no let up in racing as there was a packed week of action at home and abroad, as Jenny Holl and Fin Graham became the latest Scots to pull on the coveted rainbow jersey at the UCI World Paracycling Road Champs in Canada.
UCI World Paracycling Championships
Sunday saw a fantastic win for Strathpeffer's Fin Graham as he took a brilliant solo victory in the Men's C3 Road Race at the UCI World Para Cycling World Championships in Quebec.
The Scot who has come unbelievable close to the rainbow bands in Friday's Time Trial – missing out on gold by 0.08 seconds – ensured his gold medal by riding away from his rivals and won by 14 seconds.
There must be something about Strathpeffer as it's three major medals in a week for Highland village, off the back of Finn Crockett's bronze at the Commonwealth Games Road Race in Warwick last Sunday.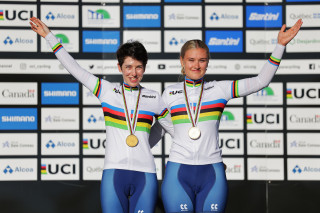 Jenny Holl was reunited with English stoker Sophie Unwin for the Women's Tandem in Baie-Comeau. The Scottish rider piloted Unwin to the World title in the Time Trial on Friday, with the pairing claiming victory over the Irish rivals by 49 seconds.
The duo were unable to do the double in the Road Race, losing out to the Irish Tandem, as they came home to win a well-deserved silver medal.
A very good week for both the Scots in Quebec and we look forward to them defending their Rainbow Jerseys on home roads in Scotland next year.
European Championships
Straight off the back of Birmingham (and London) the best Track riders headed to Munich for the 2022 European Championships – the quadrennial multi-sport games.
It was a mixed bag for Scotland's Jack Carlin in the sprint events, with Friday seeing the Paisley native claiming a bronze medal as part of the Great Britain Team Sprint squad, where he was joined by fellow Scot Ali Fielding.
Sunday's Men's Sprint saw the Scot sprint his way into the final – setting up a ride for gold against Sebastian Vigier of France.
After winning the first heat, Carlin fell heavily after a touch from the Frenchman on the steep banking of the shorter than usual 200m track in the Munich exhibition hall.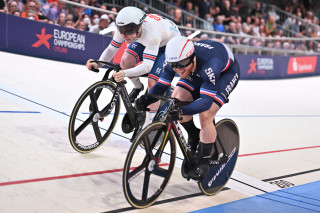 Despite his very heavy fall, Carlin was able to continue in the decider – where he missed out by a tyre's width to Vigier – and claimed the silver medal.
Following on from his crash, the Scot will not take part in the Keirin, and will fly back home to recover. We wish Jack all the best for his recovery.
Neah Evans was in also action in Munich, following on from her brilliant success on the road and track in Birmingham a week ago. The Aberdeenshire native was in action on Friday as part of the Team Pursuit quartet that finished in fourth place.
It was another near miss in the Points Race on Monday morning with Evans finishing in fifth place.
Lauren Bell came down in an unfortunate crash during the Team Sprint, the Scot then managed to finish ninth in the 500m Time Trial and bowed out of the Sprint competition in the 1/8 final stage.
British Youth and Junior Track Champs
It was a busy week down in Newport as the best Youth and Junior Track riders headed down for the Youth and Junior Track Championships.
On Day One of action Erin Boothman (East Kilbride RC) won silver in the U16 Girls Individual Pursuit, with a time of 2.31.926, a new Scottish record was set over the 2km distance – subject to official ratification. While Kirsty Johnson (Edinburgh RC) won a silver medal in the junior women's individual sprint.
There was more success for the duo on day two, the under 16s girls points race saw Erin Boothman take two points laps, giving her a comfortable lead, that she would hold onto to take the overall victory. While Johnson was victorious in the junior women's keirin, which was a tight competition, with the group staying tight throughout the race, and finishing on a photo finish to separate the podium.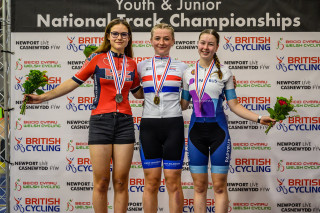 Calum Moir (Zappi Junior RT) then claimed a great bronze in an enthralling junior men's scratch race that was anyone's to win.
Day three of action opened with the junior women's scratch race. The race had plenty of early breakaways, and by the final 10 laps, a three-woman break went clear including Scotland's Eilidh Shaw (Torelli-Everyone Active). Shaw narrowly missed out in the sprint and finished third.
There was more success for the Johnson family, as Sarah Johnson (Edinburgh RC) claimed second place in the U16 girls Sprint. While Adam Murray (East Kilbride RC) won a bronze medal in the boy's equivalent event.
Day four's action saw more Scottish medals with Kirsty Johnson (Edinburgh RC) claiming silver in junior women's 500m TT. Daniel Cutler (Black Line) rode to silver in the junior men's keirin. While it was another medal for Erin Boothman who claimed bronze in the U16 scratch race.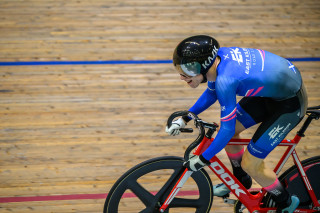 Friday saw the final day of action with Adam Murray claiming another medal with a bronze in the 500m TT, while Sarah Johnson claiming silver in the girls' equivalent event. Calum Moir rounded off Scottish success with a silver in the junior men's Kilometre TT.
Full Results can be found here
Domestic Racing
There was plenty of road race action to get stuck into in Scotland with the Jolibar Trophy and John Davies Memorial Races taking place on Saturday.
The Regional A Jolibar Trophy was organised by Deeside Thistle over a 92km course that incorporated the Aberdeenshire District Championship. Jacob Smith (Spokes RT) claimed the victory from David Lines (Wheelbase CabTech Castelli) with Craig Paterson (Spokes RT) in third.
The 77km Regional B John Davies Memorial Road Race was organised by Glasgow South on the Moscow Circuit in Ayrshire. Colin Jackson (Edinburgh RC) won out from Liam Scott Douglas (JG Cycles) in second and Grant Scott (Ronde) in third.
Our thanks to both organisers for putting on two great Road Races.
Sunday saw Invergordon play host to the Iain Longbotham Memorial 25m TT organised by Cromarty Firth CC. Tom Broadbent (MGC RT) claimed victory with a 53:50 from Moray Firth CC's Scott Davidson who came home in a 57:20. Lewis Dey was third with a 57:39.
Back down in Ayrshire, Ayr Burners Cycling QTS played host to the first Cyclocross event of 2022-23 season with the Rozelle Summer CX in Ayr. With events from Under 12s up to Senior and Veteran, as well as paracycling athletes, it was great to see the array of competitors that took part at Rozelle Park.
Lewis Martin (Studio Velo) claimed the victory in the Senior Men's ahead of Jackie Chan (Andrew Allan Architecture) and Sean Gordon (JG Cycles CC). Kim Baptista (Lviv Cycling Team) won the women's from Alexandra Hayden (Vanelli-Project GO). Home rider Jude Paterson was third.
Scots Abroad
Isla Short (Hunt Bike Wheels) claimed a brilliant victory in the Czech Republic at the UCI Class 1 event the Czech MTB Cup.
Newly crowned Scottish National Road Race champion Beth Harley-Jepson (Team Jaden-Vive-le-Velo) finished in second at Elite Duiberg kermesse in Belgium.
Callum Johnston (Caja-Rural) finished in a strong fourth place on stage seven at the Volta a Portugal – his strongest UCI result since turning professional this season.
Our congratulations to Morgan Bown who will move from EC Saint Ettiane Loire to ride as a stagiaire for the Estonian UCI Continental outfit Ampler-Tartu2024.
Another late result from France on Monday evening, as Alfie George (Vendeé-U) claimed victory in the 100th edition of the French elite race the Grand Prix de Saint-Georges-sur-Loire.