Team Scotland's cyclists capped their Birmingham 2022 campaign with a brace of medals in the Women's and Men's Road Races, to take their Commonwealth Games tally to 11 medals, more than any other Games.
By the time Finn Crockett, a Commonwealth Games debutant, sprinted to bronze on a boiling hot day in Warwickshire, the team had already equalled the 10 medals they won in Gold Coast, Crockett's screams of delight on finding out he'd snatched bronze in a photo-finish, captured the team's mood perfectly.
It all started with the women's race though, where Neah Evans became the most decorated Scottish female cyclist at a single Games with three medals, silver in the road race adding to the silver and bronze medals she won in the Points Race and Individual Pursuit respectively.
It was a fresh start, with the women rolling out at 8am, the sun eventually making it to it's high point in the sky; a metaphor perhaps for the fact that the race took a long time to hot up. Despite a largely flat 16km circuit, which would be raced seven times, it took until the final hour of racing for any meaningful attacks. Anna Shackley was in the only move that looked like it might prevent the race coming down to a bunch sprint, but alas, the quintet were brought back by the peloton, and with a lap to go it was looking more and more like it would be a sprint.
With 7km to go Shackley would try again, this time going solo, but she wasn't allowed any wiggle room, with an incredibly strong Australian team controlling proceedings at the front. From that point onwards Shackley switched to teammate duties, as she tried to position Evans for the sprint.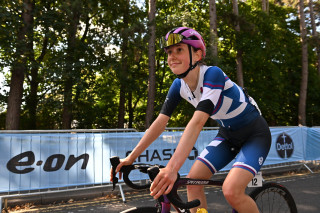 The Aussie's continued to pile it on in the final 3km with an unrivalled sprint train, but Shackley did a phenomenal job of guiding Evans into the right position for the final dash to the line. With the Australian's on the right-hand side of the road, Evans launched down the left with 250m to go, finishing fastest, but she couldn't quite prevent Georgia Baker taking the title.
Still, a runner-up finish was an incredible silver lining, especially for someone who hasn't done a road race for three years! Speaking afterwards, Evan's reflected on what she'd achieved:
"There's been some fantastic Scottish cyclists, so to get three at one Games – that's going to take a while to actually sink in, especially because it's not just the track, it's across two disciplines. But there was a big team effort behind it.
"My last road race was the Tour of Scotland in 2019 and I think that was the only road race that year! I've not got much experience to fall back on so having Anna there to keep me right and move me up at the right time was just brilliant. I couldn't have done it without her.
"I never really thought about this – I just thought, right it's coming to a sprint, damn all eyes are going to be on me! I can't let Anna down on this one. I just relaxed and was waiting for someone else to go because I don't even know how far out you sprint in a road race! I guess I didn't realise until I crossed the line."
After leading Neah out, Shackley would come across the line in 21st place, and could be proud of her contribution to an incredibly successful day.
Never before have Scotland won a medal in the Women's Road Race, and so winning a medal in the Men's event as well marked a historic moment.
With the squad assembled, the team were confident that they could mix it with the bigger nations if they got their tactics right, and with most teams wanting to make the race hard to avoid a bunch finish, it was an extremely aggressive race.
John Archibald unfortunately came down in a crash in the neutralised zone before the race had even got going, and required two bike changes before he settled back in the main bunch. Charlie Aldridge and Mark Stewart were to the fore though, ensuring Scotland had a man in every move in the opening couple of laps.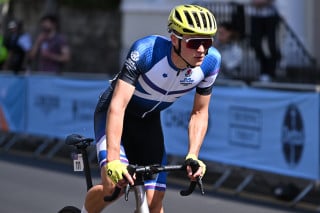 The race was still fast and furious until approaching the halfway point in the 10 lap, 160km race, when a strong group escaped the peloton's grasps. The group featured all the big nations, with Crockett and Sean Flynn making the selection for Scotland, and from that point onwards it was game on.
Working well together, the group extended their gap to one and a half minutes, and it wasn't until inside 40km to go that the attacks started, and once they did they didn't let up all the way to the finish. England had three in the group, so were using their numerical advantage to great effect, but despite little groups forming, there was no race winning move. Further back Stewart was in a chase group of six, but was playing the teammate role incredibly well, with two men in what looked to be the winning move.
Geraint Thomas seemed a man on a mission, often brining escapees back, before a duo got a gap of 15 seconds going into the final lap. Slowly they were pegged back, before Thomas took a flyer inside the last 2km. It looked as though he might have a chance of taking the win, before Ben Turner chased it down, setting up a sprint between the fast men in the group.
In the final stages Crockett and Flynn had communicated, Flynn selflessly committing to Crockett's cause in the finish. They worked incredibly together, using patience to not chase unnecessary moves, before Flynn pulled a couple of big turns to put the 'Crockett rocket' in contention in the home straight.
The Highlander left it late, but came charging in the final 100m to cross the line in a blanket finish for third, eventually getting the nod after a photo-finish and roaring with delight. Gold went to Aaron Gate of New Zealand, with Daryl Impey taking silver; in fact the top 10 was littered with World Tour riders, which just shows the magnitude of the achievement.

After helping the team make history, he said:
"It was so close and when I found out the news, I couldn't believe it. For a nation like Scotland to get a medal at the road race, especially with the talent that's here, I just can't believe it.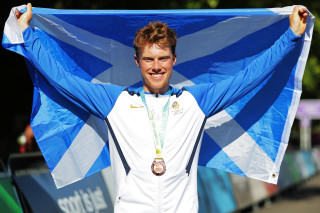 "The attacks started pretty early and it was hard, but Sean my teammate did an amazing job covering the moves and to help me out at the finish. To get a medal is unreal!"
"I'm just soaking it all in at the moment. There was that wave of pure emotion afterwards and I really just felt like crying. This is such a big thing for Scotland and Scottish Cycling. To get two medals from the women's and the men's is just unbelievable and it just goes to show you how up and coming and talented these Scottish cyclists are! It's surreal. I can't wait to see my family and my girlfriend and celebrate with them."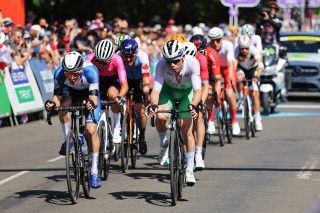 Flynn added:
"Me and Finn were in that front group, which was an ideal scenario, you know we had two good cards to play between us. For the last kind of three laps - 50km - it was pretty full on, lot's of attacks. We just had to work together to cover the moves as best we could, and try to ride smart. It came down to the last lap, it was clear that it could come back to a sprint. Me and Finn spoke and Finn was feeling strong for the sprint, and I had confidence from that - if we brought it back for a sprint he had a good chance of a medal. So, the last 5km, I put in a few pulls to try and keep the race together, and when I heard he came away with the bronze, it makes it worth it you know!
"It's really special, it's really nice racing with these guys. It's a surreal moment - a home feel - we've all got the same roots. Me and Finn especially, we've grown up together and started racing mountain bikes together when we were 12 or 13 and now we're here on the biggest stage getting a result like this - I'm just really proud to be a part of it, and proud to help him do it. He really deserves it, he's a real hard worker and I'm so happy for him."
Full results can be found here