Scottish Cycling are delighted to reveal that Ali Fielding and Jonny Wale have been selected to represent Team Scotland at the 2022 Commonwealth Games in Birmingham, which starts in under 30 days' time.
Combined with our initial squad announcement last month, this takes the complement of Scottish riders to 21, with an exciting combination of youth and experience flying the Saltire in the Midlands.
Jonny Wale comes into the Games, having made the selection criteria in January at the Commonwealth Games Qualifier in Glasgow and then bettered that feat at the UCI Track Nations Cup in April, and will be a formidable force in the timed track events such as the Individual Pursuit.
The Edinburgh-born rider recently claimed the gold medal at the British Track Championships, in the Men's Kilometre with a stunning performance and will look to replicate that form at the Birmingham Games.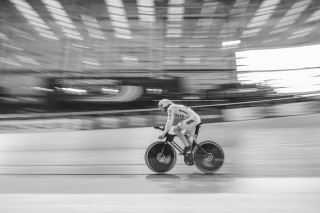 Track Sprinter Ali Fielding will be making his debut at the Commonwealth Games, the Scot will be accompanied by Jack Carlin in the individual men's sprint events.
Fielding, who is currently competing for Great Britain at the T-Town US GP in Pennsylvania, has been a strong part of the British Team Sprint squad in recent months, competing at the UCI Track Nations Cup in Glasgow – as part of the squad that finished fifth with fellow Scot Jack Carlin.
On being selected for Team Scotland, Fielding said:
"I'm very excited to compete and be part of the Scottish team for my first Commonwealth Games. I feel a great honour and privilege to be a part of this team and represent the nation. I can't wait to put the Scotland kit on and start racing to do everyone proud."
On the award of the two additional places, Head of Performance and Coaching at Scottish Cycling David Somerville said:
"With a strong squad of 21 athletes, I have every confidence that the calibre and character of each of our athletes will be evident at the Games"
"We are very pleased to be able to announce Ali and Jonny as part of the squad for next month's games. The two riders have worked incredibly hard recently and will be great assets to the squad and I look forward to seeing them compete with passion, pride and professionalism in Birmingham.
Team Scotland Chef de Mission Elinor Middlemiss said:
"Congratulations to Ali and Jonny on their selection to the team - they are strong additions to an already impressive Cycling line-up.
"There is a nice blend of youth and experience across the cyclists selected, and am I sure they will be determined to perform well for their country. "We look forward to formally welcoming them into Team Scotland as we enter our final preparation phase before the Games begin"
Team Scotland cycling team:
Ali Fielding
Jonny Wale
Charlie Aldridge
John Archibald
Lauren Bell
Jack Carlin
Libby Clegg
Finn Crockett
Neah Evans
Neil Fachie
Sean Flynn
Kyle Gordon
Jenny Holl (pilot)
Aileen McGlynn
Iona Moir
Anna Shackley
Isla Short
Lusia Steele
Lewis Stewart (pilot)
Mark Stewart
Ellie Stone (pilot)