It's Volunteers' Week, the annual celebration of the important role and contribution volunteers make across the UK. Our sport would not exist without the involvement of volunteers and this article celebrates the involvement of volunteers in our recreation programmes: Breeze and Guided Rides.
Our volunteer Breeze Champions and Guided Ride Leaders do a fantastic job of supporting more people to (re)discover the joys and reap the benefits of cycling, by organising and leading free, friendly, fun bike rides in their local communities. Our Breeze volunteers focus their efforts into getting more women into cycling, whilst the Guided Rides programme is open to everyone, with many of the rides suitable for families with children.
Breeze
June is also the birthday month of Breeze, so we are celebrating 11 years of volunteers' contributions to supporting more women to cycle, and eight years of Breeze in Scotland. The first Breeze ride took place in Glasgow in August 2014, and since then there have been 3,216 rides, cycling a total of 41,928 miles, over 4,990 hours and attended by 12,327 participants.
Breeze Champions are trained at a one-day course and gain a level one Ride Leader award. To date there have been 34 courses in Scotland, involving 285 women. We currently have 112 women registered as volunteer Breeze Champions, three of whom have been involved since 2013.
34 Breeze courses
285 Breeze Champions trained
3,216 Breeze rides
41,928 miles cycled
4,990 hours cycling
12,327 total attendance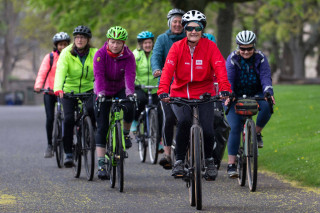 Across Scotland every week volunteers dedicate their time and energy to leading Breeze rides. Visiting places such as Dumfries and Dounreay, Aberdeen and Ardrossan, Salcoats and Selkirk, Breeze Champions have ventured far and wide.
We'd like to send a special thanks to the volunteers who have been leading Breeze rides in Scotland over the past year. Despite the on-going challenges of COVID Breeze Champions have been back leading rides, delivering an incredible 594 rides, attracting an overall attendance of 2,482! These are amazing numbers, demonstrating the incredible enthusiasm, energy and commitment from our wonderful volunteers.
Guided Rides
Volunteer Guided Ride leaders also offer free, fun and friendly bike rides, but has both male and female ride leaders and rides are open to everyone. There have been variations of the programme over the years, but since 2018 it has been volunteer-directed, giving volunteers the power to create and manage their own rides. It is also now much easier for female volunteers to get involved in both programmes, and as a result, Guided Rides has been expanding across Scotland.
There has been a total of 385 Guided Rides since 2018, with an overall attendance of 1,366. The total distance cycled from each ride is 7,640 miles, over 758 hours. There are currently 58 volunteer Guided Ride Leaders registered on Let's Ride. Over the past year volunteer Guided Ride leaders have led 528 people on 137 rides, cycling 2,739 miles, spending 253 hours in the saddle!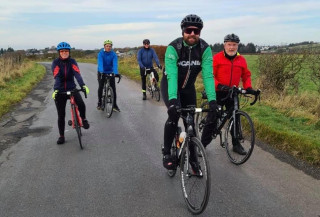 If we were to accumulate these numbers for every person on all of the rides, we would need more time, and a much bigger calculator, to work out how many miles and hours in total this would be, for both Breeze and Guided Rides. Suffice to say, our volunteers give a lot of their time and energy, to share their skills and knowledge with the people who come on their rides.
Melanie Toner, Participation Programmes Manager says "It is thanks to the efforts and dedication of our volunteers that our recreational programmes, Breeze and Guided Rides, are so successful. Both provide a fun and friendly introduction to the wonderful world of cycling, supporting new and returning cyclists, families and women to cycle. Every ride organised on the Let's Ride website makes a contribtion to our sport and I'd like to thank all of our volunteers for their involvement".
---
Interested in attending a Breeze or Guided Ride? Find out more here.
Inspired to volunteer? Click here for more information on Breeze and here for more information on Guided Rides.