Another bumper weekend of racing action took place with BMX's brightest and best talent in action in Glasgow, while the young stars of tomorrow took to Caird Park to race the #SCNatChamps and National Youth Omnium Series events.
BMX Racing World Cup
Sunday saw Round 2 of the BMX Racing World Cup take place at a sold out Knightswood BMX Track, with Scot Cameron Reid once again in action.
After a tough First Round, the Scot had to finish in the top two in the Last Chance Qualifier to progress into the afternoon 1/8th finals. Reid came so close to advancing through, as the Scot finished in third. Not too bad to round off his first, but certainly not last, weekend of UCI competition.
After the weekend's #BMXRacingWC, we're pleased to say that we've been inundated with people wanting to get involved into the world of BMX.
With two BMX specific clubs in Scotland in Cumbernauld Centurions and Western Titans, there's no reason not to try BMX!
Find out more by visiting the clubs' respective Facebook pages here:
Western Titans BMX Racing Club and Cumbernauld Centurions BMX Club
If you want some more exciting BMX racing to watch, why not come to our #SCNatChamps on Wednesday 8th June at Glasgow BMX Centre.
Youth Omnium Champs – Dundee GP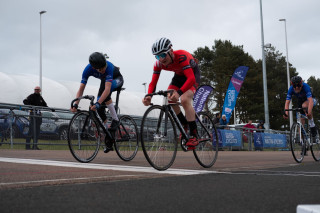 Dundee's Caird Park Velodrome played host to the Scottish National Youth Omnium Championships. There were some excellent rides from Elliot Speedie and Melanie Rowe, as well as a couple of famous Caird Park alumni watching the action.
National Youth Omnium Series
It was a double-header at Dundee's velodrome as Deeside Thistle hosted their round of the British Youth Omnium Series.
Local rider Elliot Rowe (Deeside Thistle CC) won out in the Youth A boys, despite a great ride from Sam Cosgrove (Anexo Group RT) in second and Joel Hurt (Derwentside CC) in third.
Lucy Glover (Derwentside CC) came out on top in the Youth A girls, with YTOS stage winner Erin Boothman (East Kilbride RC) in second, while Arabella Blackburn (Deeside Thistle) finished third.
Elliot Speedie (Edinburgh RC), who also won on Sunday, also did the same on the previous day, winning the Youth B Boys from Charlie Brennan (Sportcity Velo) and Colin Johnston (Johnstone Wheelers).
While Sunday's winner Melanie Rowe (Deeside Thistle) had to settle for second, as Phoebe Taylor (Eastlands Velo) claimed top spot from Niamh Waters (Edinburgh RC) in third.
British Mountain Bike Series – Cannock Chase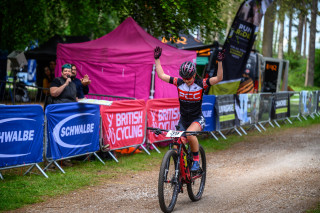 It was a Super Sunday at Cannock Chase as the Scots once again swept up the major honours at the British Mountain Bike Series.
Charlie Aldridge (Scott Racing) celebrated his Commonwealth Games selection in style by winning the Men's Elite race at the same venue as the Birmingham games will take place this summer.
It was a frantic race, with groups forming and splitting apart, and reforming right until the end of proceedings. Aldridge got away from Cameron Mason (Trinity) for the win, while Rory McGuire held onto third, to complete a Caledonian 1-2-3.
It was a similar story in the Women's race with the Scots in the prime podium positions as Elena McGorum (Peebles CC) claimed victory afterr escaping off the front early on. Jane Barr (Velocity 44) came second to the young McGorum while Jo Thom (Torq) was third.
The junior women category saw Emily Carrick-Anderson (T-Mo) not only win her race but the series as well, with her fourth win in as many races, as she also rode passed many of the senior elite field on her way to do so. Beatrix Kiehlmann (Royal Albert) produced a fine ride to finish fifth.
The men's junior saw Reuben Oakley (ROTOR) finish in a fine third place, while Daisy Taylor (Royal Albert) continued her domination of the Youth event – sealing the series win with victory in the Midlands.
Straiton Struggle
A toy car (courtesy of Harry Fairbairn BMW) was the prize for the winner of the Ayr Roads CC Straiton Struggle Road Race.
In the women's race over a 72km course it was Great Britain Zwift rider Natalie Stevenson (Glasgow Ivy CC) who rode to victory with breakaway escapee Beth Macrae (Ayr Roads CC) in second, who managed to win by a brilliant seven minutes over the chasers who were led in by Catriona Locke (Torvelo) in third.
In the men's race, it was Callum Thornley (Wheelbase CabTech Castelli) who continued his fine form by sprinting to victory from Louis Moore (Vanelli-Project GO) in second and Jamie Mackenzie (META Bike Division).
As for the toy car, we can confirm that it is being well used.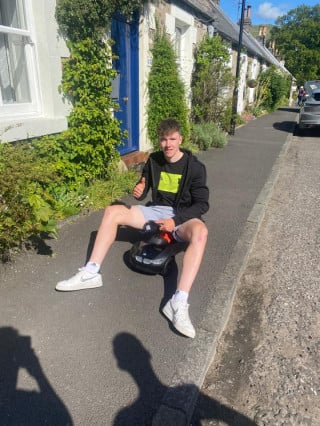 British DH Series
Despite the rain in Wales, it did not stop 310 riders to traveling to Llangollen for the third round of the British DH Series.
The Scots dominated the junior women's with Phoebe Gale (Canyon Collective) and Aimi Kenyon (Orangefox) taking the top two places. Gale took the win as well as taking the fastest time of any female rider of the weekend with a time of 2:19 - a full second faster than the female elite winner. Kenyon took second place, with Bethany McCully (Black Isle) rounding out the top three.
Meanwhile, William Brodie (555 Gravity Raaw) finished second in the junior men's event.