A star-studded cycling line-up has been selected to represent Team Scotland at the Birmingham 2022 Commonwealth Games, which get underway in just over 60 days' time.

Spearheading the selection are Olympic and World champion Katie Archibald MBE and Paralympic and World champion Neil Fachie MBE. The duo are looking to sweep all before them in what will feel like a home Games for the pair, who spend a large amount of their time training south of the border with the Great Britain Cycling Team.

Joining them will be Olympic medallists Neah Evans and Jack Carlin, who like Milngavie native Archibald, also won medals at the Commonwealth Games four years ago. Evans will join Archibald in the women's track endurance events, whilst Carlin will look to better the Olympic silver and bronze he won in Tokyo last summer - a breakthrough moment in the young Glaswegian's career.

Sticking with the track, Katie's older brother John will also go in the endurance events, alongside Highlander Kyle Gordon and Mark Stewart. Four years ago the Archibald siblings made history as they became the first brother-sister pair to win medals for Team Scotland at the same Commonwealth Games, on the same day.

The Gold Coast Games also saw Dundonian Stewart provide one of the Scottish highlights with his heroic victory in the Points Race. Since 2018, Stewart has started a transition to the road and so will also be focusing on the Men's Road Race in Birmingham.

Debutant Finn Crockett will also take to the road, getting the nod after multiple victories so far this year, including in the UCI 1.2 Melton-Rutland Classic. On the female side 21-year-old Olympian Anna Shackley is likely to lead the charge alongside Katie Archibald, with the Milngavie pair boasting complementary strengths.

Isla Short is another name to watch out for, having improved markedly since a fifth-place finish in the Mountain Bike Cross Country four years ago. The reigning British champion from Peebles was fifth at the World Championships in 2020, and on her day can challenge anyone. On the men's side, former World Junior champion Charlie Aldridge makes his Commonwealth Games debut, with the Crieff man also aiming to be at the sharp end of proceedings.

Back on the track, Paralympic, World and European champion Neil Fachie is looking to keep hold of his para-cycling Commonwealth crown - the Aberdonian set not only a world record, but also a Games record to take home two gold medals last time round in Australia.

Aileen McGlynn OBE, who has won three Paraylmpic golds and four World titles across a decorated career, is yet to clinch a Commonwealth Gold having picked up silver and bronze medals in Glasgow and Gold Coast respectively. Can the Paisley cyclist complete the medal set in Birmingham?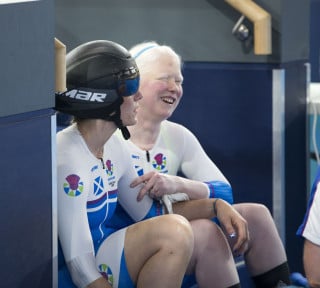 Rounding out a trio of visually impaired athletes in the para-sport events is cycling newcomer Libby Clegg MBE. A well known name in British and Scottish sport, Clegg won double gold in the 100m and 200m sprint events at Rio 2016. After giving birth to son Edward in 2019, she returned to the athletics track for the final time in Tokyo before hanging up her spikes and starting a new adventure in cycling.

Fachie, McGlynn and Clegg will be piloted by Lewis Stewart, Jenny Holl and Ellie Stone, the former two having won medals last summer in Tokyo. Birmingham will also see a welcome return of a Women's Team Sprint squad with Lauren Bell, Iona Moir and Lusia Steele flying the Scottish flag.

Commenting on the strength of the squad selected, Scottish Cycling's Performance Director, David Somerville, said:
"Our 2018 team set the bar very high, winning 10 medals, four of which were gold, but I have every confidence in the calibre and character of the team we have been able to pick this time around.

"From household names to Commonwealth Games debutants, we have an amazing mix of youth and experience, who are all equally hungry to leave their mark in Birmingham.

"COVID has taught us a lot, but one thing it has only reinforced is our athletes desire to represent Scotland. We will now go about our preparations over the next two months with laser-like focus and I look forward to seeing this team compete with pride and passion in Birmingham."

Team Scotland's Chef de Mission, Elinor Middlemiss added:
"I am absolutely delighted for the cyclists named in the Team Scotland squad for Birmingham this summer. There is a great mix of hugely experienced riders and Games first-timers, showing we have a hugely talented team and real strength in the squad.

"Cycling is always a great sport to watch and I am looking forward to hearing the crowd get behind our riders in the Lee Valley Velodrome, on the road in Warwick and in the hills in Cannock Chase Forest."

Team Scotland cycling team:

Charlie Aldridge
John Archibald
Katie Archibald
Lauren Bell
Jack Carlin
Libby Clegg
Finn Crockett
Neah Evans
Neil Fachie
Sean Flynn
Kyle Gordon
Jenny Holl (pilot)
Aileen McGlynn
Iona Moir
Anna Shackley
Isla Short
Lusia Steele
Lewis Stewart (pilot)
Mark Stewart
Ellie Stone (pilot)