It is with great sadness that Scottish Cycling shares the news that former Scottish international cyclist turned legendary cycling journalist, Richard Moore, has passed at the age of 49.
Richard was a well-loved figure of the cycling scene, not just in Scotland but across the world thanks to his pioneering work with The Cycling Podcast, where millions will have listened to his voice recounting tales from the world of professional cycling.
Starting out on his cycling journey in his hometown of Edinburgh, Richard rose through the ranks to become a stalwart of the domestic scene in a career that spanned two decades. Not only did Richard represent Great Britain at the Tour of Langkawi, but he rode for Scotland at the Tour of Britain, as well as the 1998 Commonwealth Games in Kuala Lumpur, where he contested both the Road Race and Time Trial.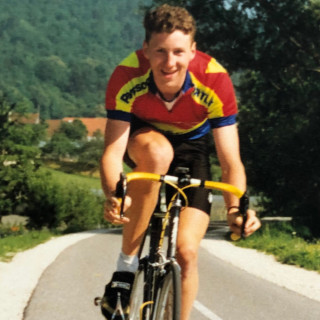 Following his retirement from professional cycling, Richard built a career in journalism, contributing to national titles such as The Herald, The Guardian, The Sunday Times and The Scotsman before spreading his wings further still as an author. His first book was a biography of the cyclist Robert Millar; 'In Search of Robert Millar', which won 'Best Biography' at the 2008 British Sports Book Awards and was followed up by 'Heroes, Villains & Velodromes: Chris Hoy and Britain's Track Cycling Revolution', published in 2008.
In 2013 Richard launched The Cycling Podcast, with Lionel Birnie and Daniel Friebe, initially covering that year's Tour de France, before the podcast expanded into a weekly show with several spin-offs, and more frequent daily podcasts during major events such as the Grand Tours. The podcast has received several awards and nominations, including being given best podcast at the 2016 Cycling Media Awards and receiving a bronze medal in sports podcast category at the British Podcast Awards in 2018 and, for the Cycling Podcast Feminin spin-off (also co-hosted by Moore) in 2019.
It is via this role as lynchpin and founder of The Cycling Podcast that most will know the man affectionately nicknamed 'the buffalo' and both his voice and memory will live long into the future. His energy, humour and passion for both cycling and journalism will be sorely missed.
Scottish Cycling Board Member, James McCallum, who was a teammate and friend of Moore, noted the outpouring of messages he has received shows just the impact Richard had on so many.
"Richard was a few years older than me and inspired me quite a lot as I was growing up as a cyclist in Scotland, and what's more he was also so approachable and just a friendly figure on the scene. He was also a bit of a pioneer who very quickly found his niche after hanging up his wheels and became a fantastic journalist, but a genuine one at that, who's colleagues and riders all respected him greatly.
"Richard was ultimately a gentleman – an extremely likeable figure, who's absence will be a huge, huge loss."
Our thoughts go out to Richard's wife, children, extended family and friends at this incredibly sad time. From Scottish Cycling, we thank you for everything you have done for our sport.