A bumper weekend of action as the Alba Road Race series made a welcome return, while Scots women were in action in the Peak District at the Peaks 2 Day, while Cameron Mason tackles the soaring heat of South Africa in the Cape Epic.
Gifford Road Race
Finn Crockett (Ribble-Weldtite) rode away from a very strong field to claim victory at the Gifford Road Race on Saturday and take the lead in the 2022 Alba Road Race Series.
In conditions that were considerably warmer and drier than usual for an early Spring Classic, a field of 58 riders started in East Lothian. The bunch mostly stayed intact for the first five of nine tours, before a large move including the pre-race favourites launched off the front with more riders such as Lee Rosie (Spokes RT) forcing their way across.
With two laps to go James Jobber (Kuwait Pro Cycling) and Tom Timothy (Ribble-Weldtite) made what would be the winning move, with the Scot Crockett making the move across to make it a group of three pros at the front with a 31 second lead over the chasing group heading into the final tour.
Finn Crockett was able to ride away from his companions with a storming final lap, to take the win from Jobber in second by 36 seconds, and teammate Timothy in third. A strong Callum Thornley (Wheelbase-CabTech Castelli) led the remains of the first attack through in fourth, just ahead of teammate Tim Shoreman.
Unfortunately, there was a serious crash in the support race, which was ultimately abandoned. Thankfully, at the time of writing, all affected riders are recovering well, and we particularly wish Basel Razouk from Torvelo, who was admitted to hospital, a full and speedy recovery!
Saturday's result leaves the series standings as follows: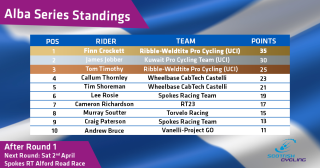 The next round of the Alba series is on 2nd April in Alford as Spokes RT host the Alford Road Race you can enter it here.
Cape Epic
Linlithgow's Cameron Mason (Trinity Racing) is currently taking on the massive Cape Epic MTB Race in South Africa. He and partner Tristan Nortje finished a strong seventh in the Prologue on Sunday. Today's Stage 1 which was raced over 85km in 30C heat, the pair slipped to 14th Overall, but are still in contention.
You can watch the remaining stages live on the Cape Epic YouTube Channel.
French Cup MTB
Charlie Aldridge rode to a fantastic fifth place in the Under 23 category at MTB French Cup in Marseille. Continuing on his good form from the CX season and the Spanish camp, Corran Carrick-Anderson finished in 11th place, while his sister Emily again impressed with a 13th place finish in the Junior event.
Falkirk Junior BC MTB XC Double Trouble
A fantastic youth event was held on the Callendar Estate as Falkirk Junior BC hosted their "Double-Trouble" event which like the Cape Epic paired riders together in a 2-Up format. There was also a Team Relay at the end for riders which was won by the quartet from Stepping Stanes.
This event will hopefully put the riders in good stead for the SXC Series which starts next week at Comrie Croft.
The Peaks 2Day
Back to the road and Scottish National Road Race Champion Becky Storrie (CAMS-Basso) won the Peaks 2-Day Stage Race in England.
Winning the opening Time Trial by 24 seconds over Welsh National Road Race Champion Leah Dixon (Bianchi-HUNT Morvelo), Storrie extended her lead on the Stage 2, finishing second to teammate Danielle Shrosbree and finishing a second ahead of Dixon, who was in third.
Teammate and fellow Scot Beth Morrow was in tenth after two strong stages, with Arrianne Holland (Alba Dev RT) in 22nd.
The final stage saw the two national title holders in the leading group, with Storrie bettering Dixon to win the Stage and take the overall win.
Scots AbROAD
Anna Shackley (SD Worx) continued her Italian start to the season with the Women's WorldTour race the Trofeo Alfredo Binda eventually finishing in 51st - after some strong riding.
It was another strong showing on the continent for Sean Flynn (Swiss Racing Academy), as he left Croatia to race a double-header of French UCI 1.1 classics.
Saturday's Classic Loire Atlantique saw Flynn miss the main move, but still finish in a very strong 24th position in his first race at UCI .1 level, this season. Sunday's GP Cholet - Pays De Loire saw Flynn once again engage in attacking racing, putting in a great attack in the final stages but came home in 20th.
Sticking with French racing, Alfie George of Vendeé-U is racing his first UCI stage race with his new team at the Tour de Normandie, in Northern France, this week and you can stay up-to-date by following their coverage here.