Scottish riders showed their class at the 2022 UK Track Championships at the Geraint Thomas Velodrome in Wales this weekend with a vast array of medals and jerseys now making their way up the road to Scotland.
Friday
Fin Graham stole the show on Friday with a tunning final lap in the Men's C1-5 Para Scratch Race, which say the Scot overhaul Will Bjergfelt in probably the most exciting finish of a race all weekend.
The Women's Individual Pursuit had a distinct Scottish flavour to it with five of the top seven riders hailing from north of the border. Kate Richardson (Alba Development RT) was the early pace setter in the first round with a 3.33.085 just narrowly leading teammate Sophie Lankford who recorded a time of 3.33.173. Both riders coming very close to the Commonwealth Games standard, which is an excellent achievement from Richardson in only her third track meet.
The final heat of the first round saw the two Alba riders knocked out of the gold medal final and into the bronze, as Anna Morris and Tokyo medallist Neah Evans (HUUB) qualified second and first respectively.
The finals saw Evans claim the gold medal and the British Champs jersey, beating out the Welsh rider by just over a second. It went to form in the bronze final as Richardson narrowly beat Lankford in the battle of the Scots to claim the final step on the podium.
The Men's Individual Pursuit was an equal exciting competition with three Scots breaking the all-important Commonwealth Games standard in Qualifying, with Jonny Wale (Clancey Windows and Doors), Michael Gill (Saint Piran) and Kyle Gordon (Spellman Port Dublin) all breaking the 4:16.000 barrier. The Spellman Port Dublin rider narrowly edged out Michael Gill in the bronze medal final for the final step on the podium and bragging rights of top Scot in Newport.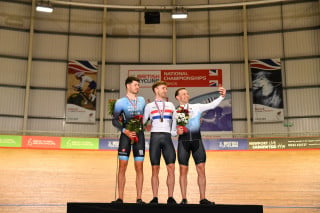 The Team Inspired quartet (which included Scots Jack Carlin and Ali Fielding) took a commanding victory in the Men's Team Sprint, first qualifying fastest in 43.738 and then catching their opponents SES Racing en route to victory in the semi-final with a time of 44.342. While there was a great bronze for Glasgow Track Racing Club's trio of Niall Monks, Anthony Young and Luthais Arthur.
Saturday
Fin Graham made it two British champion's jerseys in two days with a commanding victory in the Men's C3 Pursuit, enjoying a victory margin of more than 20 seconds over Ben Hetherington and Henry Urand.
Ellie Stone played a tactical stroke of genius in the Women's Keirin to claim a well-deserved gold, by first catching the field unawares in the final with her attack with two laps to go and secondly holding off the chase led by Emma Finucane and Sophie Capewell to claim the Scots first British title.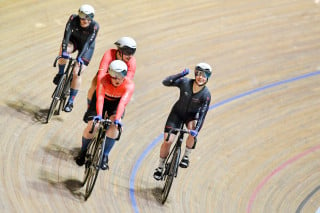 A jubilant Stone said post-race:
"Honestly, that was so good! I was going along thinking 'they're gonna catch me any minute now!' and they just didn't which was so good!
My coach just told me with two laps to go, be looking to go for it and when we got to two, I went and I don't think any them saw me or expected me to go. I knew it was such a strong field, I fully expected to go first and for everyone to come round and for me to be stuck at the back!"
Jack Carlin dominated his way through the Men's Sprint competition to take the British title with a ride to spare in the final. The imperious Carlin qualified fastest and didn't lose a single sprint all day en route to victory. His qualifying time of 9.876 also meets the qualifying standards for this summer's Commonwealth Games in Birmingham.
Jonny Wale completed another excellent night of action with a great silver in the Men's Kilo TT with a time of 1:01.305 – which again meets the Birmingham standard for the Clancey Windows and Doors rider.

While Neah Evans also won a bronze in an incredibly nail-biting finish to the Scratch Race, with John Archibald also claiming bronze in a thrilling Points Race.
Sunday
After two excellent days of racing by Scots, expectations may understandably have been lower for the final day of action. However, it turned out to be a Super Sunday for the Scottish riders.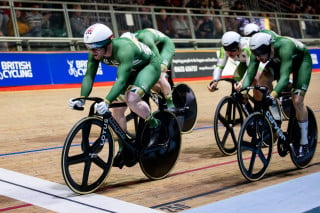 Jack Carlin once again showed his class with complete domination of the Men's Keirin to win the national title, such was his domination over the course of the weekend, he won three British titles without dropping a single leg, winning every single leg he rode.

On his weekend, he said:
"As a team, we're looking strong, we've got a couple of younger riders coming through, which is promising, and it's looking good for the Nations Cup next month.
"At the end of the day, we all love racing and we're here to win. We're friends off the track and competitors on it and we had good fun this weekend - there wasn't much pressure coming into it, so it was nice to come away with three titles."
After a magnificent Women's Keirin win on Saturday, Ellie Stone proved it was no fluke performance by winning the 500m TT against the clock to win two national titles over the weekend. Her time of 34.529 saw her take pole position with only two riders to come, and despite her best-efforts Lauren Bell stopped the clock on 34.584, sealing the title for Stone by the narrowest of margins, and making it a Caledonian one-two. The time for both riders was also good enough to meet the standard for the Commonwealth Games.
There was even more success for the duo alongside Lusia Steele and Iona Moir, who won bronze in the Women's Team Sprint by setting a time of 48.914 – which also just meets the standard.
Tokyo silver medallist Neah Evans ended the weekend on a high with a commanding performance in the Points Race, gaining two laps on the field on her way to 64 points.
Neah was a dominant force throughout, scoring in six of the eight sprints, including maximum points in three. Jenny Holl won four sprints and gained a lap of her own alongside Evans and Anna Morris to seal second with 42 points. To add another Scottish one-two to the podium.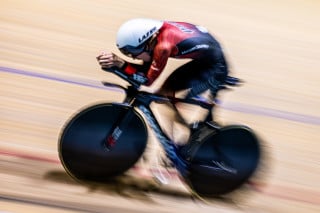 In the afternoon session Fin Graham also made it a hat-trick of national titles with victory in the Men's C3 1,000m Time Trial (ahead of Colin Wallace and Henry Urand), adding to his earlier successes in the C3 Pursuit and Mixed Scratch Race
Kyle Gordon not content with his Individual Pursuit bronze, managed to win silver in the Team Pursuit as part of Team East Midlands, to finish off what was a marvellous week for the Scots.
You can watch some of the stars of this week's racing at the UCI Nations Cup event in Glasgow on the 21st-24th April, tickets are on sale here.