There was a plethora of action on two wheels this past weekend as Scots were racing the Copa Catalunya MTB event in Banyoles, the BUCS Track Championships at the Emirates Arena and just the small matter of the UCI eSports World Championships.
Banyoles
Isla Short once again showed her class with a fourth-place finish at the Copa Catalunya Internacional BTT in Banyoles. The Scot, who finished in the same position in the Women's Elite event at Chelva last weekend, outsprinted a brace of riders coming round the last corner to come home in fourth.
Only nine seconds adrift of rival Annie Last in third, Short was one of three Brits who stood on the podium for the top five, with World Champion Evie Richards taking victory.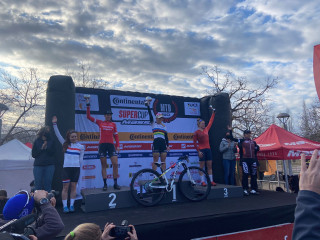 Peebles' Elena McGorum rode to an excellent 28th place finish, which was good enough for an 8th in the Women's U23 category – a step up from her seventh place in the lower-class event in Chelva last time out.
There was a packed field in the Men's Event with no fewer than 297 riders taking to the start line – a good getaway was pivotal to success, with gridding playing a huge role in the outcome, especially for the Scots in action.
Former U20 World Champion Charlie Aldridge was gridded highest, and made a typically powerful start, but unfortunately both he and Corran Carrick-Anderson, who had such a great ride last week, ended their races early due to mechanical issues. That left plucky Rory McGuire, blood pouring from his nose after a crash that broke his shifter, to keep pushing for the duration on a single gear, eventually coming home 151st – a tough day out!
Zwift Worlds
In the virtual realm, Zwift's New York Knickerbocker circuit hosted the UCI World eSports Championships, with both Natalie Stevenson and Gavin Dempster racing for GB on the 54.9km course.
The Knickerbocker route is a challenging parcours, with barely a flat section of tarmac, and a mixture of rolling and steep terrain (with gradients that top out at 14%), the course caused splits in both races.
In the Women's Elite, Natalie Stevenson rode a solid 35th place, losing contact with the leaders, despite some strong early showings in the battle for primes – a very respectable ride in a field full of UCI pros.
Inverness' Gavin Dempster managed to stay in the main peloton until late on in the Men's Elite race but dropped back in the later stages finishing in 47th position, 48 seconds down on eventual winner Jay Vine of Australia. Congratulations to both on a great effort.
BUCS
Glasgow's Sir Chris Hoy Velodrome hosted the British Universities and College Sport Track Championships over the weekend, and the home advantage certainly proved to play its part.
Kate Richardson (Glasgow University), riding in only her second Track meet, won Individual Pursuit gold with a time of 3:36.296 in the final. The Alba RT rider's time in qualifying was even quicker; a 3:34.757, which was good enough to better her personal best, set at the Commonwealth Games Qualifying Event last month, by seven seconds! The time is also, subject to ratification, a new BUCS record, and edges ever closer to the Commonwealth Standard of 3:32.500.
Not content with her fantastic IP, Richardson also went on to claim an Elimination Race gold, making it a very successful weekend for the former triathlete.
Not to be outdone, Tim Shoreman (Herriot-Watt) and Cameron Richardson (Stirling) topped the timesheets in qualifying for Men's Individual Pursuit with times of 4:21.291 and 04:23.443, respectively, to set-up an all-Scottish final. Kieran Riley (Loughborough) finished third in qualification ensuring a clean sweep of the podium. In that Scottish final showdown, Shoreman came out on top, beating his Stirling friend and rival by just over two seconds; the Herriot-Watt student would later score silver in the Men's Kilometre TT.
Richardson replicated his silver medal efforts in the Elimination race, and combined with a fourth place finish in the Points Race, it was a successful weekend for the RT23 rider, who was back in competitive action for the first time since injury last August.
Meanwhile Shoreman added to his sucess with a gold in the Elimination race and a silver in the points - to take his haul up to four medals.
Loughborough's contingent counted a few Scots in their ranks, with the aforementioned Riley winning Men's Team Pursuit gold alongside Adam Mitchell, the duo adding to their medals with Riley winning bronze in the Points Race and Mitchell bronze in the Elimination. Riley wasn't done there though, as he also clinched another gold in the Team Sprint as Loughborough finished as overall winners.
Beth Morrow added to the Loughborough and Scotland success story as she scored a brace of medals herself; gold in the Team Pursuit and bronze in the Women's Team Sprint.
Spokes RT Criteriums
Spokes Race Team opened the Scottish road season with a doubleheader at Fife Cycle Park over the final weekend of February, with Saturday's YToS Warm-Up event providing Scottish riders a taste of stage race experience before the Youth Tour of Scotland in April. Elliot Rowe won all three stages and the overall GC in the Boys event, while Erin Boothman replicated that pattern in the Girls Event.
Lee Rosie (Spokes RT) had a very successful weekend, winning the Open Race on Saturday before a brace of victories in Sunday's event – the Spokes RT Season Starter, whilst the women's race was won Evie White (Deeside Thistle) who edged out Skye Davidson (Musselburgh RCC) and Anna Fairweather (RT 23) to claim victory in her first event since moving from Youth A to Junior.