Whilst 2021 may have begun where 2020 left off, with a whole range of restrictions affecting how we went about our lives, the second half of the year allowed a return to some assemblance of normal, where we could return to what we love – cycling!
Our Developing a Nation of Cyclists strategy covers all facets of the sport and everyone involved, and we were delighted that 93 people received new coaching qualifications in the latter half of the year, whilst our Accelerate & Activate scheme has seen us employ paid Development Officers directly within four clubs – Deeside Thistle, Falkirk Junior Bike Club, Royal Albert CC and West Lothian Clarion – we hope to be able to work with more clubs in this way in 2022. Putting clubs at the heart of everything we do is something we're going to be ever more focused on in 2022 and beyond, the 14 clubs supported by our Progression Programme, which sees our Club Development Managers work said clubs on a 1:1 basis, offering tailored support to help them fulfil their goals.
2021 also saw us begin a phased approach to rolling out new Minimum Operating Standards, which aim to make cycle sport, and Scottish Cycling clubs a safe environment for everyone; adhering to these standards is a compulsory part of affiliation for 2022. This affiliation process is well underway, with clubs who compete the process having access to our new ClubServe system, which will hopefully make club management, no matter your size or goals, a much more efficient process and something we have invested a lot of time and resource into.
Our Breeze and Guided Ride programmes, aimed at those new or getting back into the sport, also picked up where they left off pre-pandemic, with Breeze average attendances up compared to previous levels. We were also delighted to train 35 new Breeze Champions this year. Another major success was the Glasgow Women on Wheels festival, whilst Glasgow Go-Ride sessions picked up where they left off in Scotland's second city once government restrictions allowed.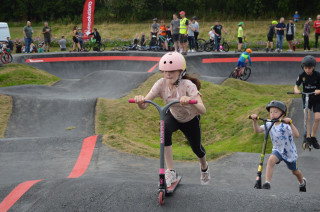 Launched in October 2020, the £8 million Cycling Facilities Fund (CFF), made it's first awards in September this year, a massive milestone as we look to capitalise on the upsurge of interest in cycling during the pandemic, by developing a network of safe, accessible, inclusive and inspiring dedicated cycle sport facilities that encourage people of all ages to ride bikes.
Brought about by the Scottish Government making a £4m commitment of capital funding and matched by £4m of National Lottery funding from sportscotland, this significant investment in infrastructure is being delivered through a partnership between Scottish Cycling and sportscotland, to ensure projects can have a lasting impact.
Nine projects received a share of £1.5m in the first wave of funding in September, whilst just two weeks' ago the recipients of round two of funding were revealed, with another 13 sites sharing in excess of £1m. Ranging from the Highlands to the Borders and from pump tracks to closed road cycle circuits, we are so excited at the impact the fund will have on cycling in Scotland, and look forward to seeing another £5m allocated over the coming months, with over 140 projects expressing interest.
Another major project that launched this year was the Rock Up & Ride initiative – the year may be drawing to a close but that won't stop us put more kids of bikes! After the election this spring, the Scottish Government made a commitment to provide access to bikes for school age children who could otherwise not afford them, and we're delighted to be helping them achieve this.
Our pilot programme, Rock Up & Ride, provides children with skills and coaching so that when they take away their free bike after four weeks, they have the confidence to use it and hopefully become life-long cyclists. Linked directly to a cycling club, each of the eight chosen sites across the country aims to deliver a long-term, sustainable increase in cycling, be that on or off road, and fully inclusive for all.
Kicking off in November were the first three of our eight planned pilots, at sites in Zetland Park, Grangemouth, Inverness Royal Academy and Arran High School. Down in Grangemouth, 14 children attended the first session delivered by Falkirk Junior Bike Club, a brilliant uptake for their very first session, whilst in Inverness, linked to the school, some 35 different children attended across the first two sessions, demonstrating the appetite for the Rock Up & Ride scheme. Meanwhile over on Arran, the delivery model is different, linking to seven feeder primary schools across the island. The first of these sessions, run indoors and focusing on bike setup and maintenance, was delivered to more than 20 children from Lamlash Primary – thanks to Arran High School Mountain Bike Club and Martyn Rae from Active Schools for making this happen. We can't wait to see the other sites across the country get their sessions underway early in 2022!
In 2021 we were delighted to support over 16,000 British Cycling and/or club members, and we look forward to working with our amazing community in 2022, to deliver more success, enjoyment and cycling participation.