The nights may be drawing in but that hasn't stopped us putting more children on bikes thanks to our Rock Up & Ride pilot scheme, which got underway in earnest in November.
With Christmas fast approaching, few could argue with a free bike as a gift as part of Transport Scotland's new suite of projects, which aim to fulfill the Scottish Government's commitment to providing access to bikes for school age children, who could otherwise not afford them.
Whilst there are nine other pilot programmes, Scottish Cycling's offer links the sessions, and subsequent free bikes, directly to a cycling club, aimed at delivering a long-term, sustainable increase in cycling activity and subsequently behavioural change.
Kicking off last month were the first three of our eight planned pilots, at sites in Zetland Park, Grangemouth, Inverness Royal Academy and Arran High School.
Down in Grangemouth, 14 children attended the first session delivered by Falkirk Junior Bike Club, a brilliant uptake for their very first session, whilst in Inverness, linked to the school, some 35 different children attended across the first two sessions, demonstrating the appetite for the Rock Up & Ride scheme.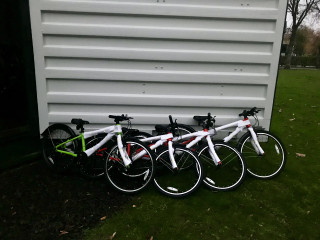 Over on Arran, the delivery model is different, linking to seven feeder primary schools across the island. The first of these sessions, run indoors and focusing on bike setup and maintenance, was delivered to more than 20 children from Lamlash Primary – thanks to Arran High School Mountain Bike Club and Martyn Rae from Active Schools for making this happen.
Speaking after the first session at Zetland Park, one of the parents said:
"Aaron said that he was delighted to get the best bike ever! A bike is a luxury and the Rock Up & Ride project has given him access to a two-wheeled freedom that he otherwise wouldn't have."
Similarly a parent of one of the children at the Inverness site commented:
"Thank you so much for today - she had a really fab time, this is definitely going to boost her confidence, I saw it when she was going down the hills!!"
With the project now successfully underway at three of our sites, we can't wait to see the first cohort of children take their bikes away after four weeks, and look forward to the other five sites getting up and running early in the New Year.