A new series of resources which aim to help secure a sustainable future for mountain biking in Scotland were launched today by the Minister for Public Health, Women's Health and Sport, Maree Todd, along with elite mountain bikers, trail builders from trails associations, board members and staff of Scottish Cycling and Developing Mountain Biking in Scotland (DMBinS).
As a result of the covid pandemic, the numbers of people riding mountain bikes has exploded in Scotland with estimates now showing around 8% of the adult population are now riding once a month and key tourism destinations seeing an increase in mountain bikers visiting due to the popularity of the sport and the move towards staycations.
Whilst this is mostly a positive for tourism and the health of Scotland, there is a need to ensure that the impact of increased numbers doesn't affect the experience for mountain bikers by leading to trail deterioration. It is well recognised that trails are the most important element of a great mountain bike experience. There is also the need to help manage the trails and provide more information on responsible access to help minimise conflict between mountain bikers and walkers. To aid this, riders are being guided to the key destinations, via public transport, where there are strong partnerships and groups helping to plan and maintain the trails. To encourage sustainable tourism, riders are being advised to stay as long as possible in their destination.
The trails will be supported through a new charitable fund, Scottish Trail Fund, and a new partnership between DMBinS and Expedia that will see 5% of any hotel bookings reimbursed into the local trails association where a rider books their holiday. DMBinS has also developed inspiring and detailed guides to each of the key destinations in Scottish mountain biking featuring photography by Scotty Laughland, funded by VisitScotland Destination and Sector Fund.
There is also the need to provide programmes and initiatives to help reduce inequalities in accessing the amazing mountain biking in Scotland and there is more diversity on the trails. A new Scottish MTB Health Fund will support a range of initiatives which are delivered by DMBinS.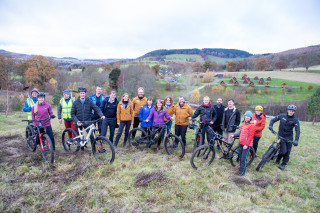 Speaking at the launch, Sports Minister Maree Todd said:
"The Scottish Government welcomes this new, sustainable approach to act on the increasing number of people accessing our outdoors on bikes and choosing to holiday in Scotland.
"We strongly encourage this positive approach which will improve the health of Scots and grow domestic tourism by delivering high quality experiences including expanding the trail network in a sustainable manner.
"The launch of these resources, including the Scottish Trail Fund and Scottish MTB Health Fund, will help ensure that the great work already happening continues into the future and heralds a new way forward for Scottish mountain biking."
Graeme McLean, Head of Developing Mountain Biking in Scotland added:
'We are excited to be able to announce this new direction for Scottish mountain biking. We want to continue to drive forward the mission and aims of the Scottish Mountain Bike Strategy 2019 -2025. We can only do this going forward with the support, energy, and commitment of the mountain bike community. We hope riders will get involved and help shape a more sustainable future for our sport, ensure that the progress we have seen to date continues so that Scotland will be recognised as the leader of European mountain biking and our nation is healthier and happier.
Our new website has further details of both funds, a comprehensive riding destination focussed section which will allow you to give 5% directly back to the trails when you book your holiday. The website also has detailed information about our work in delivering the Scottish MTB Strategy and much more.
Riders are the lifeline of mountain biking, they are the voice of our sport, they are what inspires us to do the work we do. We can only be a truly national organisation with riders' support, knowledge, and energy. We reflect the voice of riders when we speak to Scottish Government, national agencies, and landowners. This is why it is so important that you can become part of our movement."
For more information head to www.dmbins.com