Scottish Cycling would like to extend our condolences and regards to the friends and family of Jock Shaw, who sadly passed away yesterday aged 90.
Jock, an amateur racer himself, was Scottish Cycling President between 2004 and 2009, an era that saw a major boom in the sport including a fantastic Beijing Olympics, which saw Sir Chris Hoy win three gold medals and Glasgow winning the bid to host the 2014 Commonwealth Games.
Jock also compiled the record books for Scottish Cycling, which included records and race reports dating back considerably into the 19th century.
Shaw also chaired the Cycling Committee at the 1986 Commonwealth Games in Edinburgh, which saw the Meadowbank Velodrome renovated at his committee's instance, and despite the track being plagued by Scottish weather, the cycling events lauded as a success of the Games.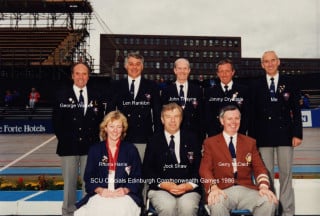 He was well loved by all the staff and Board at Scottish Cycling, many of whom he had great friendships with spanning several decades. In 1994, Shaw was awarded with Scottish Cycling's most prestigious award – the Badge of Honour.
Shaw had a great sense of humour, as his dry wit could light up any conversation, such was the character of the man.
On the impact he had, current Scottish Cycling President, Tom Bishop, said:
"Jock was a much-loved character, with great charm and a deep involvement in Scottish Cycling. I remember that he would attend National TT Champs every year until very recently and would often present the medals. His attention to detail in record keeping was something to behold, as he would often visit the office with his daughter to update the written logs, which included for example the BAR Roll of Honour, starting in the pre-war years and continuing to this day. He will be sorely missed by all who knew him in the Scottish cycling community."
Jock's funeral will take place on 8th December, one day short of his 91st birthday, at 10:00. As things stand there are no COVID restrictions in place at Seafield Crematorium in Edinburgh, so guests from the cycling community are welcomed. For further enquiries please contact Jock's granddaughter, Naomi-Louise Rahman-Shaw, on 07951510033.