Celebrating Women and Girls in sport Week, Scottish Cycling Performance Development Programme athletes Beth Morrow and Eilidh Shaw shine a light on their cycling journey and how they feel about women and girls in sport.
Beth Morrow (above) is a senior endurance cyclist on the SC programme since her debut junior year has recently moved to Loughborough University to study (and cycle). An Edinburgh Road Club alumnus, Morrow is continuing her cycling career as a rider with Storey Racing. You can spot Beth on both track and road this year with some great results – including a third place finish at the Scottish National Road Race Champs.
Eilidh Shaw (below) is an endurance rider in her second year of the junior SC programme has begun to establish herself in multiple cycling disciplines on road and track. Eilidh has been invited for a second year running to join Tofauti Everyone Active for her road season alongside SC programme colleague Morven Yeoman. A former member of the Stirling Bike Club, as well as Edinburgh Road Club. Shaw is one to watch in seasons to come.
SC: How did you get into sport/ cycling?
Eilidh: From a really young age I was into loads of sports. I did a bit of everything swimming, running netball and karate. One summer when I was about seven, me and my family decided to take the bikes on a holiday with us to France to try something a bit different and haven't been off the bike since!
Beth: I was raised in a very sporty household which meant I always very active from a young age. We would usually go on cycle touring holidays and walking trips in the Alps for our 'holidays'.
I started off in triathlon then moved to cycling. During my first training session with Edinburgh Road Club, I crashed on one of the first corners. The coach has since said to me that he did not expect me to see me at a training session ever again! But something drew me back and from then on, I was hooked.
SC: Who have been your female role models / inspirations during your career?
Eilidh: I've always looked up to Katie Archibald and Neah Evans. Multiple Olympic and World Champions that come from Scotland making big goals seem more reachable. MTB XC World Champion, Evie Richards also really inspires me simply because of her love for the sport. Always smiling and having great fun on the bike. I love watching her race.
Beth: I have always really looked up to Sarah Storey – she is also now my team manager. Her strength and desire to achieve has led her to becoming the most decorated Paralympian of all time. Whilst doing this, she also still found the time to start a fantastic British Women's Cycling Team – Storey Racing. Its aim is to help British riders reach their goals and potentially move up to the pro peloton, if that is what they want to do. She is a truly inspiring women - in terms of her sporting career and the way she has helped women's cycling grow, all that and being a mum to two young children.
SC: What barriers / constraints do you feel are faced by female athletes?
Eilidh: I think it would be great if there were more female riders at racing level. When training in group rides it's usually mostly male riders.
Beth: The main barriers female cyclists face is the pay gap, the disparity in prize money between male and female professionals, and the lower profile of many women's sports. It's disappointing that there is still a lack of equity and opportunity in many women's sports. This reflects negatively on the sport as it does not promote equity between male and female athletes.
Another issue is where female athletes face being harassed while trying to train. Of course, this is an issue that many women have to deal with, but it certainly restricts women's options of when and where to train.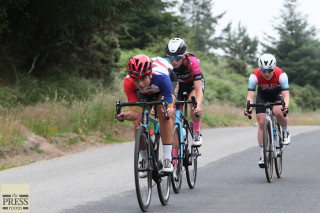 SC: How has sport helped you as an individual?
Eilidh: Although I learn loads on the bike when training and racing like focus, drive and commitment, cycling has been a great way for me to understand my wellbeing, opened amazing opportunities and my appreciation for what I enjoy.
Beth: Cycling is something I feel passionate about, and I always love doing it. It provides me with lots of freedom to go out and explore the area around me, as well as keeping me fit and motivated. It has made me a more determined person and provides me with a strong focus.
SC: What would be your advice be to any young female considering getting involved in the sport of cycling?
Eilidh: There is so many aspects to cycling that you can give a go, from all the different disciplines social rides, racing and bike packing. I think there definitely something to suit everybody and have fun.
Beth: I would say take every opportunity that you are offered and don't be afraid to ask for advice - most people are willing to share their experience, to help you. Remember to always enjoy it and try to find friends to cycle with, it makes training so much more fun!
If you are interested in cycling and want to get involved somehow, click here!