Celebrating Women and Girls in sport Week, Glasgow Life's and Scottish Cycling BMX Talent Coach Dasha Polakova shines a light on her cycling journey and how she feels about women and girls in sport and specifically coaching.

Dasha a former elite BMX competitor who has won a World Championship title and four European titles, initially started her cycling journey in the former Czechoslovakia prior to moving to the UK following 2008 Beijing Olympics. Always keen to further involvement in coaching BMX it was not until volunteering at the 2018 European Games BMX event in Glasgow that Dasha found her way through to coaching. A volunteer led to a coaching role with Glasgow Life's BMX programme at Knightswood BMX Centre. Dasha currently supports the development of young BMX riders, male and female, via Scottish Cycling's BMX Talent Development sessions.
SC - How did you get into cycling?
Dasha - I was 11 years old and lived 2 minutes away from the local BMX track. I didn't have my own bike, so I used to just watch the guys riding the track and occasionally one of them lent me their bike to have a shot. The local club organised a race for novice riders for the kids from the local schools.
I raced with the boys as I was the only girl. I won the race and even made a few of those boy cry, because they had been beaten by a girl. From that day, I was hooked and began my racing career which would last almost 15 years and take me around the world as an elite female racer. For the next few years I hired a bike and kit from the local club which allowed me to get started until I got sponsored – without this support I would never have been able to have a chance in the sport.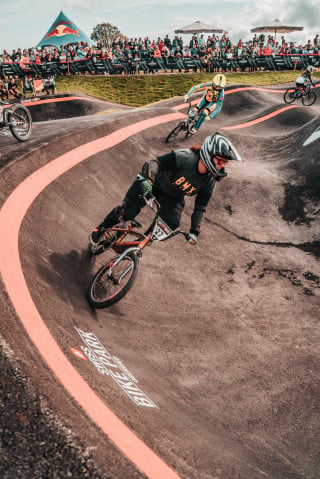 Who have been your female role models / inspirations during your career?
I was only 8 years old when the Velvet Revolution happened in Czechoslovakia and there weren't many female role models. During the communist era women did not have many opportunities or representation in sport. One of the few who were well known was Martina Navratilova who emigrated around that time and was the only female sports star who was visible in the media.
Once I started racing, I started looking up to older female riders such as Natasha Williams who was the world number one at that point and was a great source of inspiration.
What barriers / constraints do you feel are faced by female athletes / female coaches?
As like most of the sport disciplines nowadays, BMX is struggling as well to keep the girls in the sport once they hit teenage years. There is many aspects why they don't stay and continue as the boys in their age group.
As we have seen in the media with Bethany Shriever, she managed to achieve the Olympic gold medal despite having to crowd fund to qualify. Hopefully with this achievement and the media attention this might change for future generations and attract more girls to BMX and make a career of it.
At this point I think I am the only active female BMX coach in Scotland. I am not sure what the reason is behind this but one of my goals is to promote the sport for females.
How has sport / cycling help you as an individual?
It has massively shaped my life right from helping me with staying off the street and learning to push myself with something I was good at from a young age. It helped shape who I am and give me skills of determination and independence. I was fortunate to be able to travel the world and meet so many amazing people, learn a new language and become part of a great community. My passion for bikes helped me to also start a new career in this industry after my racing career ended and now as a coach can share my passion with the next generation.
What would be your advice be to any female considering getting involved in coaching cycling?
Follow your dreams and grab any opportunities that come your way. So far, all the coaches I came across and had an opportunity to shadow or work with, been very supportive and always a positive experience. My advice is to follow your dreams and grab any opportunities that come your way. 'In the end we only regret the chances we didn't take'.
If you are interested in cycling and want to get involved somehow, click here!