The Badge of Honour is Scottish Cycling's highest accolade, having been awarded to the great and the good of Scottish cycle sport since 1981. Scottish Cycling are now welcoming nominations for the 2021 award.
The Scottish Cycling Badge of Honour recognises the contribution and achievement of individuals who have shown exceptional dedication, made a remarkable contribution or given an outstanding performance, through a lifetime dedicated to the sport of cycling in Scotland.
Commenting on the Badge of Honour, President of Scottish Cycling Tom Bishop said:
"2020 was an exceptional year, as we all know, but one positive was that we saw two very worthy individuals recognised with a Badge of Honour. Whilst we expect to return to the traditional sole recipient at our AGM on Saturday 27th November, we would never rule out a repeat!
"Despite everything the pandemic has thrown at us, there are certain individuals across our cycling community who have continued to make a difference, and this reward recognises those who's efforts have made said difference. I would encourage you all to have a look at those in your cycling community, and if there is someone who really stands out, be sure to nominate them for this much coveted accolade."
To submit an individual for consideration for the Badge of Honour, we would like you to provide one or more of the following:
Examples of someone's long-term dedication and/or involvement within the Scottish Cycling community
Examples of how their contribution has significantly improved cycle sport in Scotland
Examples of where their contribution can be regarded as 'above and beyond' what would normally be expected from someone in a similar position
Examples of an outstanding performance from a Scottish rider, such as an Olympic medal winner (or similar), bringing recognition and national acclaim to the sport and Scotland
The deadline for nominations is 31st October 2021. Nominations can be made by filling out this form here.
Following the first membership nominations process in the accolade's history, and review by the newly instigated Nominations Committee, the Scottish Cycling Board selected Alasdair Gow and Sandy Lindsey MBE to be put before the AGM for approval for the Badge of Honour in 2020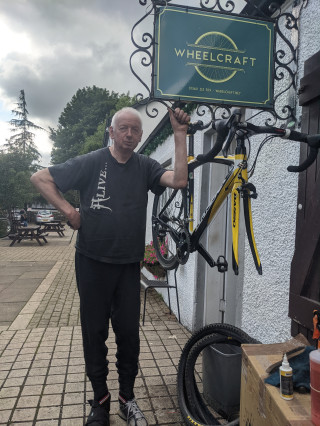 Alasdair Gow has been building wheels and running Wheelcraft bike shop for 35 years during which time he has provided a vital service to the cycling community across Scotland. He has also supported the careers of many racing cyclists by providing quality services and also by pulling out the stops should any last minute technical issues arise before a race!
Through investing time, effort and money training young cyclists to become mechanics and wheel builders, Alasdair has also ensured that a new generation of experts is in place for the future. His shop is seen as a community centre for the cycling world and even appeared in and edition of Oor Wullie.
Sandy Lindsey has been the unassuming lead for the Deeside Thistle since 1967. He has grown the club from 20 members to over 600 members and been a source of inspiration to many young riders. In particular, Lee Philips and Sarah Rowe whom he nurtured throughout their development to elite level
An outstanding cyclist in his own right, he can still be found clocking up miles on the roads of the north east. Sandy was the winner of the local club BAR, Scottish National 100 Mile Time Trial and 24 Hour Time Trial. President of Scottish Cycling Tom Bishop put it perfectly when he said Lindsey deserves a "Knighthood for services to cycling".