At Scottish Cycling, we recently launched our 'Carry on Cycling' initiative, to help non-club cyclists find clubs in their locality that are accepting new members. One such club is Cairngorm Cycling Club, who are based in the Badenoch and Strathspey area of the Highlands region.
This club, having been founded in 1970, has been running for over 50 years, and offers a range of cycling activity to members of adult and youth age. We caught up with Lorna Adam and Mike Barras to profile this progressive, safe and inclusive club, and to give you a flavour of the fantastic benefits for members of cycling clubs. Read on for more information about Cairngorm CC and the activities they partake in!
Covid-19 Pandemic
Like everyone else in Scotland and across the world, the club and its members have struggled in many ways over the last year. The Covid-19 pandemic has redefined the meaning of the term 'normality' for all of us, and has forced us to adapt to a new way of living. Cairngorm CC were, of course, no different. The club worked hard over the fallow period of 2020 to maintain communications with its members, and to offer methods of maintaining cycling fitness despite the enforced cessation of physical club activity. The club used their page on Facebook to encourage members to share the activity they were partaking in, which created a culture of shared learning and ensured social bonds were maintained. Furthermore, the club ran 'DIY Time Trials', which helped members to maintain their fitness and enjoyment of our wonderful sport. Members took it upon themselves to engage in these time trials, and used social channels such as Strava to share their training with fellow participants. 2020 was undoubtedly a hard year for the club, particularly as it led to the cancellation of the club's traditional Race Weekend (more on this later). The uncertainty that perpetuated our lives was difficult for all those associated with the club, and they were unable to properly celebrate the 50thanniversary of the club's foundation. As light begins to appear at the end of the tunnel, and club activity resumes, Cairngorm Cycling Club are gearing up for a big year of cycling activity, and are keen to make up for lost time.

Activity
The broad range of activities offered to members by Cairngorm CC is crucial to the club's growth and development, and to the enjoyment of member experiences. Lorna and Mike emphasised that the social aspect of the riding experience at the club is a vital cog in the club's operations. Activity runs primarily on Tuesday and Thursday evenings, with most Tuesday sessions involving a time-trial activity. On one Tuesday evening of the month, the club also run a hill-climb session for members. Participants are encouraged to compete against themselves, rather than each-other, which fosters a community spirit among members who love to see their fellow riders improving on previous performances. Thursday evening sessions focus on a social bike ride; on two nights of the month these sessions run from Aviemore, with the other two sessions of the month commencing from an alternative location. Two groups tend to participate in this activity, and sessions run at the pace of the slowest rider. These sessions provide an opportunity to participants to socialise, exercise and enjoy the breath-taking scenery of the Scottish Highlands – with sessions generally lasting no longer than two hours. Among the club's plans for the coming year, they hope to soon commence weekend social rides to allow members to partake in even more of these fantastic sessions. Of course, no social ride would be complete without the opportunity to drop into a local café for a cuppa and a bite to eat, which also helps to support local businesses!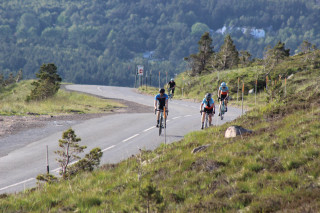 Race Weekend
The club's annual Race Weekend is their flagship event, and takes place every September (with the exception of last year). This traditional event is somewhat of an historical antecedent for Cairngorm Cycling Club; it has been running ever since the club was founded in 1970! Over the course of the weekend, four events run that are open to entries from riders across the country. Saturday morning sees the first event of Race Weekend take place, namely, the Mackie Trophy. This non-standard time-trial incorporates a technical loop between Aviemore and Kincraig, and has been running since the club's foundation year. On Saturday afternoon, the Cairngorm Hill Climb Time Trial takes place, with an Australian Pursuit Race running the next day, on Sunday morning. The weekend of activity concludes on Sunday afternoon with the running of the Sally Ann Lowe Memorial Trophy race, which is a women's only event. Riders come from all over Scotland to participate at Race Weekend – from Skye to Shetland and Orkney, Edinburgh to Glasgow, and as far south as the Scottish Borders – you're sure to meet a diverse range of keen cyclists over the course of the weekend. The success and sustainability of the event owes much to the reputation Cairngorm CC have developed of providing a warm welcome to all, and Race Weekend is always well-received by those who have had the pleasure of experiencing it.
Membership
Cairngorm Cycling Club are a friendly club with an even balance of male and female riders, and they would love to welcome you to their club. It's clear that they are passionate about cycling and enjoying the social aspect of our sport – indeed, club members are eagerly awaiting their traditional Christmas social ride and post-cycle meal, with preparation well underway for this day! Furthermore, holiday-makers to the area are encouraged to come along and participate in club activity as guests, so even if you're only in the area for a short while, be sure to try out all that the club has to offer! One holiday-maker, based in Edinburgh, has enjoyed this offer so much that they have even signed up to be a full-time member of the club!
If you would like further information about connecting with the club, contact a.m.adam@btinternet.com, or visit the club website here. Alternatively, if you're looking to join a cycling club in your area, check out the other clubs welcoming new members here.
All of us at Scottish Cycling look forward to supporting the club as they continue their exciting development, and we offer special thanks to Mike Barras and Lorna Adam on behalf of the club for their time provided in the development of this article.
All photos used in this article were taken before the Covid-19 pandemic and the introduction of social distancing restrictions.