At Scottish Cycling, we know that volunteers are the lifeblood of our network of clubs. The work they put in ensures that our members enjoy engaging experiences across club sessions and events, and without our core community of volunteers, the diverse range of opportunities provided to club members in Scotland would not exist. On Day 4 of Volunteer Week 2021, we want to put the spotlight on one particular role that has come to the forefront of club operations over the last eighteen months – that of the Covid-19 Coordinator.
All of us have had to face different challenges, and learn to cope with the 'new normal' since the Covid-19 pandemic began to spread across our planet at the end of 2019. Sport, like all other aspects of our daily lives, has been forced to adapt to changing restrictions during this period. In particular, our cycling clubs have faced dynamic environments, in which levels of permitted activity have frequently fluctuated. Covid-19 Coordinators have been a steady constant in our ever-changing club landscape. These club volunteers have worked diligently to ensure that clubs can operate safely and in line with government guidance, helping club members to engage in cycling activity whilst following appropriate guidelines.
Hamish Cowton, the Club Development Coordinator for the East & Central region, sat down for a virtual catch up with Lesley Archibald, the Covid-19 Coordinator at Falkirk Junior Bike Club, to find out more about the experiences of these volunteers over the last eighteen months.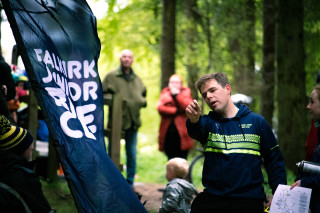 Could you outline the main responsibilities of the Covid-19 Coordinator role?
For me, the biggest part of the role is being able to interpret the guidance issued by Scottish Cycling. It's so important to pull out the relevant points, and to be able to relay this information to our club members in a manner that is accessible and understandable to them. Naturally, I have been sure to query the guidance with Scottish Cycling when necessary. It helps that I'm the parent of a rider in the club, so I was able to pre-empt a lot of queries and make sure I was 100% comfortable with the guidance, prior to communicating it to the rest of the club.
Another important aspect of my role involves working closely with the coaching and volunteering team at the club. I need to make sure that they are comfortable with the ever-changing guidance, and are confident in being able to operate within the boundaries of the relevant advice. It's vital that these volunteers feel safe and supported in carrying out their roles.
Furthermore, it's crucial that I ensure that all members, before they return to club activity, understand their responsibilities in terms of not coming to the club if they display symptoms of Covid-19. This involves explaining the actions the club would take if a member displayed symptoms during a session, and the role of the club in abiding by Test and Protect regulations.
Finally, I found it really important to be proactive. By planning for our next steps as guidance relaxed, we ensured we were ready for future changes, and were able to adapt as and when was necessary.
Why is this role so important in club settings?
I think over the last year, it's been natural for some clubs to want to pause all activity, due to the uncertainty with regards what they are allowed to do. However, sport and physical activity plays a huge role in maintaining positive mental health. It was, therefore, important that all sports clubs, regardless of discipline, were given the opportunity to train a Covid-19 Coordinator to ensure they could continue to operate safely. For kids in particular, it was crucial for clubs to be able to keep running. Club activity provides that bit of consistency for them, at a time that was rife with huge changes.
It was vital to have someone, such as the Covid-19 Coordinator, who really understood the guidance. I was able to consult with the committee and coaching staff to ensure the club could operate safely, for the benefit of all the kids. Having a dedicated point of contact for any questions and queries from club members and their families, coaches, volunteers and committee members was so important for consistency. It ensured that everyone knew that we were taking the guidance seriously, and that we would keep all their families safe!
What skills and qualities are needed in order to perform this role effectively?
A big part of my day job is being able to understand and interpret rapidly changing policy and guidance, and being able to communicate these changes to service users. This was a really useful skill to have in my role as a Covid-19 Coordinator. In terms of relaying the relevant guidelines to our club members, I always communicated changes in restrictions using our social media and email channels, and made sure to use plain language that could be communicated easily to the riders. I would give specific examples of how changes would look in practice, and back these up with visual materials such as photographs and videos.
As restrictions tightened, I unfortunately became the bearer of bad news. This required a fair bit of resilience, but luckily, we never had any debate regarding our operations, and club members understood the need to follow government regulations. I did, however, actively encourage questions from parents and guardians, coaches, and committee members, and I was always open to feedback from them as well.
Having a good relationship with our head coach helped as we were in regular contact, and could bounce ideas off of each-other without judgement. We're both very organised and love to plan, so this meant we worked really well together to ensure the club was being run safely for riders, coaches, volunteers and parents.
Finally, being flexible, adaptable, and open to quite drastic changes was important. Our club changed one venue entirely, which allowed us to run sessions without group bubbles mixing.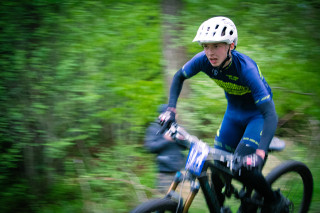 How has volunteering in this role benefitted you in your personal development?
As the mum of one of our oldest riders, and a club Wellbeing and Protection Officer (WPO), I was already a familiar face to many our parents and carers. However, volunteering in this role has given me the opportunity to interact with others at the club on a more regular basis. It has also strengthened my relationship with the coaching and volunteering team at the club, as we worked closely together to ensure they were confident with their knowledge of the guidelines, and felt safe and supported to carry out their roles.
I consider myself to be a very approachable person, and I have made sure to welcome all ideas and feedback. It's crucial that every person in the club knows that they can come to me privately with any worries or concerns, and that there would be no judgement in any conversations.
In terms of what I've learned in this role – let's just say that if I ever get the chance to compete on Mastermind, my specialist subject will be Scottish Government Covid-19 restrictions (specifically sport-based)!
What has been your proudest moment as Falkirk Junior Bike Club's Covid-19 Coordinator?
Without a doubt, being able to announce the return of club sessions after multiple lockdowns! Being part of the team that organised and delivered the return to activity was really rewarding. To be honest, planning the return of club activity did take over my life for a while – but it was worth it to be able to return safely, and see the kids enjoying being back out on their bikes.
What has been the biggest challenge that you have faced in this role? How did you overcome this challenge?
I think the biggest challenge for me was managing people's expectations. This did get easier as time went on, however; I was able to explain the process that had to be followed between an announcement by the First Minister, and the club being able to announce our plans for a return to activity. It was really important to be open about how, why and when decisions were made. Being consistent in explaining why these changes were necessary helped to overcome this challenge.
Volunteering in a club environment is an incredibly rewarding experience, so if you would like to volunteer at your club, get in touch with your club officials for more details. All of us at Scottish Cycling look forward to supporting Falkirk Junior Bike Club as they continue their exciting development, and we offer special thanks to Lesley Archibald on behalf of the club for her time provided in the development of this article.