Everyone can remember an inspirational person in their life who understood them. A person who knows how to motivate them. They may capture their imagination or make them think differently. Perhaps, supporting them to achieve a goal. For many, that significant character comes in the form of someone involved in sport, whether that be a club volunteer or volunteer coach.
As part of #VolunteerWeek, Scottish Cycling want to highlight some of the outstanding work that volunteer coaches are carrying out across Scotland. As well as a massive thank you to all the volunteer coaches who are doing similar work in all our clubs and communities.
Chris Dallas – Cumbernauld Centurions BMX Club
Prior to taking the leap and becoming a volunteer coach, Chris frequently passed the BMX track on his way to work as a leisure attendant.
Once the BMX track caught Chris's attention, he did not allow his late start in the sport hold him back and quoted, "When I first began coaching, I was completely new to the sport of BMX racing and completely new to coaching. It had been something that I had never given a single thought of doing in the past and something which gave me great anxiety and nerves at the start. However, since starting to coach, I have gained not only an incredible amount of knowledge specific to the sport but also how to communicate with other people whilst coaching and away from the track". Volunteering has not only benefited Chris.
Charlie MacPherson has been a member of Centurions for the past 3 years and speaks of Chris's influence "Chris's coaching has really impacted me positively through the way he sets up the sessions and his knowledge of the sport. Chris makes even the hardest of sessions enjoyable. He encourages us to work hard in every session and to always try our best".
Laura Nisbet - Kelso Wheelers & Breezers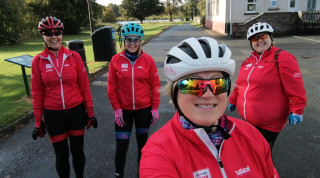 Laura started volunteering at the Kelso Wheelers in 2015, becoming a qualified coach only one year later.
As a key part of a ten-strong team, Laura began her volunteer coach journey working with the junior section of the Kelso Wheelers. She was inspired when some of the mums of the junior members said they fancied giving Mountain Biking a go. Thereafter, Laura soon found herself a founder member of Kelso Breezers. As part of the British Cycling Breeze Programme, Laura has become a Breeze Leader offering guided rides for women of all abilities, both on and off road. The impact of Laura's volunteering is evident in the growing number of Kelso Breeze Leaders, ride opportunities and participants. Laura is quick to point out however, the benefits that she has found in volunteering, for herself quoting, "I never imagined when I offered to stay and help at my boys bike club session back in 2015, that it would lead me to where I am now, I love it! I love seeing the smiles riding a bike brings and I have made so many new friends. Cycling and coaching has given me many great opportunities".
Laura's positive impact has not only been on women who join her for local rides but has also encouraged others to become volunteers! Tracey Humphreys said that she always loved cycling but when Laura asked her to be a Breeze Leader saying, "you'll be great for the group and with your help we can build", the group soon went from one volunteer leader to four resulting in more activity and opportunities!
We want to say to all volunteer coaches, a massive thank you! For everyone who has kept things going prior, during and post lockdown…. a massive thank you! We appreciate everything you do for the cycling community.
To support the continued development of volunteer coaches, Scottish Cycling have designed a new series of coach learning sessions. More information can be found here
If you would like to get involved as a volunteer coach within your local club or community, we would ask you to complete this form and we will get back to you to discuss https://forms.gle/ncqN5KwCeYJoE4gy7