Scottish Cycling are thrilled to announce the winner for the Innovation Award supported by Digby Brown LLP.
The Innovation Award is a one-off award seeks to recognise a person, group, club or event who has thought outside the box and done something innovative to inspire others to participate in cycling during the pandemic or used cycling in an innovative way.
Innovation Award Nominations
Clydesdale Colts Virtual Dirt Crit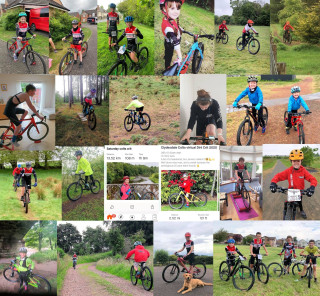 The Clydesdale Colts were unable to organise the club's long-standing youth dirt crit race due to lockdown, so lots of head scratching and investigations into video conferencing technology, the Colts' virtual dirt crit race was established. Separate outdoor "races" were held for the usual age categories With the help of a parent or guardian, each rider logged into a Zoom account and provided live footage of them riding during the event and some spectators logged in just to watch and feel close to family and friends as they would with a physical race. Just like a normal event, the racers in each category were all set off at the same time by a virtual race starter, there was live commentary from each race and a virtual chequered flag. The riders enjoyed the virtual race on accessible technology and were even given a chance to talk and congratulate fellow riders. Some riders made a course in their back gardens and others rode in local parks or in their local street. There were no podium places for this "race" as it was very much the taking part that counted. This event proved what was possible to do with a bit of imagination and a team of virtual race organisers and some committed riders!
Like a Lassie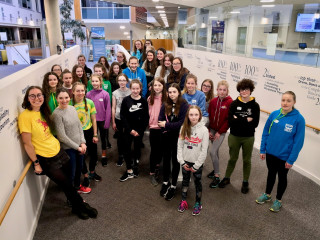 LikeaLassie was set up in March 2020 by coaches from Edinburgh RC and Deeside Thistle with the idea of networking all existing U16-A/U14-B female riders in Scotland to share a sense of community and encouragement with advice that was specific to their needs. The starter event, planned to introduce all the riders socially, but also ask them about what they needed, in early March, and gathered 32 riders from 11 clubs. Despite lockdown, a thriving online community has been created and have consistently maintained a relevant LikeaLassie programme. With the aim of maintaining healthy minds and bodies, the weekly Stretch and Socials on Zoom have kept everyone going and been interspersed with Social Zwifts; Ditch Your Parents & Fix Yours Own Bike Zoom Workshops; a session on the menstrual cycle and fuelling with swimmer Hannah Miley; "The Trouble with Knees" session with physiotherapist Judith Lane; plus check ins with fantastic mentors such as Katie Archibald and Ishbel Strathdee. Since 2020, the LikeaLassie community of riders has grown, now regularly bringing together 42 female riders from 12 clubs across Scotland and from all disciplines supporting and inspiring the next generation of female cyclists
Falkirk Junior Bike Club Passport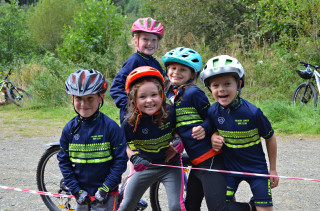 Following the first lockdown announcement in March 2020 FJBC launched our series of weekly Lockdown challenges from seeing how long kids could hold track stands, to slalom runs, an Easter egg brake run, picking up bottles whilst cycling and all sorts in between. This gave the club the idea to create the FJBC passport, which was posted to every FJBC member, and was a booklet containing 16 weeks' worth of cycling activities for riders and their families. Each week was based around:
F - Fun Fact, a bit of cycling trivia
J - Joy, an act of kindness you could do for others
B - Bike knowledge, learn something about your bike
C - Challenge, skills based activity
The passport was initially given to all 150 club members, and following a successful funding application was rolled out Nationally, and almost 2000 free copies were distributed. The success of this project led to the development of the Scottish Cycling Activity Booklets.
And the winner of the Scottish Cycling Innovation Award is....Like a Lassie
Congratulations to all shortlisted nominees and thank you to everyone who submitted nominations. We were overwhelmed by the quality of nominations are very proud of the cycling community in Scotland for their ongoing commitment to the sport #PowerofSport